Looking to Lead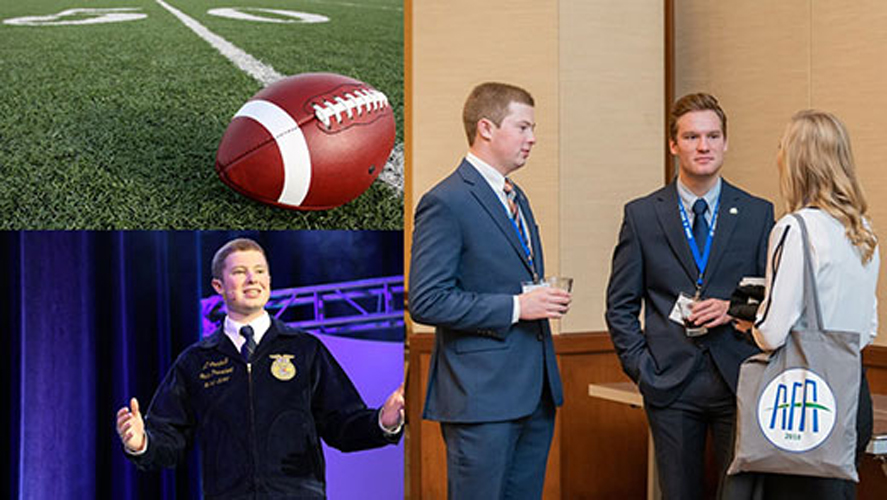 "Who wants to make a tackle? Who wants to make a play? Who wants to be a leader?" I can still hear my high school football coach yelling these questions at the 40 men who had their helmets off and were taking a knee during halftime. I can still smell the grass and the hot dogs, and I remember – no matter what the score was – how our coach was able to bring our team together with each halftime speech.
With football season in full swing I have been reflecting on the time I spent wearing that black United helmet. As much fun as I had playing football, I was able to learn so much more than just plays and footwork. That football team was the first team I had ever been a part of. It was where I learned what it means to step up, why it's important to hold yourself accountable, and how each individual must do their job in order to have group success. These are the things I love. They shaped my life and my systems of belief.
I hated walking away from football to pursue other interests, but I'm glad I did. I began investing my time in agriculture and began to seek out other ways to lead. This involved doubling down on my involvement in FFA, and I eventually had the opportunity to become a part of another team, a State FFA Officer Team.
When I came to college one of my greatest concerns was missing out on using the skills I had been working on for the majority of my high school career. However, I quickly learned that the traits of stepping up, holding myself accountable, and understanding everyone has a job to do, have never been more relevant in my life.
Stepping up is a skill one quickly learns in college. Taking on responsibilities leads to more and more opportunities. For example, a decision to attend an informational meeting and being selected as an ABE Ambassador allowed me the chance to speak with a Fortune 500 company and the chance to interview. Being willing to take the lead in a group project scenario resulted in friendships being forged and connections that provided me with a network in my future career field.
A key component to survival in college is remaining accountable to yourself. Within the department people ensure you are fully prepared to embrace this all-important skill. There are several processes in place that help students develop a level of self-sufficiency, and there are plenty of opportunities to receive any help a student might need. For me, developing this skill involves setting up study groups for my classes. It is a great way hold myself and others accountable and it can make studying a lot more fun.
An all-important component of being a part of a team is understanding if you fail, the team fails. Within the classroom this can be seen in laboratory activities. When your group is counting on you to do your best. you had better deliver. Whether it is constructing a truss, mixing concrete, or surveying the South Quad, groups of students strengthen each other's skills all the while practicing the very trait that sets them apart from the competition. Being instructed in an environment that doesn't just reward individual effort, but requires it, prepares students for more than just an average career.
Leadership is a process. It is something that must be continually tweaked and exercised. College is where students learn who they are and who they are going to be. ABE takes strides to ensure students are stepping up, holding themselves accountable, and making sure they do their job. Employers are looking to hire leaders and ABE students are looking to lead.