Food industry professional, ACES alum pays it forward as a mentor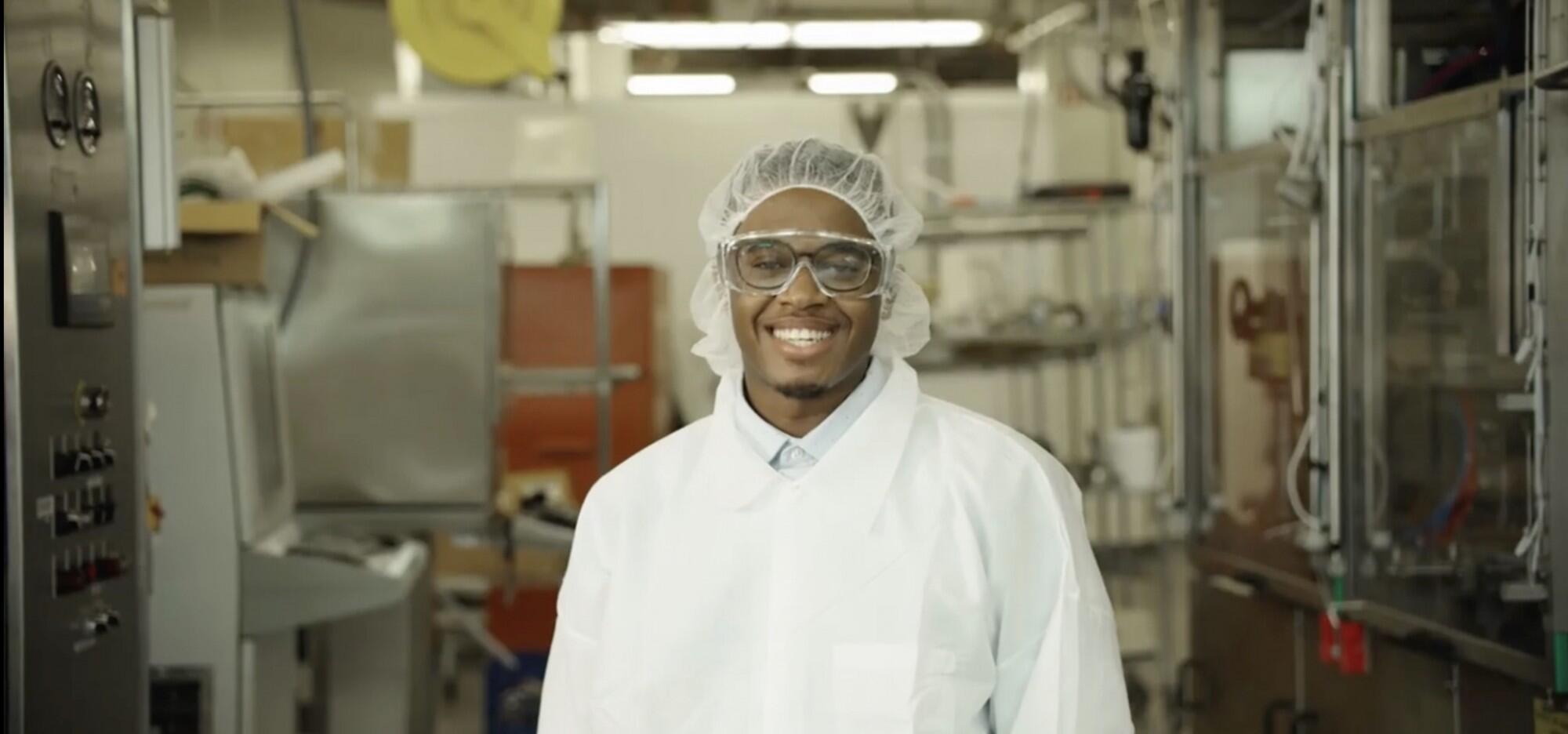 Food industry professional, ACES alum pays it forward as a mentor
URBANA, Ill. – It's 6 a.m., and Nick Tarleton is on a bus with 20 or so university students. They've just left Oak Brook, Illinois, and they're headed to their first stop of the day on their behind-the-scenes tour of the food and beverage processing industry in the Chicago area.
Tarleton calls out, "What are you most excited to see today?" Inevitably, someone answers back, "How do you have so much energy?!"
It's not part of Tarleton's job to be on that bus with the students—he's a volunteer. He does it because he believes in paying it forward, something that grew in him as a student in the College of Agricultural, Consumer and Environmental Sciences (ACES) at the University of Illinois.
Today, Tarleton works as a supervisor of U.S. supply chain management for the McDonald's Corporation. While his work in the food industry may be one of his greatest passions, mentoring young people and introducing them to opportunities comes in a close second.
Also high on Tarleton's list is his love for U of I and the College of ACES, and connecting people back to his alma mater.
Path to food science
For Tarleton, a 2016 graduate of food science and human nutrition, his path into the field of food science and the food industry was personal and came at a young age.
"At the age of seven, I lost my maternal grandmother to diabetes," Tarleton says. "I grew up in a family where we loved to eat, but we never really understood the science of food or how food affects the body.
"I would hear questions about different health-related things and even help my grandmother measure her insulin, but I never heard anyone talk about the science or what goes into food. So I've always been very passionate and interested in the food industry."
Then, in 2010 as a senior in high school, Tarleton participated in ACES' Research Apprentice Program (now called Discovering STEM), a summer program for high school rising juniors and seniors to see how food, agriculture, human, and environmental systems connect to their career goals. The two-week program encourages participants from underrepresented ethnic minority groups, under resourced communities, urban areas, and students with disabilities.
"Not only was that my first time away from home, it was a great opportunity to get introduced to supply chain research and development [in the food industry]," he explains, adding his project looked at how chocolate chip granola bars are formulated. After that, Tarleton, a first-generation college student, knew he was coming to ACES, even after being accepted to several universities.
"I think because of the campus environment and ACES having that family feel I knew I was coming to the University of Illinois. It was my first choice, but it was just great to be the first person in my family to present those acceptance letters around the table," he says.
AFA Food Institute
Exposure to ACES research on food science, human nutrition, obesity, and, genetics helped connect the pieces of how food is manufactured can affect health for Tarleton. It was also at ACES when he was introduced to the Agriculture Future of America (AFA) and the AFA Food Institute, a three-day immersion into Chicagoland area food manufacturer and production companies.
"As students we were really able to get that full immersion and experience three different tour stops, as well as talk to different industry leaders and professionals," he says. During the Food Institute, Tarleton toured the McDonald's Innovation Center, Tate and Lyle's Research and Development Center (Hoffman Estates), and Cargill's downtown Chicago office.
As much as going through the program meant to Tarleton as a student, being a volunteer with the program today—as a professional—means even more. 
6 a.m. on a bus
As a volunteer for the annual AFA Food Institute, Tarleton leads a tour group of about 20 students—out of the 60 to 65 total students from around the country. Some of the students are from underrepresented minority groups. Tarleton also leads table discussions with the students throughout the day focusing on how to transition from college student to young professional.
And Tarleton is the perfect mentor for the job.
"One of my strengths is just really being a bridge connector or that coach to get people pumped about things and support them along the way. I think ACES just really helped pull that spark out of me because I was such an introvert coming in as a freshman," he says.
Tarleton can't wait to be back on the bus, leading tours with his Food Institute mentees this May. He says there will be a focus on industry commitments such as sustainability and diversity, equity, and inclusion within the food industry.
"A lot of students will hear about these different food institutes and say, 'I never really thought about a career in food science.' So AFA is really trying to get a diverse generation and cohort of future leaders to influence what the food industry will look like."
Paying it forward as a mentor
Outside of his AFA volunteer work, Tarleton also serves as a one-to-one mentor, something that connects back to his time in college.
"Being a resident advisor for three years, mentoring students was something that came with the job and I also had several mentors on campus who helped me grow as a student. Mentorship ultimately challenged me to believe in myself and not be afraid to take on a new challenge or opportunity because I wasn't qualified, there weren't people who looked like me, or the impossible," Tarleton says.  
"I was mentored by professors in the Department of Food Science and Human Nutrition, staff in the ACES Office of Advancement, and the Office of Minority Student Affairs; it was important for me to pay it forward to others through the amazing sponsors and individuals cheering me on throughout my college experience," he adds.
Early in his career, and wanting to keep the same pay-it-forward mentality, Tarleton connected with the iMentor Chicago organization through a colleague at work (also an Illinois alum).
"The opportunity to give back through mentorship to underrepresented students who are the first to attend college or have overcome a plethora of adversity was inspiring to me, and the reward has been priceless. The opportunity to help a high school student discover their purpose, strengths, opportunities for professional development, and to graduate from high school was the perfect way to give back especially to the Greater Chicagoland area," he says.
Tarleton has helped his high school mentee, Terrelle, by offering feedback and tips on maintaining a strong academic record in addition to pointers on the ACT/SAT tests. "During the first year of the mentorship agreement, we were getting to know each other, and I was able to learn more about the mentee's strengths and areas of opportunity," he says.
Tarleton believes that mentoring students helps them find their purpose and how they can give back to the world, which levels the playing field for them.
"Many underrepresented students need someone to show up to an event, talk to, walk with, help them realize their potential. I'm also a firm believer of 'each one teach one.' If I know something, I prefer to share my knowledge to help my community grow.
"Mentoring is one of the easiest and most instrumental ways to give back; there are many underrepresented leaders of tomorrow in the City of Chicago who could use someone to champion them," he says.