FSHN students win second place with "Churroats" in food science competition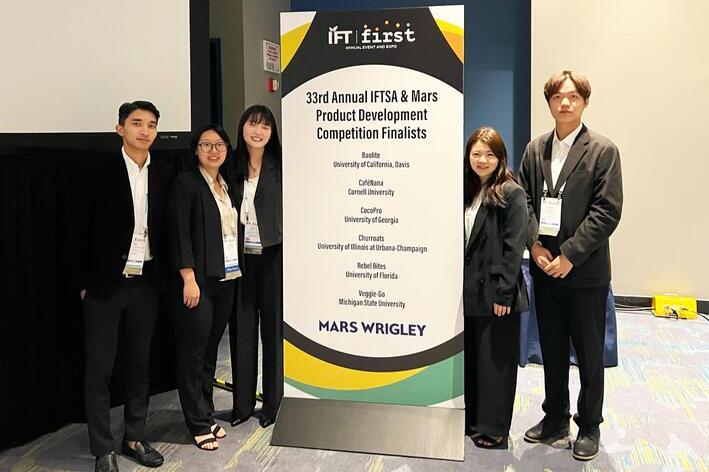 (L to R) FSHN students Rey Soewardjono, Chenxin Wang, Sally Kim, Mirai Miura, and Longwen Li took second place in the 2023 IFTSA student competition.
URBANA, Ill. — A student team from the Department of Food Science and Human Nutrition (FSHN) at the University of Illinois Urbana-Champaign took second place in the Institute for Food Technologist's (IFT) Student Association & Mars Product Development Competition in July. Their winning product was "Churroats," a churro made from upcycled oat pulp.
The annual competition is open to any IFT-approved food science program in the U.S. Students submit written proposals and the top six teams are selected by a panel of judges to further refine their product and present it at the IFT annual meeting in Chicago.
"FSHN student teams have submitted to this competition regularly, but because it is so competitive, it is a significant outcome to make it to the finals. This team was really excited to be selected, and they gave an excellent presentation at the IFT meeting. They also had a closed session where they answered more questions from the judges, and they gave samples to the judges of their product and packaging," said Nicki Engeseth, FSHN department head. FSHN is part of the College of Agricultural, Consumer and Environmental Sciences at U. of I.
The team consisted of doctoral student Mirai Miura, and master's students Sally Kim, Longwen Li, Rey Soewardjono, and Chenxin Wang. 
"They are an awesome team of students that are full of positive ambition, strong curiosity, driving intellect, and a beautiful desire to help our planet," said Dawn Bohn, teaching associate professor in FSHN and the team's coach. "They put a lot of effort into this and created a delicious product that is both nutritious and sustainable."
Image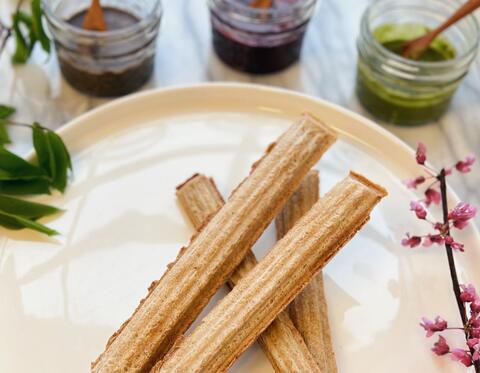 "Churroats" are a rethinking of churros, made with oat pulp and baked instead of deep fried for a lower-fat snack. Oat pulp is a residue from the production of oat milk; it degrades quickly and usually goes to waste.
"Our team aimed to create a snack that can appeal to people of all ages. Churros are a beloved treat at amusement parks and fairs but can also be conveniently enjoyed at home. We wanted to take this snack to the next level by not only upcycling oat pulp but also making it allergen-free, gluten-free, and vegan," Kim said.
Added Miura, "The IFTSA judges expressed their genuine appreciation for our innovative concept of transforming oat pulp, an otherwise discarded food waste, into a novel product."
The students also created three dipping sauces, matcha tea-ramisu (tiramisu made with tea), sweet hojicha, and agave hibiscus. The product represents a fusion between unique Asian flavors and original Spanish-origin churros, the team said.
"This project prompted us to contemplate the intricate thought processes underlying an innovative food product, starting with a novel food idea and progressing through formulation, production, and marketing. Involvement in this competition heightened our overall experience and empowered us to effectively apply the skills we had acquired in our classes to the practical realm of food product development," Miura stated.
"Our team is a diverse blend of backgrounds, with most of us from countries outside the U.S. This rich diversity enabled us to engage in a dynamic exchange of ideas, resulting in the creation of a truly distinct and groundbreaking product," she added.