State Farm among first to support U of I neurodiversity initiative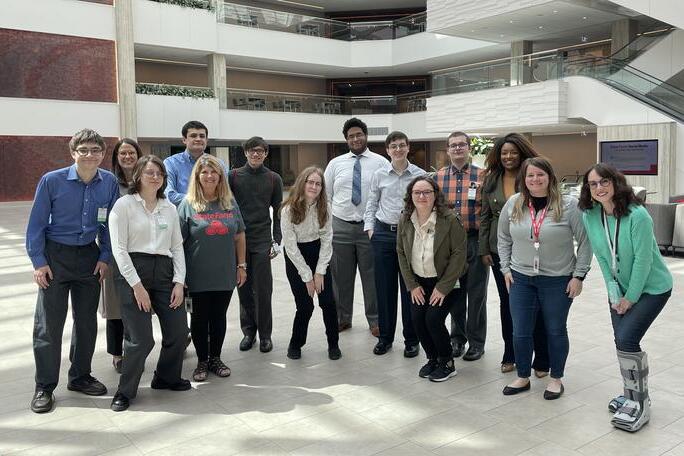 The current INI cohort and instructors met with State Farm representatives at the State Farm headquarters in April.
URBANA, Ill. –The Illinois Neurodiversity Initiative (INI) at the University of Illinois Urbana-Champaign has received a major, five-year grant from State Farm to help fund the program, which provides academic and social support for students with autism and helps them prepare for the workplace and connect with potential employers.
"The grant from State Farm is going directly toward supporting the students in the program – it will be a key factor in allowing us to continue next year," says Jeanne Kramer, director of the Autism Program and professor in HDFS. "While the grant is a tremendous help, we are still looking for additional donations to fully fund the program."
INI is primarily funded by The Autism Program of Illinois, a state-wide grant for autism services. It is housed at the Family Resiliency Center in the Department of Human Development and Family Studies (HDFS), part of the College of Agricultural, Consumer and Environmental Sciences at U of I.
The INI pilot program began in 2022 with a cohort of 11 students; for the 2023-24 school year, 15 new students will be added. Going forward, the program will accept 20 students each year, until it reaches full capacity at 80 students. Still, that's a drop in the bucket considering the large need, Kramer says. A recent Centers for Disease Control and Prevention study estimated that one in 36 children in the U.S. has autism, so the numbers could be significant among thousands of U of I students. 
"To be clear, neurodiverse students are completely able to handle college academically, they are just as intelligent as other students here," Kramer states. "Where they face barriers is in how their brain works differently. For example, how long it takes to learn a concept, as well as managing deadlines, setting priorities, and organizing information. They also face loneliness and mental health issues."
These challenges affect how students communicate with professors and potential employers, and how they approach the internship and job application process. Individuals who are neurodiverse are more likely to face unemployment or underemployment, Kramer notes.
Alex Gordan, civil engineering major and member of the first INI cohort, says "Although having autism and ADHD has been a challenge, I truly believe that they are my greatest gifts. INI guides me through my obstacles."
INI students take a pre-employment course that brings in corporate guest speakers to discuss neurodiversity hiring initiatives and other work-related issues. The program also facilitates job panel discussions, fairs, and internship opportunities.
"Many corporations want to hire neurodiverse talent," Kramer says. "The neurodiverse brain is wired to solve some of the world's biggest problems, with the right support in place and the right people surrounding them. These are the minds that corporate America is really looking for."
State Farm is strongly committed to including neurodiverse students in their workforce, says Nancy Smith, State Farm Enterprise Technology/STEM Engagement Coordinator.
"We realized there are students we are missing to feed our future talent pipeline. We wanted to determine how could we set them up for success, so they know there's a place for them in the workforce. We felt this was a really good investment for the next five years, because students from the University of Illinois do feed our internship program and then become full-time hires," Smith says. "State Farm is happy to be a part of this. This is who we are, giving back to our communities." 
Corporate partners can support INI in various ways, including serving as guest speakers, participating in job fairs, and providing search resources, internships, and donations. For more information on partnering with INI or donating to the program, contact Jeanne Kramer at jjkramer@illinois.edu.