The USDA Ag Discovery program engages students in a special two-week in-person experience that focuses on biosecurity. The Animal Plant Health Inspection Service (APHIS) sponsors the event. During the program, students will participate in a series of activities with government veterinarians, plant and animal biologists, biotechnologists, and wildlife science professionals. Students will be able to demonstrate a basic understanding of how the federal government works to protect plants and animals.
APHIS is a USDA agency with a mission to protect and promote U.S. agricultural health, regulate genetically engineered organisms, administer the Animal Welfare Act, and carry out wildlife damage management activities. APHIS is on the job 24 hours a day, seven days a week working to defend America's animal and plant resources from agricultural pests and diseases. 
More information on USDA AgDiscovery Summer 2023 Program.
Applications for the 2023 AgDiscovery Program are OPEN and must be submitted online.  The deadline to apply is March 31, 2023, at midnight Eastern Time Zone.  
Applications for AgDiscovery 2023 have closed.
You will be notified by the week of May 5, 2023, if you have been selected to participate.  Non-selected applicants will receive a letter in the mail at the end of May. 
For more information contact: Diana Rodriguez at drodrgz1@illinois.edu.
Sponsors
Image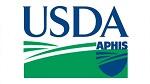 United States Department of Agriculture
Summer 2023 Students in Action