The Morrow Plots are named after the first dean of the college, Professor George Espy Morrow. Established in 1876, the plots are the oldest experimental crop field in America and the second oldest in the world - after the Rothamsted research station in England, established in 1843.
The plots were originally used to build the National Historic Landmark observatory and used  green space. Only three of the original ten plots remain, and they are also protected as a National Historic Landmark. 
Image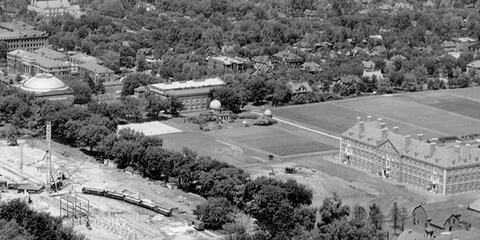 Research on the plots was instrumental in gaining knowledge on crop rotation, soil nutrient depletion, and the effects of synthetic and natural fertilizers. With more than 100 years of research, records of the Morrow Plots continue to provide valuable information for a variety of topics, including soil carbon sequestration and long-term effects of fertilizers on soil bacteria. Corn, wheat, soybeans and other crops are still grown on the plots to this day.
Image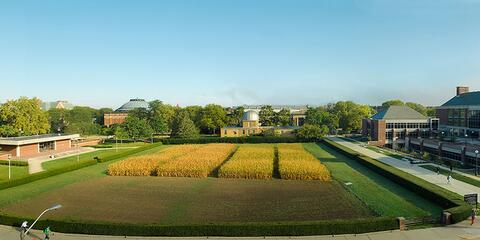 The plots have often been credited as the reason the university's undergraduate library, just West of of the plots, was built underground - to avoid shading plants growing in the plots. However the library dedication proceedings cited the desire to keep an open air aesthetic as the primary reason. The University a cappella group, The Other Guys, even have a song they perform at nearly every concert about the Morrow Plots being the reason for the underground library.