The Benefits of Studying Abroad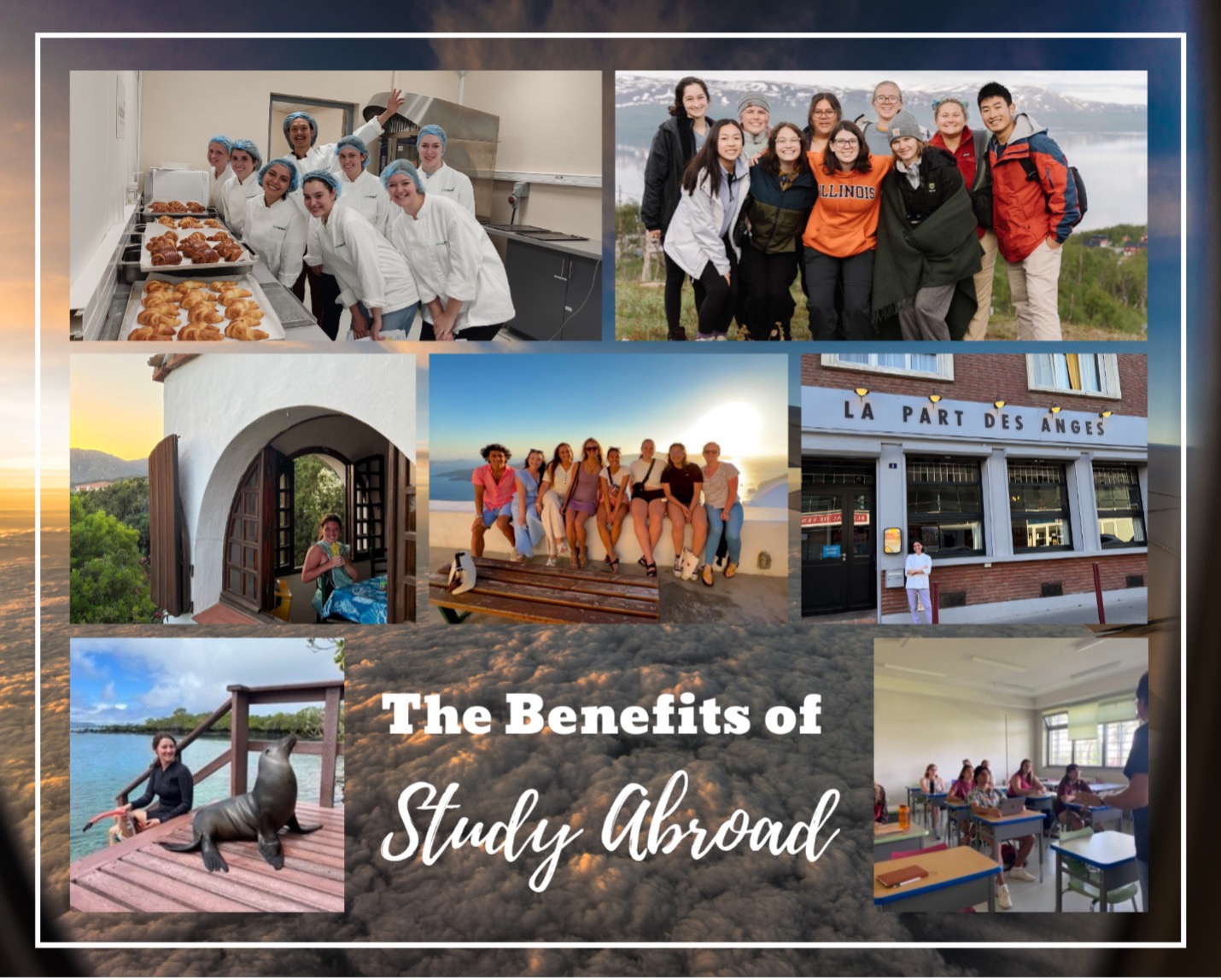 Have you ever thought about studying abroad? It may be one of the most beneficial experiences for a college student. Why? While studying abroad, you can experience new places and sights, learn about different cultures and languages, and make friends from around the world all while earning credits towards your degree. It will allow you to develop highly valued skills such as global leadership, adaptability, communication, and problem solving. It is also the adventure of a lifetime!
ACES students can study abroad as early as the winter break of their first year and are encouraged to participate in more than one program throughout their studies.
Why should Illini study abroad? Check out what five current students have to say:
See The World:

See what's beyond a page of a book or classroom presentation! Experience the flavors, aromas, and sights of places beyond your wildest imagination.
Catherine La: Sweden, 2022
"Exploring Swedish history museums, walking through the historic Gamla Stan, having group dinners, riding around the city on electric scooters, and navigating the subways together, I have come to appreciate them all and I really did enjoy the time our group spent together. It is a really heartwarming feeling to see the familiar faces on campus, remembering our Swedish adventures together."
Personal Growth:

When you are abroad, every new experience can be a challenge and an adventure. Your surroundings may be unfamiliar, but you will develop problem-solving skills and discover an appreciation for the unexpected.
Hannah Chen: South Korea, 2022
"By being abroad, I learned how to push myself out of my comfort zone. When I first got to Korea, I initially struggled with not being able to understand and communicate well because of the language barrier. The cultural differences were hard to adjust to as well. However, I learned that in this situation where I felt so out of my comfort zone, I learned how to be patient with myself and realize that adapting takes time. There are a lot of expectations you might have while studying abroad, like expecting to adapt quickly to a new country and a new way of life. However, understanding that growing and learning takes time is a necessary life lesson."
Meet New People:

One of the biggest benefits of studying abroad is the opportunity to make lifelong friends from different backgrounds. While studying abroad, you will attend school and live with students from your host country. This gives you the opportunity to create lasting relationships with your fellow students and community members.
Taylor Munson: Galapagos Islands, 2022
"My favorite memories were the ones I made with my host family and new friends. Moments of quality time together where we enjoyed each other's company were the most meaningful to me because it was in these moments that I felt unimaginable joy. I was in awe of the fact that I was living and experiencing life on the Galapagos Islands with the amazing people and animals that call it home."
Cross-Cultural Experience:

Studying abroad grants you the opportunity to develop an understanding and appreciation of people from other countries and their way of life.  You also begin to understand the interconnected nature of our world and your role in it!
Olivia Gilles: Rome, 2022
"The academic side of my internship was great, but even more influential to me were the people I got to work with and the cultural immersion I experienced. Having to wake up early each morning, get ready, pack a lunch, hop on the bus, and then work on the farm for the day allowed me to jump into what everyday life looks like in Italy. I was having to adjust my routine to not what a young college student would do, but rather what a working life looks like. It allowed me to understand what daily life was like and not always have the "romanticized" view of Italian culture that we see in the media."
Professional Development:

While abroad, you're continuously working on classes towards your degree, but you also can also take language classes and internships abroad that will enhance your global experience.
Patrick Slojkowski: Austria, 2022
"As part of the Illinois in Vienna Program through the College of ACES, I took courses in the German Language, Austrian History, EU/US Financial institutions, Economic History, and Environmental History. Thanks to the flexibility of my study abroad program, I was able to choose courses that let me ponder question that were less black and white. Writing essays, giving presentations, and talking in class helped develop my critical thinking skills and challenged the way I viewed history and the global economy. By learning the complexity involved in solving modern issues, I came home prepared for classroom discussions and potential difficulties when developing food products. After returning from my study abroad program, I was accepted for the upcoming summer as a Research and Development intern at PepsiCo in Valhalla, New York."
As you can see, study abroad brings more than just one benefit. The students above, along with many more students in the College of ACES and across campus, can testify in favor of participating in at least one study abroad opportunity while in college. If you have any questions about when or where to start your study abroad journey, visit https://aces.illinois.edu/academics/study-abroad.