ACES International Seed Grants lead to new collaborations and impacts around the world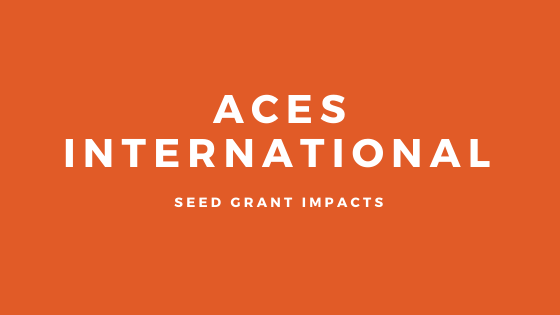 ACES International Seed Grants lead to new collaborations and impacts around the world
International Seed Grant recipients from the College of Agricultural, Consumer and Environmental Sciences (ACES) continue to use this longstanding, successful program as a springboard to build new collaborations and make impacts around the world.  
ACES faculty and staff may apply for this funding source once per semester to "plant a seed" for projects that will promote strong relationships between ACES faculty and international faculty, develop and flourish into larger, sustainable, collaborative efforts in research, education, and outreach.
"Each Spring the Office of International Programs surveys recent grant recipients so we know how the funds are being used and what impacts are being made. The most recent surveying covered three rounds of grants from Spring 2020 through Spring 2021. ACES faculty came through with big impacts and new projects funded through other sources, plus dozens of new outreach efforts, student support, new collaborators, and more," says Mary Arends-Kuenning, acting associate dean of international programs. 
The surveys showed that approximately $879,000 of new research funding can be linked to recent seed grants, including these new projects recently awarded to ACES faculty:
"A CRSIPR-Based Biosensor for the Detection of Foodborne Pathogens" (Royal Society of Chemistry) also awarded to Yi-Cheng Wang

"Land Cover Change, Conflict, and Peacebuilding in Colombia" (NASA) awarded to McKenzie Johnson, Department of Natural Resources and Environmental Sciences

"Scaling of DNA-based methods to combat wildlife crime in Southern Africa" (VukaNow) awarded to Al Roca, Department of Animal Sciences
Additional awards will be announced soon, and even more funding proposals are pending.
"The experience, knowledge, and preliminary data that we gained from [the funded seed grant project] have helped us to better prepare proposals," explains Yi-Cheng Wang.
The awardees reported outreach work including dozens of publications and presentations. The grants also allowed several graduate and undergraduate students hands-on experience with international work.
The awardees reported new collaborators including:
TRACE Wildlife Forensics Network

Uruguay National Institute for Crop Sciences

Centro de Investigaciones Economicas (Mexico)

Northwest A&F University's College of Food Science (China)
Because the pandemic caused travel delays, many of the researchers are still working on their projects.
"We conducted a survey on thresher safety in Ghana and Zambia and are currently in the process of analyzing data to generate reports and safety engineering recommendations for the next iteration of the Soybean Innovation Lab thresher," reports Salah Issa, professor in Agricultural and Biological Engineering, who received a seed grant in Fall 2020.
"The ultimate grant impacts are truly widespread and will continue indefinitely. This program continues to prove itself," says Arends-Kuenning.  
"For the first time FLAR and its partners will have access to validated molecular markers to integrate them in their breeding strategies to classify rice breeding lines into different rice quality markers. This is groundbreaking for the rice breeding research effort in Latin America and the Caribbean and opens the doors to several rice programs in the region to implement novel genomic tools that increase their breeding operations and efficiency," reports Juan Arbelaez, professor in the Department of Crop Sciences, who received a seed grant in Fall 2020.
Each seed grant was funded through the Arlys Conrad Endowment Fund.