Fuel the future for National Nutrition Month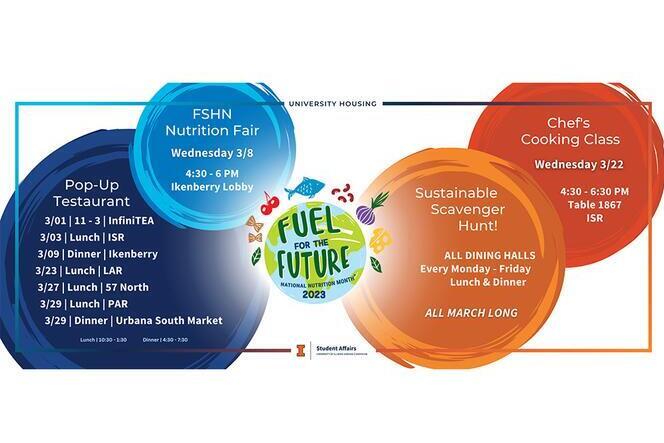 URBANA, Ill. – March is National Nutrition Month, and dietetics and nutrition students and organizations across the University of Illinois campus use this opportunity to share their passion with the community. National Nutrition Month is an educational and informational campaign sponsored by the Academy of Nutrition and Dietetics.
This year's theme is "Fuel for the Future." The overall messages are to eat with the environment in mind, see a Registered Dietitian Nutritionist (RDN), stay nourished and save money, and eat various foods from all the food groups.
Everyone is welcome to celebrate by attending the annual National Nutrition Month (NNM) Fair on Wednesday, March 8, from 4:30-6 PM at the Student Dining & Residential Programs Building (SDRP) at 301 E. Gregory Drive in Champaign. Students from the Communication in Nutrition course (FSHN 329) in the Department of Food Science and Human Nutrition will be hosting fun and interactive booths on the latest nutrition topics for college students, including Supporting Gut Health, Eating on a Budget, Breaking Down Fad Diets, Fueling & Hydration for Sports/Exercise, Intuitive Eating, Flexitarian Eating, and Alcohol, Cannabis, and Nutrition. Other booths will feature the RDNs from McKinley Health Center, Ascend CHC, and the Student Wellness Team from Campus Recreation. Stop by for free food samples, games, prizes, engaging booths, and more!
Dining Services features other NNM events throughout March in the dining halls, including a Sustainable Scavenger Hunt, Pop-Up Testaurants, and a Chef's Cooking Class on Wednesday, March 22, at 4:30 PM at Illinois Street Residence Hall.
National Nutrition Month allows everyone to increase their awareness and celebrate the joys of healthy eating regardless of their nutritional IQ. For more information, contact Justine Karduck at karduck@illinois.edu.