Life lessons multiply for financial planning power team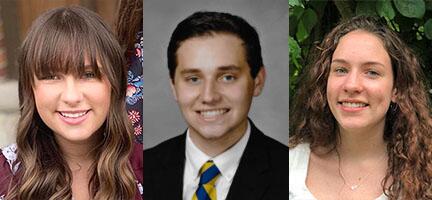 Life lessons multiply for financial planning power team
URBANA, Ill. – Financial planning students get to hone their skills and gain valuable experience in real-life simulations through industry competitions.
A team of three University of Illinois students placed in the top eight of the national Financial Planning Association Challenge this fall. Paulina Cylwik, Maureen McCullough, and Ethan Krumwiede, seniors in agriculture and consumer economics with concentrations in financial planning, represented the university and the College of Agricultural, Consumer and Environmental Sciences (ACES) in the competition.
"Being in the Financial Planning Club you hear about all these case competitions you can be a part of. It's kind of known the Financial Planning Association Club is the big one. If you really want to flex your muscles and challenge yourself, that's what you do. We all wanted to be part of it and got out team to start working," Krumweide says.
While not everyone loves working with numbers and money, financial planning is a necessary part of everyone's life. ACE financial planning students learn and practice in the classroom, online and elsewhere. ACE encourages students from all over the University of Illinois to take ACE 240, Personal Financial Planning, during the winter session to develop or boost their personal financial planning skills. Best of all, non-university students can sign up, too. Learn more about ACE 240 today.
Cylwik, McCullough, and Krumweide say participating in the competition was hard work, but well worth the effort. They began working on the project in April and continued through May, when they learned they were among the eight finalist teams. 
"For the first phase we would Zoom, on average, for 10 to 12 hours a day," says Cylwik. "For the second phase we started preparing as soon as we found out we made it to the finals  at the beginning of August. That was not as time consuming because it was more spread out and less work in general. We tried to meet up at least twice a week and figure out how we wanted to lay out the plan. While we were doing that we also set aside time to study for the Jeopardy part, which is phase three."
The team finished in eighth place and wouldn't change their experience for anything.
"Just being a part of this competition was rewarding. It was also great to be in the same area, even virtually, with so many professionals within the field I want to work in," McCullough says.
"For anyone thinking about joining, just do it. You'll be able to see how capable you are. Even if you don't do well in the competition, at least you tried.
The experience created a lifelong impact.
"It was mainly rewarding for me because I was really doubtful of myself beforehand and I was scared I wasn't going to go far. Pushing myself to do the best that I can, I now recognize I do have the ability to do things that I didn't think I could," Cylwik says.
Krumweide adds, "This was the biggest academic challenge I ever had. It has opened a new threshold for the everything I can accomplish in the future," he says.
Cylwik also successfully entered another financial planning competition this fall. Her team, with fellow financial planning students Yuriy Melenchuk and Mary Marshall, took first place in the Morningstar Investment Conference Student Competition in October.