Longstanding study-service program in South Africa provides Illinois students 'opportunity of a lifetime'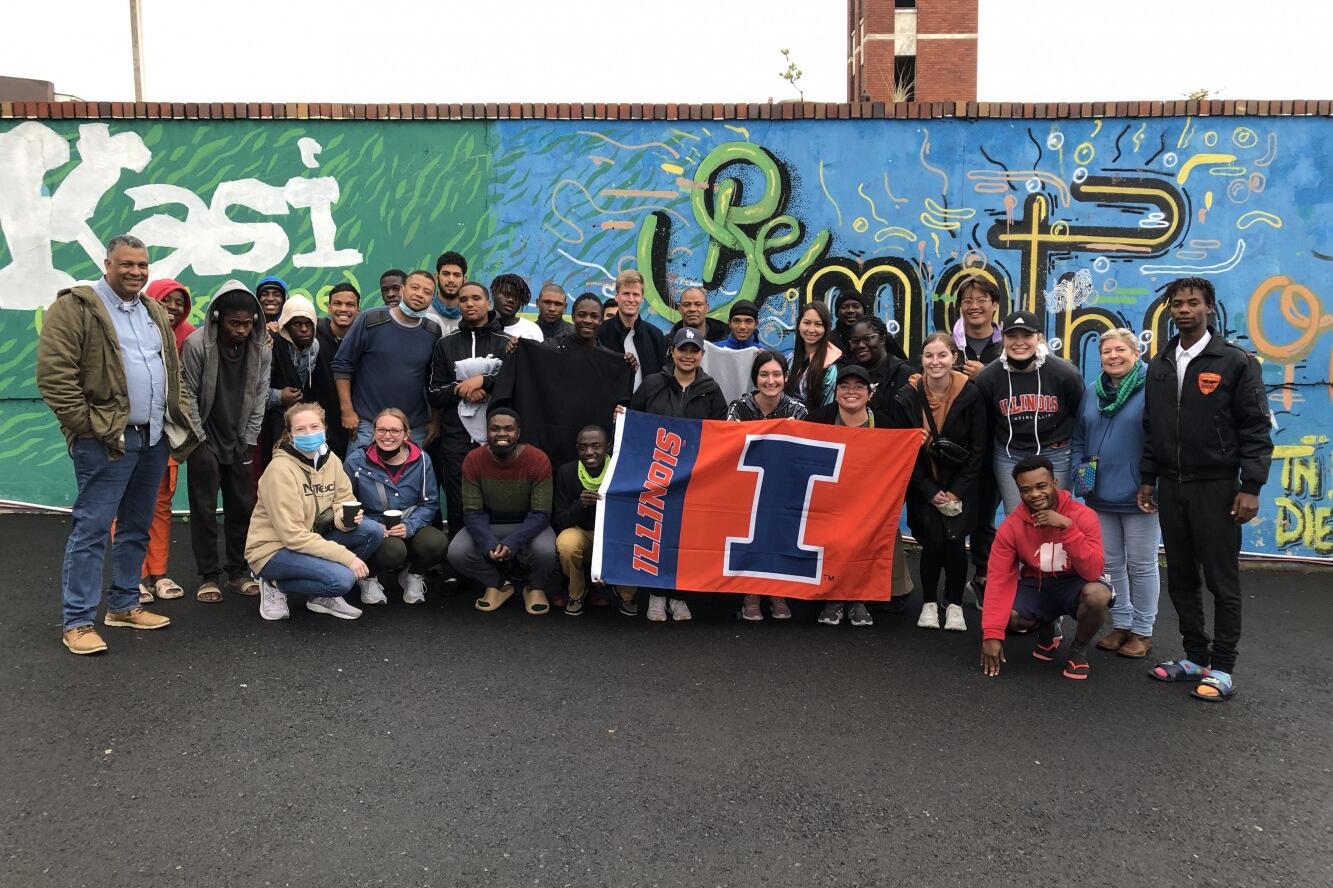 Illinois students visit Beth Uriel Shelter for Young Men in Cape Town.
Illinois students have been making impacts and connections in South Africa for nearly two decades through study tours led by Jan Brooks, instructor in the College of Agricultural, Consumer and Environmental Sciences (ACES) Department of Human Development and Family Studies (HDFS).
Students in HDFS 379 SA, who come from all majors across the university, spend eight weeks intensively studying South Africa's history – from indigenous peoples through post-Apartheid as well as the current challenges of the country's communities. The course culminates with a two-to-three-week service-learning trip.
Brooks recently took her 19th group of students to South Africa after a two-year break in the program due to the worldwide pandemic.
"Our South African partners love hosting us; Illinois students are known for having good hearts and they are always so engaged with the children with whom we interact," says Brooks.
Learn more about the upcoming Fall 2022 HDFS 379 with study tour to South Africa Dec. 29- Jan. 17.
Past service projects have focused on hospitals. However, with COVID still a factor, Brooks did not want to her group to put immuno-compromised groups at risk. This year's service projects included a children's reading club, a community garden, and a men's shelter.
As always, impacts were felt on both sides of the connections. Brooks has each student write a final article about the experience, and most all use the words "life changing."  
"I see these students grow in openness to cultural diversity and their commitment to working with diverse families in their careers grows by leaps and bounds on the trip," says Brooks.
The group spent Saturdays at the Bathande Children's Reading Club in Khayelitsha, a township in the Western Cape, where neighborhood children are invited to work on speaking and learning English.
The student testimonials show why Brooks keeps the program running:
"It really showed me how those living in Khayelitsha truly love their neighbors and those around them. They are constantly lifting each other up and giving back in ways their strengths can help…It sparked my own ideas for ways to bring about change in my small town in Illinois," writes Emma Harris in her post-course summary.  
"This was the most hands-on experience I have had during my time at the University of Illinois. I was given the chance to connect with others in such a meaningful way, and this was something I had never experienced before…Children are always the most welcoming, but these children were especially incredible. They taught us super fun games, read stories, and taught us about themselves. I think everyone on this trip felt that this was the most impactful experience, not because we all plan to work with children, but because these children shared their lives with us. They were the most kind and genuine people and gave us a chance to truly connect with those living in South Africa. By getting to read and create projects with these children we felt connections we could never have imagined," writes Raquelle Riffle.  
 "Although the community has some deeply rooted issues, it is still a place of love and happiness. The outside world would expect a place like that to be full of sadness and struggle. But at a place like Khayelitsha, you would only feel a warm love like never felt before. Being exposed to a community like this has changed how I view life. They have allowed me to see life more positively.  To express love and kindness to people that I may not even know. My exposure to Khayelitsha was truly a life-changing one and would never take it for granted," writes Anastasia Adjei.  
Read Jennifer Bingham's Voices of ACES blog post on this experience. 
The course will run again during the second half of Fall 2022 semester with a winter break trip over the New Year. The deadline to apply is Sept. 15 but applications will be closed when the quota for housing is reached.
Brooks wants potential students to know there are many options to help pay for the course, and ACES Study Abroad can help find grants and scholarships. 
"Some of our students ask their hometown Rotary, community groups, and their college offices for funding help. Please don't assume you can't make it work," Brooks says.
View course and application information for HDFS 379 South Africa.