ACES honored to announce 2023 student award winners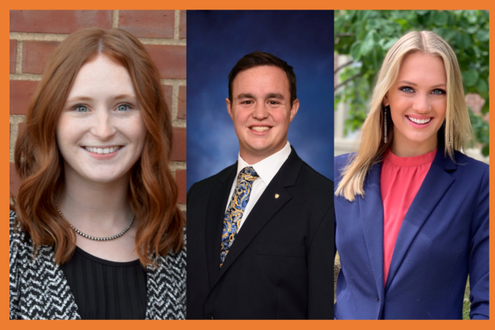 L to R: Ainsley Peterson, Brodee McCormick, Lauren McMillan
URBANA, Ill. — Every year, the College of Agricultural, Consumer and Environmental Sciences (ACES) at the University of Illinois Urbana-Champaign honors three high-achieving juniors or seniors who exemplify leadership, academic excellence, and a commitment to the ACES mission. In 2023, the Hugh P. Morrison Award, Robert M. Harrison Leadership Award, and Warren K. Wessels Award went to Ainsley Peterson, Brodee McCormick, and Lauren McMillan, respectively.
Hugh P. Morrison Award
The Hugh P. Morrison Award is funded in honor and memory of its namesake, former president of Pioneer Hi-Bred International, Inc. The scholarship is awarded to students with senior standing in an agricultural program who display substantial academic achievement, leadership, and an overall demonstrated commitment to the field of agriculture.
Ainsley Peterson of Mayo, Florida, was selected as the Morrison Award winner in 2023. Peterson graduated in 2023 with a bachelor's degree in agricultural and consumer economics and agricultural communications. Her degree concentrations included policy; international trade and development; agricultural leadership, education and communications; and advertising.
During her senior year, Peterson served as the chair of the Student Advancement Committee and was on the dairy, meat, and livestock judging teams. After graduating last spring, she served as a government relations and communications intern for the Illinois Soybean Association and is now attending law school at Indiana University. Her goal is to incorporate her passion for agriculture into the legal field to help farmers in the future.
Robert M. Harrison Leadership Award
The Robert M. Harrison Leadership Award is awarded to a junior in the College of ACES for a demonstrated commitment to service, achievement, and leadership. The award is given in memory of Harrison, who was involved with various campus activities from 1929-1933. Harrison was involved in agriculture clubs, Sachem and MaWanda honoraries, and on the football team, serving as senior manager of the 1933 season. Harrison graduated from the U. of I. in 1933 and started working as an advertiser for sales of numerous agriculture magazines; he was also employed by the Livestock Bureau of Armour and Company, the War Food Administration, and the Rural Electrification Program.
Brodee McCormick, a current senior from Athens, Illinois, is the Harrison Award winner in 2023. McCormick is majoring in agricultural leadership, education, and communications with a concentration in education and a minor in animal sciences. McCormick is involved with various organizations such as the Collegiate Farm Bureau, Agriculture Education Club, FarmHouse Fraternity, Orange Krush, and Illini Student Musicals.
During the summer of 2023, McCormick worked as a policy intern for the National Cattleman's Beef Association and the Public Lands Council in Washington, D.C. After graduation, he plans to continue his career as a high school agriculture teacher and FFA advisor.
Warren K. Wessels Achievement Award
The Warren K. Wessels Achievement Award is dedicated in memory of its namesake, who was an assistant dean in the College of ACES, then called the College of Agriculture, from 1958-1994. During that time, Wessels worked with thousands of students as a recruitment coordinator, orientation class instructor, and placement director. He was well-known for his encouragement of excellence, demanding yet fun-loving personality, and commitment to each individual student. Student recipients of the Wessels Award are selected based on above-and-beyond academics, leadership record, participation in development activities, and contribution to the overall quality of life as a part of ACES.
The winner of the 2023 award is Lauren McMillan of Tiskilwa, Illinois. McMillan graduated spring of 2023 with a bachelor's degree in agricultural organizational and community leadership along with minors in food and agribusiness management and media. During her undergraduate studies, she was involved with the ACES Council, Collegiate Farm Bureau, and Agricultural Communicators of Tomorrow. She was also the 2022 winner of the Robert M. Harrison Leadership Award. McMillan is currently pursuing a graduate degree in Strategic Brand Communications at the University of Illinois and working as a marketing intern at Caterpillar Inc.
Finalists for the Wessels Achievement Award included: Vivian Duquaine, Ainsley Peterson, Riley Bergmann, and Savanah Limberg.
Senior Awards were announced in May at the Senior Send-Off. 
To learn more about ACES majors and programs, check out our interactive program explorer.