Dariotis honored as Pampered Chef Endowed Chair in Family Resiliency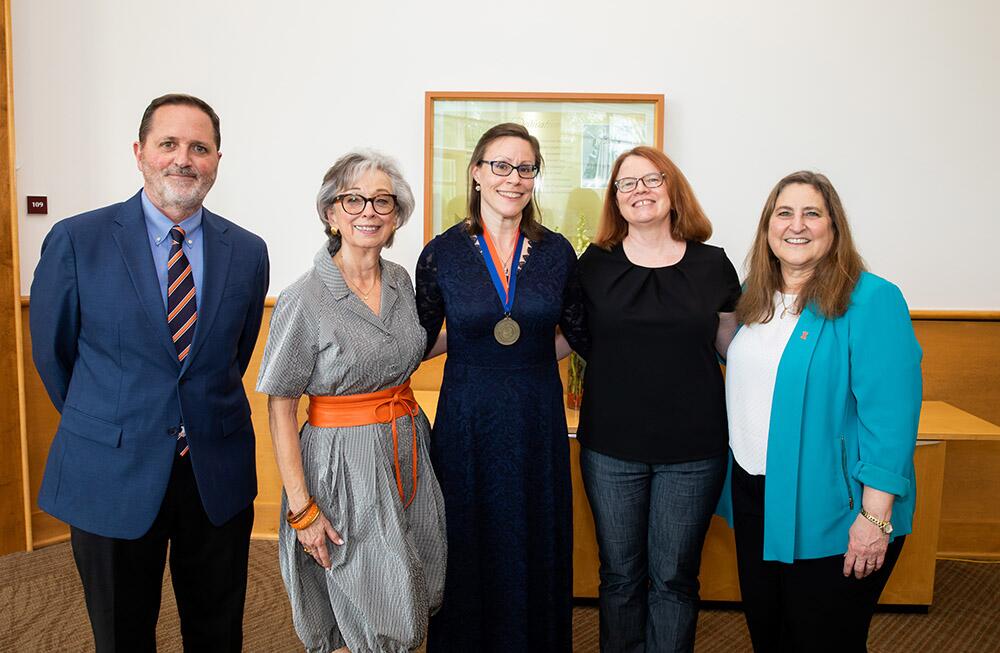 Dariotis honored as Pampered Chef Endowed Chair in Family Resiliency
URBANA, Ill. – The Department of Human Development and Family Studies (HDFS) honored Jacinda Dariotis as Pampered Chef Ltd. Endowed Chair in Family Resiliency during an investiture ceremony at the University of Illinois on May 11. 
Dariotis is director of the Family Resiliency Center in the College of Agricultural, Consumer and Environmental Sciences (ACES). Her research promotes positive human development and addresses real-world problems afflicting individuals and families by utilizing innovative methodological and intervention strategies. She explores decision-making; emotional regulation; cognitive control; and stress reactivity and coping, as they relate to risk-taking behaviors to inform prevention and intervention programs.
Dariotis partners with community stakeholders and academics to ensure community narratives are authentic and created and owned by community members. Her work aims to refine programs, practices, and policy efforts to be acceptable, contextually relevant, feasible, and sustainable. She has received nearly $25 million in funding, and she has authored or co-authored over 50 articles published in top-tier journals.
"Dr. Dariotis has tremendous energy and vision. Her deep knowledge about how to work with communities is already forging new campus and community partnerships, and we are excited to see them grow," says Ramona Oswald, HDFS department head.
Pampered Chef Ltd. Endowed Chair in Family Resiliency
The Pampered Chef Ltd. Endowed Chair in Family Resiliency was established in 2003 in support of the Family Resiliency Program created three years earlier in partnership with Pampered Chef Founder and Chairman, Doris Kelley Christopher. 
A 1967 Home Economics graduate, Christopher's early career included teaching adults through University of Illinois Extension. She founded Pampered Chef from her suburban home basement, and the company blossomed into a leading provider of high-quality everyday cooking tools and inspiration through an international community of 65,000 consultants. Pampered Chef was acquired by Berkshire Hathaway in 2002.
"From the beginning of her success, Doris has given back to her alma mater with transformational gifts including Doris Kelley Christopher Hall, the Pampered Chef Family Resiliency Program, student scholarships, Bevier Hall renovations, and the Doris Kelley Christopher Extension Center, for which ground was broken in 2021," says ACES Interim Dean Germán Bollero.
"The College of ACES and the University of Illinois are deeply grateful for her extraordinary generosity, which provides invaluable resources that benefit the university and our constituents immensely."