International Agronomy Day at U of I presents what's new to global guests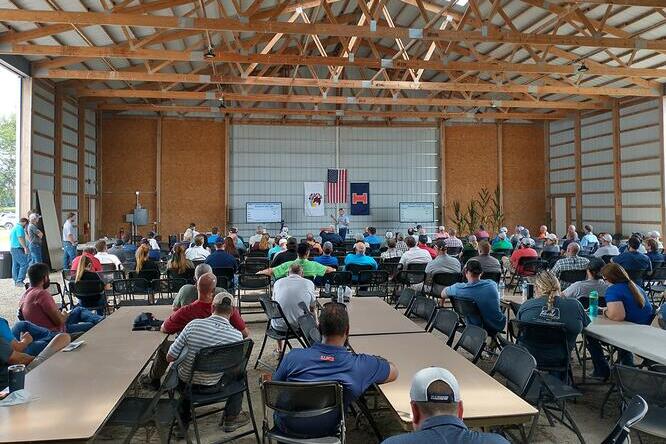 URBANA, Ill. — For decades, International Agronomy Day at the University of Illinois Urbana-Champaign has hosted international groups looking to learn more about the latest innovative technologies, research, and practices in sustainable agriculture. This year, the College of Agricultural, Consumer, and Environmental Sciences (ACES) has organized its Aug. 28 event ahead of the Farm Progress Show in Decatur, which kicks off Aug. 29.
"We're excited to welcome visitors to the U. of I. research farms for a morning of agricultural science presentations and discussion," said Adam Davis, professor and head of the Department of Crop Sciences.
The 2023 International Agronomy Day schedule is packed, with presentations in three major sessions: Sustainable Agriculture Production, Human Dimensions of Agriculture, and Innovations in Technology and Data Management. Topics cover consumer economics, food access and nutrition, weed management, sustainable beef production, and more. There will be different tents with four speakers each at the event. Participants will be divided into groups and rotate through each tent.
"We have four speakers per hour-long spot. Each of them will speak for about seven or eight minutes, and then we'll have some time for questions. So really, these are concentrated stories," Davis said. "The audience can make the event even more lively by asking good questions."
Events run from 8 a.m. to 1 p.m. at the Crop Sciences Research and Education Center at 4202 South 1st Street, Savoy, IL. Registration ends July 31 and costs $75 for refreshments, lunch, and presentations.
Presenters include expert faculty from the College of ACES representing the wide breadth of  disciplines within the college. Speakers represent the Departments of Agricultural and Biological Engineering; Agricultural and Consumer Economics; Animal Sciences; Crop Sciences; and Human Development and Family Studies. 
Attendees are invited from agricultural communities around the globe, with past attendees from Argentina, Brazil, China, Western Europe, and beyond.
"I love meeting these groups from around the world. They ask interesting questions. Because they're from outside our context, their questions are often new or surprising to me. I really enjoy hearing the variety of issues they raise," Davis said.
But International Agronomy Day isn't the only chance to discover the newest developments in ACES. Local farmers are encouraged to check out Agronomy Days events all season by visiting the calendar page for more information.