NRES professor honored with FoodShot Global GroundBreaker Prize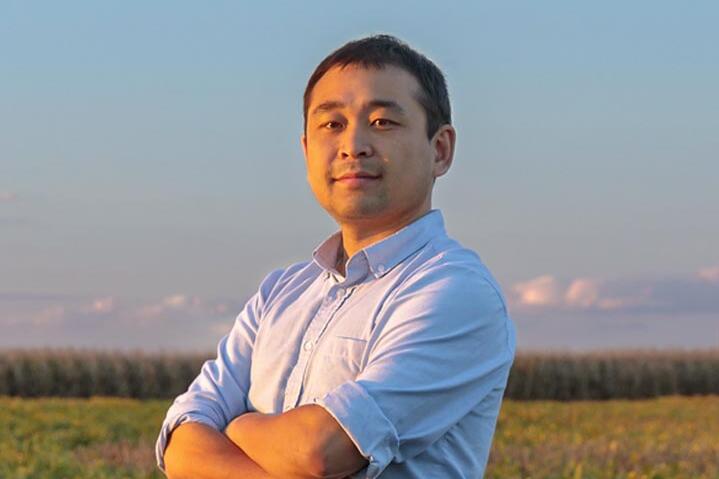 Kaiyu Guan
URBANA, Ill. – Kaiyu Guan, associate professor in the College of Agricultural, Consumer and Environmental Sciences (ACES) at the University of Illinois, was honored with a GroundBreaker Prize this week by FoodShot Global, the collaborative capital investment platform that catalyzes innovation for a healthier, more sustainable, and more equitable food system. Guan is part of the faculty in the Department of Natural Resources and Environmental Sciences (NRES) in ACES.
Guan, founding director of the Agroecosystem Sustainability Center and Blue Waters Professor with National Center for Supercomputing Applications at the University of Illinois, will receive $120,000 for his work in Innovating Soil 3.0. He is developing a "system of systems" approach that can support farmer decision-making to improve soil health and provide scientifically rigorous MRV (monitoring, reporting, and verification) services to ecosystem services markets.
In his previous work, Guan has integrated novel sensing and modeling technologies, combining advanced earth system domain knowledge (i.e., plant physiology, biogeochemistry, hydrology, agricultural science) with airborne/satellite data, supercomputing, process-based modeling, and machine learning. His team's solutions make it possible to monitor and model every crop field on Earth in real-time for its water and nutrient needs and its environmental footprint.
"I am thrilled by this great honor; it is a shared honor going to the whole team, including the scientists, students, postdocs from my team and our collaborators," Guan says. "We are starting to apply this technology to every farm in the U.S. and beyond, and our technology is quickly evolving with deep inclusion of digital twin and artificial intelligence."
"I am delighted that Guan's work is being honored by FoodShot. His innovative, out-of-the-box thinking is a prime example of how we tackle grand challenges in the College of ACES at U of I," says Germán Bollero, interim dean of the College of ACES. "We are grateful to FoodShot and others for recognizing Guan's commitment to improving our future."
FoodShot Global Founder and Chairman, Victor Friedberg, says, "Guan and our other GroundBreakers represent the bold ideas and innovation needed to make food a solution to improving human and planetary health. Perhaps most important, the winners are leveraging partnerships, science, and technology in a way that makes the food system more equitable and ensures nutrition security at a global level."