Summer-long University of Illinois Agronomy Days now underway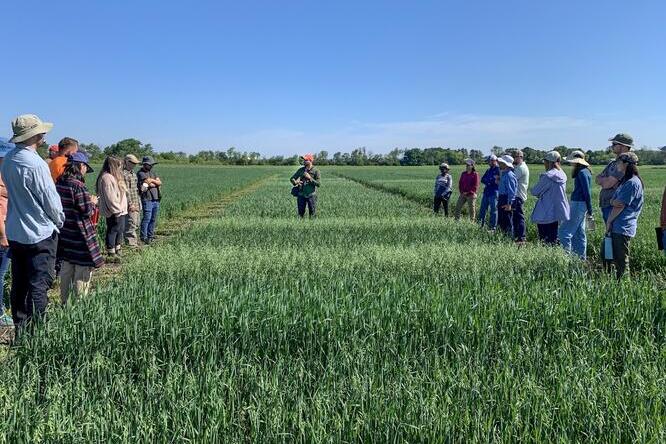 Small grains breeder Juan Arbelaez speaks at field day
URBANA, Ill. — Last year, the University of Illinois tried something new with its longstanding Agronomy Day. After more than six decades, the single-day ag education event was no more. Instead, the Department of Crop Sciences, the College of Agricultural, Consumer and Environmental Sciences (ACES), and Illinois Extension hosted events all season long, with topics, locations, and formats to suit everyone. 
A rousing success in its first year, Agronomy Days is back for 2023. 
"As we hoped, we reached a variety of audiences at more than a dozen different events that spanned the growing season, using the farms as a living classroom," said Adam Davis, head of the Department of Crop Sciences. 
As in its first year, Agronomy Days 2023 will feature a mix of traditional field days, on-farm tailgates, and shade-tree talks. Some events will include light refreshments while others will give attendees behind-the-scenes looks at crop science research as it's happening. 
New events will be added throughout the season, so be sure to bookmark the Agronomy Days calendar and check back often. Also watch ACES social media channels.   
First up is the Small Grains Field Fest at 3 p.m. on May 20 at Rigg's Beer Company in Urbana. Hosted by small grains breeders and crop sciences assistant professors Jessica Rutkoski and Juan Arbelaez, the event will showcase demonstration plots of grains important to beer production, including wheat, barley, rye, triticale, and oats. Special guest speakers will include a small grains breeder from Virginia and Matt Riggs, owner of Riggs Beer Company and ACES alumnus. The event will include a varietal "hot steep" malt tasting and small grains dinner menu.
A new tradition for Agronomy Days in 2022 was the inclusion of events hosted by external partners, providing attendees with unique perspectives from private landowners, industry groups, and more. The first of these events for 2023 is a Southern Illinois Wheat Tour hosted by the Illinois Wheat Association and starting at 8 a.m. on May 23 at the  Southern Illinois University's Belleville Research Station. More information, including registration details, is available online.   
Early June events include the University of Illinois Small Grains Field Day at the South Farm Research and Education Center in Savoy on June 2 and the Summer Horticulture Field Day at the Graham and Coventry Family Farm on June 8. The latter includes lunch and costs $30 in advance or $40 at the door. More details are available for both events in the Agronomy Days calendar. 
"We expect to add events regularly throughout the season, and have some exciting days planned. Folks should definitely keep an eye on our calendar all summer long," said Nick Seiter, research assistant professor and faculty Extension specialist in crop sciences and co-chair of the Agronomy Days committee. "We look forward to welcoming folks to learn and share with us during Agronomy Days 2023."