Swanson named interim director of ACES Division of Nutritional Sciences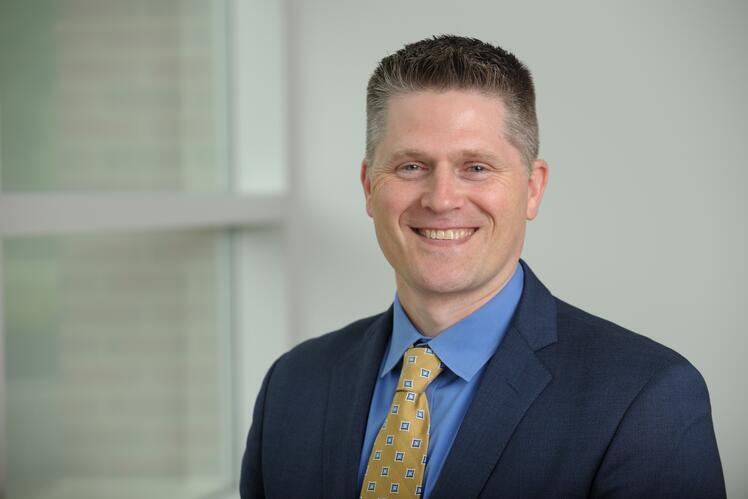 Kelly Swanson
URBANA, Ill. — Kelly Swanson has been named interim director of the Division of Nutritional Sciences (DNS) at the University of Illinois, starting May 16. Swanson is Kraft Heinz Company Endowed Professor in Human Nutrition in the Department of Animal Sciences and DNS, both part of the College of Agricultural, Consumer and Environmental Sciences (ACES) at U of I.  Swanson succeeds Elvira de Mejia, professor in the Department of Food Science and Human Nutrition in ACES, who served as director for five years. 
"An accomplished scientist and University Scholar renowned for his work in comparative nutrition and nutrigenomics, Professor Swanson has over two decades of experience in DNS. He brings an invaluable combination of knowledge of DNS and scholarly excellence to his service," said Rodney Johnson, head of the Department of Animal Sciences.
The Division of Nutritional Sciences is an interdisciplinary program for graduate education in nutrition, offering a master's in nutritional science, a master's in public health, a doctorate in nutritional sciences, an internship toward a registration in dietetics, and a certificate in nutrition policy and food/feed regulation. Faculty from departments across campus teach and offer research opportunities as part of the program. Learn more and apply now. 
Swanson studies the effects of diet on gastrointestinal microbiota community composition and activity. His research, which includes human subjects, companion animals, and traditional animal models, clarifies the roles and relationships of gastrointestinal microbiota and dietary components, including dietary fibers and prebiotics, with the goal of developing diets to prevent obesity and other health-related issues.
Swanson became an assistant professor in the College of ACES in 2004 and was promoted to associate professor in 2009 and full professor in 2014. Over the past two decades, he has established an internationally recognized research program, highlighted by approximately $25 million in research support, over 150 invited lectures in 15 countries, and more than 240 peer-reviewed publications. He has trained over 45 graduate students and postdoctoral researchers, hosted 16 international visiting scholars, and mentored 40 undergraduate research projects. In the classroom, Swanson has taught over 3,000 undergraduate, graduate, and veterinary medicine students in nearly 60 nutrition courses, being listed on the "List of Teachers Ranked as Excellent by Their Students" 30 times.
Swanson has received 15 distinguished research and teaching awards, including those from the American Society for Nutrition and the American Society of Animal Science. He received the 2014 University of Illinois Campus Distinguished Promotion Award, honoring exceptional scholars whose contributions have been extraordinary in quality of work and overall achievement. In 2017, Swanson was named Kraft Heinz Company Endowed Professor in Human Nutrition, and was recognized as a University Scholar in 2018 by the University of Illinois System.
"Kelly Swanson is one of our most respected teachers, researchers, and leaders. His extraordinary dedication to progress in the nutritional sciences, as well as his talent as an educator, makes him an outstanding fit for the role of interim director for DNS," said ACES dean Germán Bollero. 
"I also want to thank Elvira de Mejia for her service these last several years," Bollero added. "Under her steadfast leadership, DNS initiated six new courses, launched a new USDA-funded certificate program, grew faculty membership, and initiated fruitful collaborations with Mexican research and academic institutions, among other notable accomplishments. Visionary leaders like de Mejia have propelled DNS forward since its inception in 1968, and I am excited to see where the program goes under Swanson's direction."