FSHN celebrates 50 years of food science master's program at Chicago food technology expo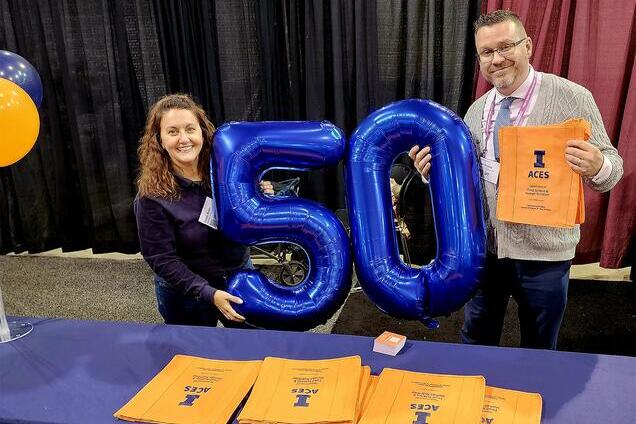 Dawn Bohn and Stan Hulsey
Since 1973, food industry professionals have bolstered their skills and furthered their careers through the Master of Science in Food Science (MSFS) program in the Department of Food Science and Human Nutrition (FSHN), part of the College of Agricultural, Consumer and Environmental Sciences (ACES) at the University of Illinois Urbana-Champaign.
FSHN celebrated the program's 50th anniversary at the Chicago Section Institute of Food Technologists Annual Expo and Symposium on Nov. 2. FSHN hosted a booth at the expo, which primarily featured food technology companies.
"The expo is a great way for our department to connect with our food industry partners and individuals who may be seeking out a degree program. The event is also a point of contact with students in our online MSFS program, many of whom are food industry professionals attending the expo as exhibitors," said Dawn Bohn, program director and teaching associate professor in FSHN.
"The MSFS program originated as a face-to-face program. Over time, as the industry became much more global, it was really becoming a challenge for our student population to attend a class at a given time in a given geographic location. In the early 2000s we started discussing an online program, and in 2010 we transitioned to synchronous online delivery, " she added.
While FSHN also offers on-campus graduate degrees in food science, the online program is a non-thesis option primarily intended for working professionals who are looking to expand their skill set. It is a flexible program that allows students to fit classes into a busy schedule, while personalizing the curriculum to support their interests and career goals. Many students work for companies that provide tuition reimbursement for professional development, Bohn noted.
Vanessa Herrera, principal development scientist at Conagra Brands, is currently a student in the program.
"The education I have obtained through the online master's program has enabled me to complete research proposals for new ingredient technologies while keeping cost, quality, and food safety as a top priority," she said. "The program's flexibility is exactly what I need to successfully complete my graduate coursework. I cannot highlight enough how much I value the knowledge and expertise of the FSHN faculty; I appreciate the high academic level and faculty engagement even through a virtual format. I am proud to be part of this program and look forward to completing my food science master's with the support of such great faculty and the resources available."
Read more about Vanessa in the Voices of ACES blog.
Stan Hulsey, senior research and development food scientist at TreeHouse Foods, graduated from the MSFS program in May 2021.
"The degree has given me a vast and well-rounded food science knowledge, an increased confidence to mentor other scientists and interns, and helped my advancement to senior food scientist as a technical leader in research of non-dairy creamers and functional fat powders," he said. "As a husband and father, I appreciated the self-pace and convenience of the program, which allowed me to advance my career while still getting to enjoy watching my two wonderful daughters grow up."
"I am deeply indebted to Dr. Bohn and the FSHN faculty and staff for the knowledge they have passed on to me, and I am also very thankful for the student colleagues that I have met through the program," he added. "I feel connected to the University of Illinois community in a way I never felt connected to any other school I previously attended. There is definitely something special about graduating from the U. of I. that puts a sparkle in your eye."
Helen Bengtson, senior food scientist at John B. Sanfilippo & Son, completed her master's degree in May 2020.
"I have always wanted an advanced degree, and I was grateful to be able to complete this degree while working full time. I really liked that the program was synchronous with live classroom sections. I found it very valuable to meet peers and have questions answered live by professors. Both the coursework and skills required to complete the degree while working full time have benefitted me. The program also helped to expand my professional network which is always helpful," she said.
Bohn says that attending the expo is an opportunity to interact with past, current, and potential students in the master's program. The department also brings a group of sophomore food science students to the event.
"It's great for our students to see the expanse in the industry, whether it is flavor and seasoning suppliers, consumer goods packaging, or processing equipment companies. It helps them understand how big the food industry is, and how important it is to collaborate and be part of a network."
Learn more about the online Master of Science in Food Science or other degree options in FSHN.