Locally grown ABE alum Matt Riggs transforms experience into farm family enterprise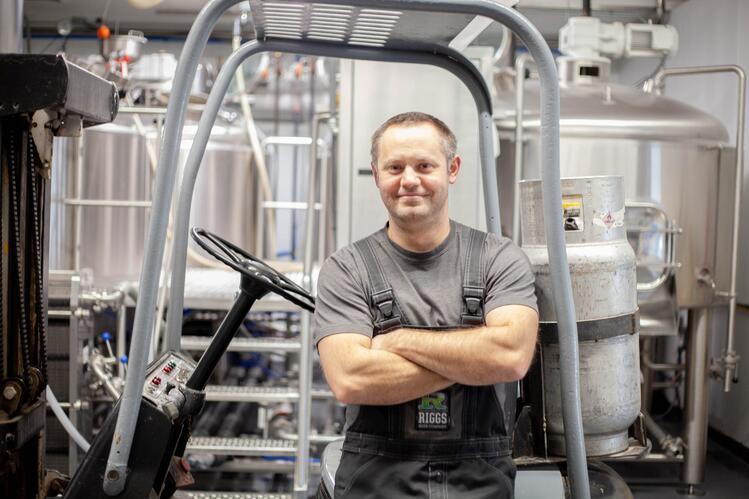 Matt Riggs
Matt Riggs is a 2023 recipient of the Young Alumni Achievement Award from the Department of Agricultural and Biological Engineering, part of the College of Agricultural, Consumer and Environmental Sciences and The Grainger College of Engineering.  
---
The journey of Matt Riggs (TSM '06) starts and ends on his family's fifth-generation Champaign County farm. 
During his formative years, farming faced tough times, with small farms like his struggling to provide a sustainable income for a family. His parents encouraged their children to seek careers elsewhere. 
But Matt, and his brother Darin, spotted an opportunity to create a vertically integrated business to craft the first truly local beer in the region — a dream that would take decades to come to fruition.
They turned to the University of Illinois Urbana-Champaign, which was practically in their backyard, and the Naval Reserve Officers' Training Corps (NROTC), to pursue the higher education that would set their careers in motion and make their dream a reality. 
Matt would earn a bachelor's degree in Technical Systems Management in the Department of Agricultural and Biological Engineering (ABE), part of the College of Agricultural, Consumer and Environmental Sciences (ACES) and The Grainger College of Engineering.  
During his undergraduate experience, Matt had the chance to study abroad in the United Kingdom, and also to reconnect with his high school friend Joe, who had been a German exchange student in Illinois. Joe introduced Matt to the concept of a German beer garden — and to his sister, Caroline, whom Matt would go on to marry. 
"I've been really fortunate; my wife has been an outstanding partner," Matt said. "Before we met, she knew this was a big goal of mine to vertically integrate grain into the beer, and she's been phenomenal in supporting me. My wife doesn't have another job. We're in this together full time. How many other spouses are so devoted that they would do something full time with you?"
Image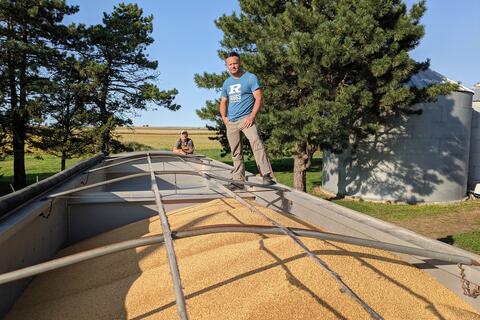 Upon graduation, Matt and Darin served their military commitments. As a combat engineer officer in the Marines, Matt had the chance to sample beer from around the world. During their leave, the brothers would return to the family farm where they nurtured their dream of a brewery, which had taken root so many years before. 
Matt struck a deal with Dave Nutley, the owner of San Marcos Brewery: brewery labor in exchange for free beers and dinner. For his 27th birthday, his mother gifted him a Mr. Beer homebrew kit, which was the start of Matt's personal brewing adventure that would eventually take him overseas to attend a brewing school in Munich, Germany, to learn the craft. 
"A great beer doesn't dominate the conversation, but at the same time, it's got to be an interesting enough beverage that, if you wanted to, you could sit here, lean back, put your nose in it, take a mouthful, and let it sit there for a second and think, 'Okay, what am I tasting?'" Riggs said. 
Matt would return to Champaign County in 2015 to secure a loan from Busey Bank and opened the doors to Riggs Beer Company in 2016. Since then, he has devoted 80-hour weeks to the growing family operation. "If you're going to grow grain, and turn it into a fermentable, and then sell that liquid, and have that be sustainable — I don't know how we could do it without a lot of extreme hours," he said.
Today, you can sample Riggs' brews in their taproom or sprawling beer garden. Their diverse range of German and American beer styles are also sold across town and at the State Farm Center and Memorial Stadium.
Image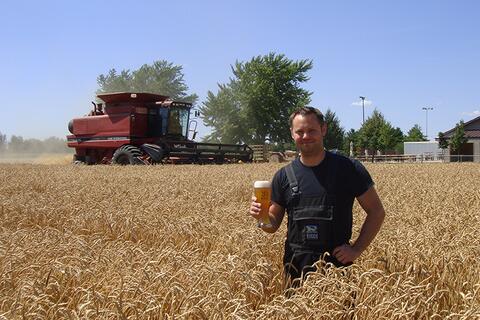 Their goal is to continue increasing and improving the varieties of Riggs-raised grain in their beer.  "We are solidifying the value chain that starts on our family farm and ends in a beer glass. We are always trying to improve how we grow, store, clean, malt, and brew the grain to optimize the niche value chain that we have built. "
Matt and his family have partnered with the College of ACES to source white seed corn that contains less oil, an attribute ideal for brewers looking to extend the shelf life of their product. Notably, this corn variety likely originated on the Burr Farm, located just three miles from the Riggs family farm.  
"It's really thrilling to be able to take something from the seed all the way to the glass and make some profit to pay your people and invest in buying new equipment," he added. "The most thrilling thing in the world for me is that practical application piece."
Matt said ABE provided him with a practical education and a foundation that enabled him to succeed in the math-and-chemistry-heavy German brewing program — in a foreign language, no less. But more than that, the University of Illinois gave him perspective. 
"That's a really great thing that a big university does — it exposes you at an age when you're a sponge to a whole bunch of brand new things, people, and concepts, and that builds perspective," he said. "When we are equipped with perspective, I think it's easier to identify opportunities. I wouldn't have known what a beer garden was if I hadn't left Champaign County, and it'd be a sad life."