Whitlock and Riggs receive ABE Alumni Awards for impact and innovation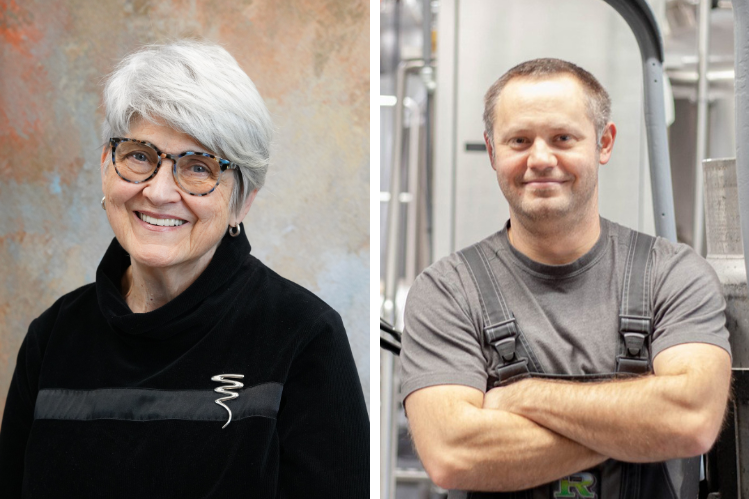 Kay Whitlock (left) and Matt Riggs (right) named 2023 Alumni Award winners by ABE.
The Department of Agricultural and Biological Engineering (ABE), part of the College of Agricultural, Consumer and Environmental Sciences (ACES) and The Grainger College of Engineering at the University of Illinois Urbana-Champaign, will honor the exceptional success of two distinguished graduates at the 2023 Alumni Awards ceremony on Oct. 6. 
The Distinguished Alumni Award will be presented to Kay Whitlock (ABE '70), vice president of Christopher B. Burke Engineering, Ltd. "I probably wouldn't have made it if it hadn't been for the ag engineering department. From the moment I walked in the door, and to this day, ABE always has been welcoming and supportive of me and proud of me and made it very clear that I was important and respected," said Whitlock in her alumni profile, which details her remarkable professional career in water resource management.  
The Young Alumni Achievement Award will be given to Matt Riggs (TSM '06), co-founder of Riggs Beer Company in Urbana, Ill. "That's a really great thing that the university does — it exposes you at an age when you're a sponge to a whole bunch of brand new things, people, and concepts, and that builds perspective. When we're equipped with perspective, I think it's easier to identify opportunities," said Riggs in his alumni profile, where he explains how he built his family business through hard work and ingenuity.  
ABE department head Ronaldo Maghirang said it is an honor to present these awards to two individuals who represent the best of the department. "Kay is at the forefront of crafting sustainable strategies to protect our precious water resources in the face of a changing climate, and Matt has innovatively transformed his family farm's enterprise into a soil-to-stein craft brewing operation. I am immensely proud that they are part of our alumni community, as they lead by example to provide sustainable and meaningful opportunities for others." 
Established in 2008, the Alumni Awards recognize ABE alumni who have attained outstanding success and national or international distinction in their chosen profession or life's work and whose accomplishments reflect admirably on, or bring honor to, the department, college, and university. Alumni can be nominated through an online nomination form.