College of ACES Dean Germán Bollero named Robert A. Easter Chair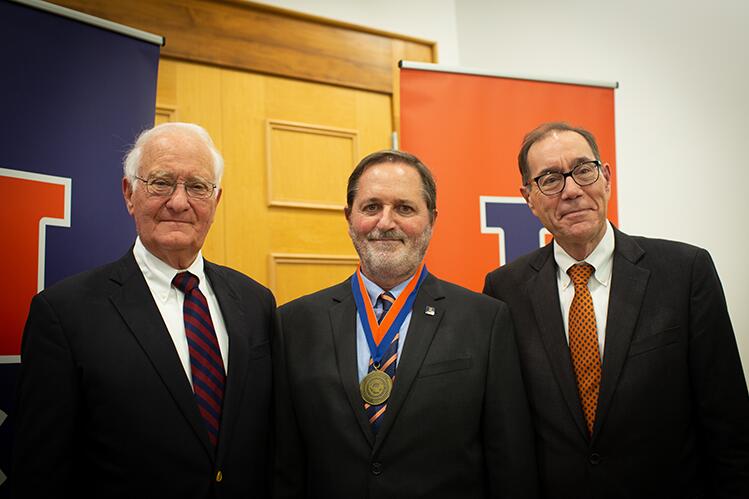 President Emeritus Robert Easter (left), Dean Germán Bollero, and Provost John Coleman
Yesterday, Dean Germán Bollero was formally honored as the Robert A. Easter Chair in the College of Agricultural, Consumer and Environmental Sciences (ACES) at the University of Illinois Urbana-Champaign, surrounded by family, colleagues, students, and friends of the college. 
"Germán Bollero is truly deserving of this recognition as a dedicated leader who excels at bringing people together at all levels to deliver on this land-grant mission," said Provost John Coleman, Vice Chancellor for Academic Affairs. "He is known for his 'people first' approach to leadership and belief that we are far greater than the sum of our parts." 
Provost Coleman led the investiture ceremony, which was standing room only, and included remarks from Dean Bollero's longtime colleague Adam Davis, head of the Department of Crop Sciences, and University of Illinois President Emeritus Robert "Bob" Easter, for whom the chair is named. 
An internationally respected scholar of biometry and cropping systems, Dean Bollero brings more than a decade of administrative leadership as the Robert A. Easter Chair. More importantly, he has been a member of the ACES family for nearly 30 years.
Dean Bollero helped modernize the use of statistics in agricultural sciences through his "deep statistical knowledge rooted in the basics," Davis shared in his remarks.
"His open embrace of advanced statistical techniques and rigorous application of multivariate statistics has improved our understanding of crop and soil management," Davis said. "By sharing his insights into statistics, he opened up new vistas, so I am personally really appreciative of the advances Germán has made."
Davis also shared how Dean Bollero, a gifted teacher and mentor, taught generations of students who went on to have exceptional careers because of this foundation — including several faculty members in attendance. 
Dean Bollero is known for his personal approach to leadership, which has made him a beloved member of the college. He often stops staff in the hallways to check in and "breaks bread" with colleagues. "Germán is somebody who deeply cares about people and takes time to get to know them," Davis shared. "He has strong and open feelings — he is an unguarded and compassionate person who deals with you in a very genuine way."
A native of Rosario, Argentina, Dean Bollero earned a bachelor's degree in agronomy from the National University of Rosario. He earned a master's degree and doctorate from the Department of Agronomy (now crop sciences) at the U. of I. He joined the crop sciences faculty in 1998, rose to full professor in 2008, served as department head from 2009 to 2018, and then became the associate dean for research. Dean Bollero served as interim dean from September 2021 until he was named dean in April 2023; he is the 15th dean of the college. 
"The College of ACES is not just a place; it's a community, a family, a shared dream to make the world a better place — and I truly, truly believe that," Dean Bollero said in his remarks and went on to thank faculty, staff, and his colleagues for their advice, friendship, patience, and partnerships, as well as stakeholders in food and agriculture. 
"More importantly, I want to thank the students in this college, undergraduates and grad students, who make a difference — this is what we're all about…and I want to keep them in the center of this conversation," he added. "But most of you know that this recognition would not be possible without the love and support of my family, and I am grateful that they could be here today," he said, also acknowledging his family and friends tuning into the live-streamed ceremony in Argentina. 
Dean Bollero expressed his love for agriculture, which is intertwined with his love of the College of ACES, as well as its many diverse disciplines that serve all of humanity. 
"One of the things I love about agriculture is that it's about the globe," he added. "It's about how we are going to grow food for the next 100, 200 years — that's what agriculture does, and it really inspires me." 
Dean Bollero said he is grateful to be surrounded by supportive colleagues who have partnered with him for more than 30 years to fulfill the land grant promise established in the Morrow Act in 1862. 
"Many things have changed, but my respect for the College of ACES, my belief in the power of education, and my passion for food and agriculture have remained steadfast," he added. "But I think that access is at the center of this institution, and we need to continue to work to provide that access from our college to society. I am immensely grateful and humbled by this recognition."
The Robert A. Easter Chair, held by the dean of the College of ACES, was created by alumni, friends, and colleagues to recognize the contributions of Robert "Bob" Easter, an internationally respected swine researcher who served as an ACES faculty member, department head, and dean, as well as chancellor and the 19th president of the U. of I.
During the ceremony, Easter spoke directly to Dean Bollero in his remarks. "I believe you have the background, you have the technical understanding, you have the human understanding, and you have the leadership talents to lead," Easter said, emphasizing how he is "absolutely convinced" that the college has the talent and resources to continue to deliver transformative solutions through research, education, and public engagement. "So all my best wishes as you go about writing your chapter — you've got my full support."