Degree requirements: none
Eligibility: current University of Illinois students
Program length: 2-3 semesters, 9 hours
Format: online or in-person
Required course: ACE 240, Personal Financial Planning (offered all semesters)
Contact: Brianna Gregg, bjgray2@illinois.edu
Adulting can be hard. Learn essential adulting skills for personal life success.
The Adulting certificate offers a pathway of course options to prepare for post-graduation life. The required course, ACE 240, provides a foundation for financial success including how to manage money, plan for retirement, and obtain a loan. After completing ACE 240, customize your certificate by completing elective courses that range from personal health and nutrition needs, to learning how to care for your pet, or how to grill the best burger.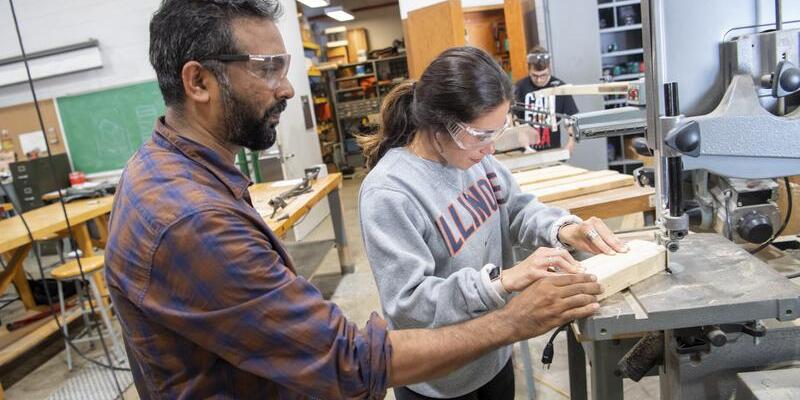 Courses

ACE 199: Negotiation (2 credits, spring/fall)

ACES 199: Professional Dev and Career Competencies (2 credits, spring)

ANSC 207: The Science of Pets and How to Care for Them (3 credits, spring/summer/fall)

ANSC 210: Grilling and BBQ Science (2 credits, spring/fall)

ANSC 309: Meat Production and Marketing (2 credits, fall)

CPSC 180: Medicinal Plants and Herbology (3 credits, spring/fall)

FSHN 101: The Science of Food and How it Relates to You (3 credits, spring/fall)

FSHN 120: Contemporary Nutrition (3 credits, spring/fall)

FSHN 175: Science of Fermented Foods (3 credits, spring/fall)

FSHN 422: Intro to Personalized Nutrition (3 credits, spring/fall)

HDFS 105: Intro to Human Development (3 credits, spring/summer/fall)

HDFS 120: Intro to Family Studies (3 credits, spring/fall)

HDFS 220: Families in Global Perspective (3 credits, spring/fall)

HDFS 225: Close Relationships (3 credits, spring/fall)

HDFS 310: Adult Development (3 credits, spring/fall)

HDFS 425: Family Stress and Change (3 credits, fall)

HORT 105: Vegetable Gardening (3 credits, spring/fall)

HORT 361: Small Fruit Production (2 credits, spring)

LEAD 140: Harnessing Your Interpersonal Intelligence (23 credits, spring/fall)

LEAD 230: Leadership Communications (3 credits, fall)

LEAD 260: Foundations of Leadership (3 credits, spring/summer/fall)

NRES 100: Fundamentals of Environmental Science (3 credits, spring/fall)

NRES 102: Intro to NRES (3 credits, spring/fall)

NRES 287: Environment and Society (3 credits, spring/fall)

TSM 132: Basics of Project Management (1 credit, spring)

TSM 232: Materials and Constructions Systems (3 credits, fall)

TSM 233: Metallurgy & Welding Process (3 credits, fall)

TSM, 234: Wiring, Motors and Control Systems (3 credits, spring)

TSM 371: Residential Housing Design (3 credits, spring)

TSM 430: Project Management (2 credits, spring/fall)