Graduate student works towards conserving frogs in Madagascar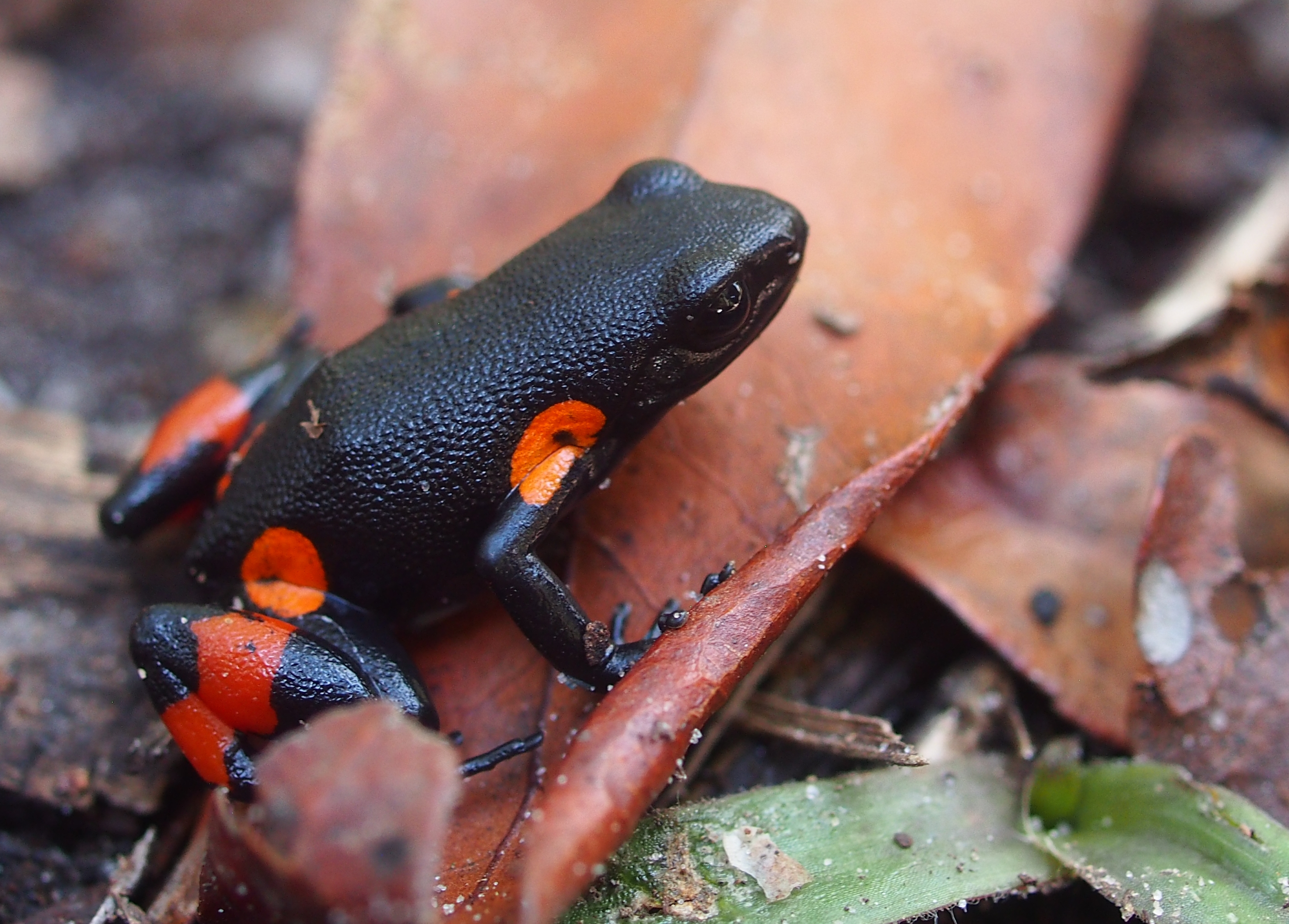 After a certain point, Madagascar's Route National 35 is only maintained by the drivers of the vehicles who attempt it–dirt bikes carrying passengers ("taxi motos") and aged mog-style trucks on their way to pick up sacs of rice or bulk rock. Some days there are only two or three vehicles inching their way along the last stretches of red mud. Often, they get stuck, sometimes for weeks.
Image
We stopped and decided to start walking when the road became impassable at Hazofotsy, a remote village near some of the last populations of the endangered harlequin mantella frog (Mantella cowanii).
Image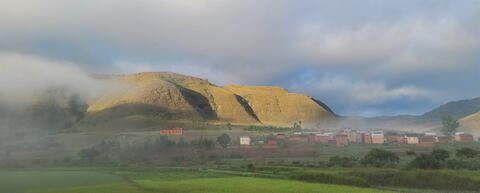 If you know something about Madagascar (aside from the hit 2005 Disney animated film), it might be that the island is the only place in the world with lemurs, those cute and peculiar monkey-like animals widely featured at zoos and in nature documentaries. What you might not know is Madagascar also supports an absurd number of frogs. Madagascar is smaller than Texas yet is home to an estimated 500+ frog species1, 99.9% of which are only found on the island. This is nearly five times as many kinds of frogs as are found on the entire continent of North America.
Alarmingly, nearly half of assessed frog species in Madagascar are at risk of extinction, owing largely to habitat loss from deforestation2. Much as Illinois used to be covered in prairie, the highlands of Madagascar were formerly a mosaic of humid forests and native grassland. Today, the forest has been replaced by secondary grasses used for cattle grazing or leftover from subsistence agriculture. Only tiny patches of highland forest remain, and these forest fragments are where the last harlequin mantella frogs live.
Together with Malagasy colleagues and with support from a College of ACES International Graduate Grant, I am studying the population ecology of the harlequin mantella frog for my Ph.D. Our goal is to fill the research needs in a new action plan for the species to inform conservation efforts.
Some of the most basic information to know about an animal is where it occurs and how many there are. The harlequin mantella is only known from around a dozen populations clustered across four remote sites, some of which until now had not been visited by researchers in nearly two decades. I was able to sample all four population clusters over the last two years, collecting data to answer research questions like:
Are frogs still present at all historic sites or have some populations been extirpated?

If there are populations present, how many frogs are there at each site?  

Are populations increasing, decreasing, or stable?

Is there gene flow between the isolated population clusters?

What do local people know about the frog that can help inform conservation efforts?
We left the car in Hazofotsy and hiked the rest of the way to the forest. Local guides led us, first along the remnants of the road our vehicle could no longer manage, and then to a small footpath. We arrived hours later to an expanse of grassy savannah overlooking a small fragment of green forest. We set up camp at a clearing next to the river and then navigated by GPS to the location in the forest where harlequin mantellas had last been found by another research team 15 years earlier. I listened for their call. Nothing.
Still, one of the local guides confirmed we were in the right spot. In the 1990s he used to come to the same forest to collect harlequin mantellas for the international pet trade. Records show over 3,000 wild harlequin mantellas exported from Madagascar during the 1990s and early 2000s, at which point trade was stopped out of concern for wild populations3. Our guide said that back when he was young, in a week he could gather 50 or more frogs to sell to exporters, though we didn't hear or see any that first day.
The next morning, we searched along a small tributary to the river we camped next to.
Image

I heard one before I saw it— "dink, dink, dink." It took nearly an hour to find the first harlequin mantella calling from a hidden location in a hole along the streambank, but soon after we found another, and I could tell it was going to be a good field season.
When we catch a harlequin mantella, I first record the location where it was caught and environmental variables like air temperature, distance from water, and percent canopy cover. I then identify the frog based on its unique blue spotted belly pattern. Each gets a unique identification number. Lastly, I measure the frog, run a sterile cotton swab along its skin to screen for a disease, and cut a tiny piece of tissue from one of their toes. After sampling, we release each frog back in the exact same place where we caught it.
Image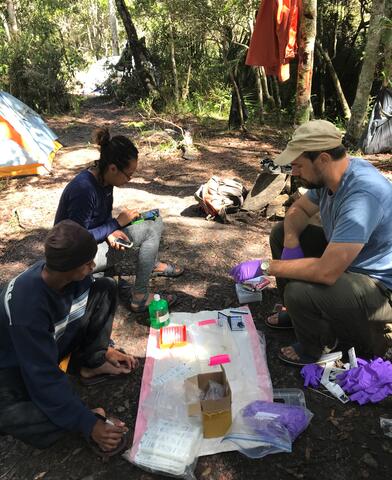 In January, after two months of fieldwork and over 80 frogs found, I returned to the capital Antananarivo to wrap things up. The city of nearly 2 million is a smog-filled lesson on inequality. Guarded Audi dealerships and luxury hotels loom over children picking through rotting heaps of garbage for lunch.  I sat on a bench outside a government office waiting for a final stamp and signature to allow me to transport tissue samples out of the country. With no genomics laboratories in Madagascar, we must export tissues abroad for analysis.
I paged through my permits and paperwork, an inch high stack with more than two dozen stamps of approval from various offices across communes, districts, regions, and now here at the national level. Because harlequin mantellas were formerly commercially overexploited, trade is tightly controlled, and navigating the permitting procedure to export tissue samples can be more challenging than finding the rare frogs. However, my doctoral work was filling a national conservation strategy for an endangered species, and officials were supportive. After several nerve-wracking weeks of waiting at offices and going to meetings in the capital, I received the final stamp and signature the day before my flight left.
The information the tissues contain will help us understand the demographic history of populations. How long have they been isolated? How many individuals in each population are contributing offspring to future generations? I hope what we learn can help determine which populations are at greatest risk of being lost so that conservation actions can be implemented in time to help them recover.
References:
Bina Perl, RG, et al. "DNA barcoding Madagascar's amphibian fauna." Amphibia-Reptilia 35 (2014): 197-206.

IUCN. 2023. "The IUCN Red List of Threatened Species. Version 2022-2." https://www.iucnredlist.org. Accessed on 26 April 2023.
Rabemananjara, FCE, et al. "Malagasy poison frogs in the pet trade: a survey of levels of exploitation of species in the genus Mantella." Amphibian and Reptile Conservation 5 (2008): 3-16.
Devin Edmonds is a two-time ACES Graduate Grant recipient. He received a 2022 grant for "Improving amphibian conservation in Madagascar through the Mantella cowanii Action Plan" and just received 2023 grant (It is extremely rare to receive this grant twice!) for his continued work in Madagascar "Conservation Genetics of the Endangered Poison Frog Mantella cowanii." He is advised by Michael Dreslik.