Anniversary of Jill Pitts Knappenberger's Senate Resolution honoring "Clubmobile Gals"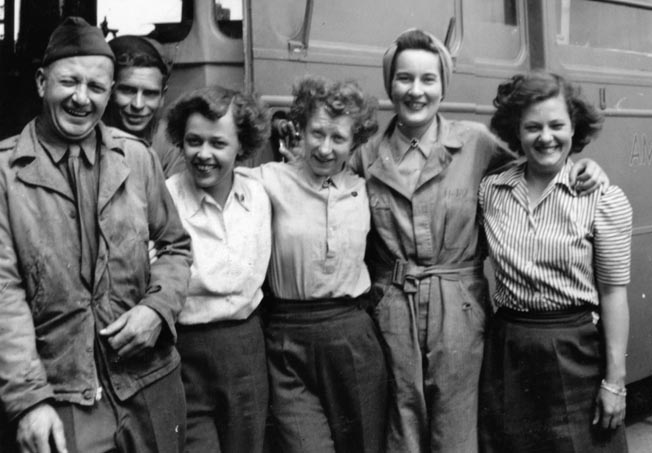 June 21 is the anniversary of a Senate Resolution "commending the efforts of the women of the American Red Cross Clubmobiles for exemplary service during the Second World War" — an effort brought about by former "Clubmobile Gal" Jill Pitts Knappenberger, a graduate of the College of Agricultural, Consumer and Environmental Sciences (ACES).
The Clubmobile Service boosted the morale of troops serving on the front lines of the conflict with conversation, coffee, and doughnuts. Novelist Luis Alberto Urrea's recent essay in The New York Times captures the service of Knappenberger and his mother, who were friends and colleagues. 
I believe all of the Clubmobile women from World War II are gone now, including my mother's truck mate Jill Pitts Knappenberger. I was so grateful to find her in 2014 after she lost contact with my mother before I was born. We visited regularly before she passed away in 2020 at 102 years of age. Miss Jill was tremendously proud of her time in the service — she was never seen without her gold Clubmobile charm around her neck.

Miss Jill fought for the crew of the Cheyenne to be officially recognized as the forward-most women in battle in World War II. A Senate Resolution in 2012 honored the Clubmobile Service, and called upon historians to "not let this important piece of U.S. history be lost."
Knappenberger's legacy has been well documented over the intervening years. In 2007, she was interviewed by Illinois Public Media about her experience serving on the front lines during the Battle of the Bulge. She also shared her story in an interview with the Illinois Alumni Association. 
"Our convoy zigzagged across the Atlantic; it was the largest convoy that had ever left the States," Knappenberger said. "You could look out on deck, and there were ships as far as you could see—battleships, aircraft carriers, and a lot of luxury ships like ours that had been converted to troop carriers." 
In the feature article titled "Clubmobile Gal," writer and Illinois alumnus Maureen Holtz ('74, Education) details Knappenberger's story overseas.
During World War II, approximately 1,000 young, energetic women volunteered for Clubmobile work serving combat troops. Today, only a handful, including Jill, remain. She still sparkles whenever she speaks about her favorite subject, American GIs.

Senator Susan Collins (R-ME) said it best in 2012 when honoring the ARC clubmobile women: "A visit from a clubmobile was one of the most significant events for a young G.I. in combat far from home, and the women of the clubmobiles, young women from every single state, acted as friends and sisters to the troops with whom they interacted."
After graduating from the College of ACES, Knappenberger served Marshall County as a staff member of the University of Illinois Extension. Indeed, Knappenberger's life was defined by her service to others, embodying the legacy of the Clubmobile Service.