ACES internship teaches student about postharvest loss in South Asia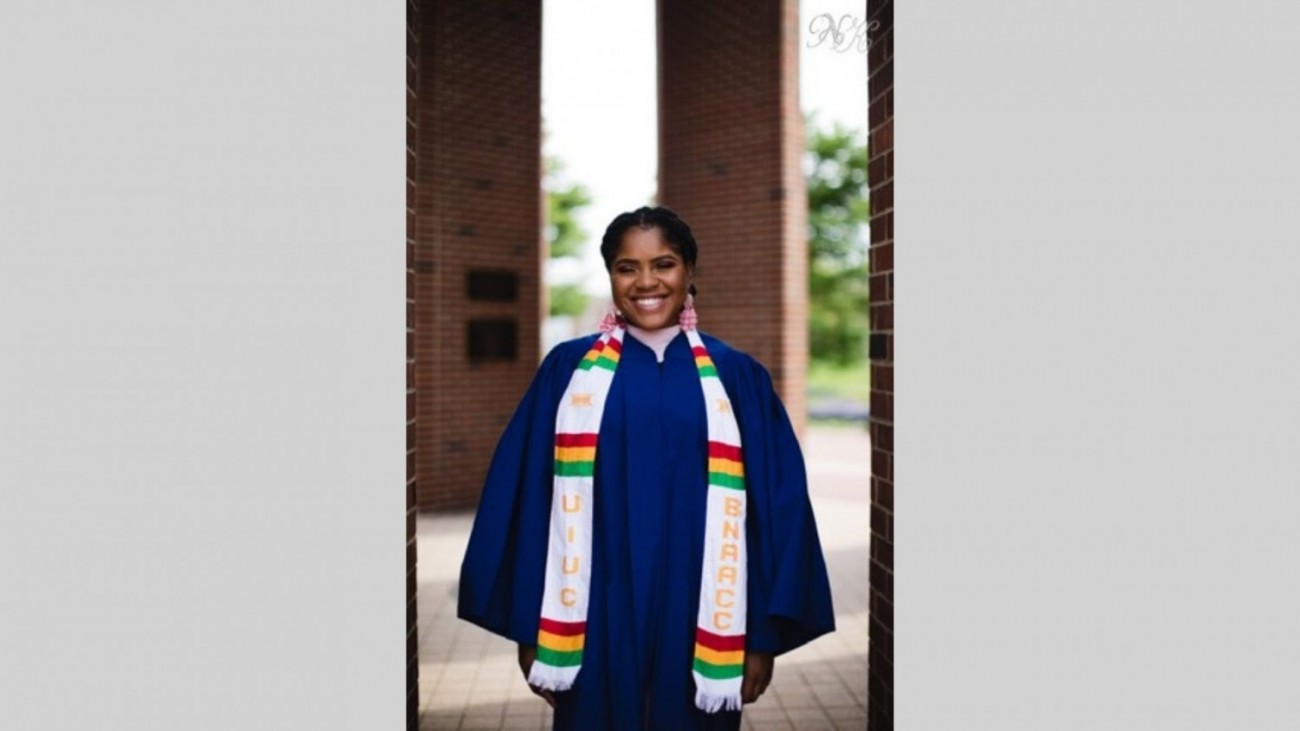 My experience working with ADMI this semester was extremely eye-opening. When I took on this eight-week internship in March, I knew it would be a challenge. The final semester of my senior year was already filled with exciting and time-consuming activities. This included another internship with the Champaign 5th & Hill neighborhood rights campaign and a job working as a contact tracer with Champaign Urbana Public Health District. I was also volunteering as a research assistant with the African American Families Stress & Resiliency lab on campus, in addition to my course studies. In some ways, I was grateful for remote learning and remote activities because I can't imagine trying to juggle my spring schedule in person.
Despite my busy schedule, I was extremely excited and energized by the opportunity to work with the ADMI team again. I was a unique addition to the internship team as I was not an ACES student. In fact, I became familiar with ADMI in the Spring of 2020. After leaving my ACES Study Abroad program in Sierra Leone, ADMI worked with my program cohort to identify some contextually specific and helpful technologies to improve post-harvest losses in Sierra Leone. This was my first experience with post-harvest losses, and I learned a lot from the project. So, when Maria Jones reached out to me to work on this again, I was ecstatic.          
This time around I focused on a South Asian context, specifically looking at postharvest loss (PHL) in India & Bangladesh. From my first project with ADMI, I learned that context is important, especially when understanding things like weather conditions, geographic differences, gender roles, average farmer income, and much more. So, I began my research by doing a literature review and video review of all the current issues related to PHL that are being observed in the context of this area. Some of the first and most important findings I had identified were the current strikes that were going on in India by smallholder farmers. Due to a change in policy by the government, smallholder farmers in India are now at risk of having many of their protections removed by the government in the coming years. These policies will make it easier for larger corporations to work within local market settings, leaving independent smallholder farmers with little power to make a profit. This initial finding stood out to me. And though it didn't directly relate to post harvest losses, I thought it was important to think about the ways that farmers could enhance their power and access to market sales.
From that point forward I looked deeper into the ways that Farmer Producer Organizations (FPO's) and Women's Self Help Groups (SHG's) use collective power to negotiate with the government, and the markets in order to save money and make more profit in the long run. Focusing on this aspect of collective power, I found that one of the most effective ways to prevent post-harvest losses is by creating a long-term system with sustainable income for farmers to fall back on. The reality is that amongst the changes of policy, weather conditions climate change, and market needs, farming is often an unpredictable business.
Many farmers aren't able to fully provide for their households with the money they make from farming. For these reasons, a large number of farmers in India have committed suicide, unsure of how to move forward and survive. By identifying groups like FPO's and SHG's, I was able to break down the specific actions these groups took in order to improve the income and life outcomes of farmers in India. Overall, this project has allowed me to learn a lot more about some of the aspects of post-harvest loss that aren't often highlighted. Understanding the market and its movement throughout the seasons is a very important aspect of PHL that isn't always discussed. By providing farmers a group where they can learn improved techniques and get involved with the social, political, and economic aspects of their community can have a positive long-term impact on their businesses and livelihood. Though this isn't the most obvious way to improve PHL, I think that it has an important impact on it.
Madison Gardner, a student in interdisciplinary health, worked with the ADM Institute for the Prevention of Postharvest Loss advised by Maria Jones.
Through the Global Food Security Interns program, ACES International is supporting talented and motivated undergraduate students to work with ACES faculty or staff on food-security-related projects in low and middle-income countries. In early 2021, six undergrads received funding as global food security interns.