Running a homemade ice cream business keeps FSHN major busy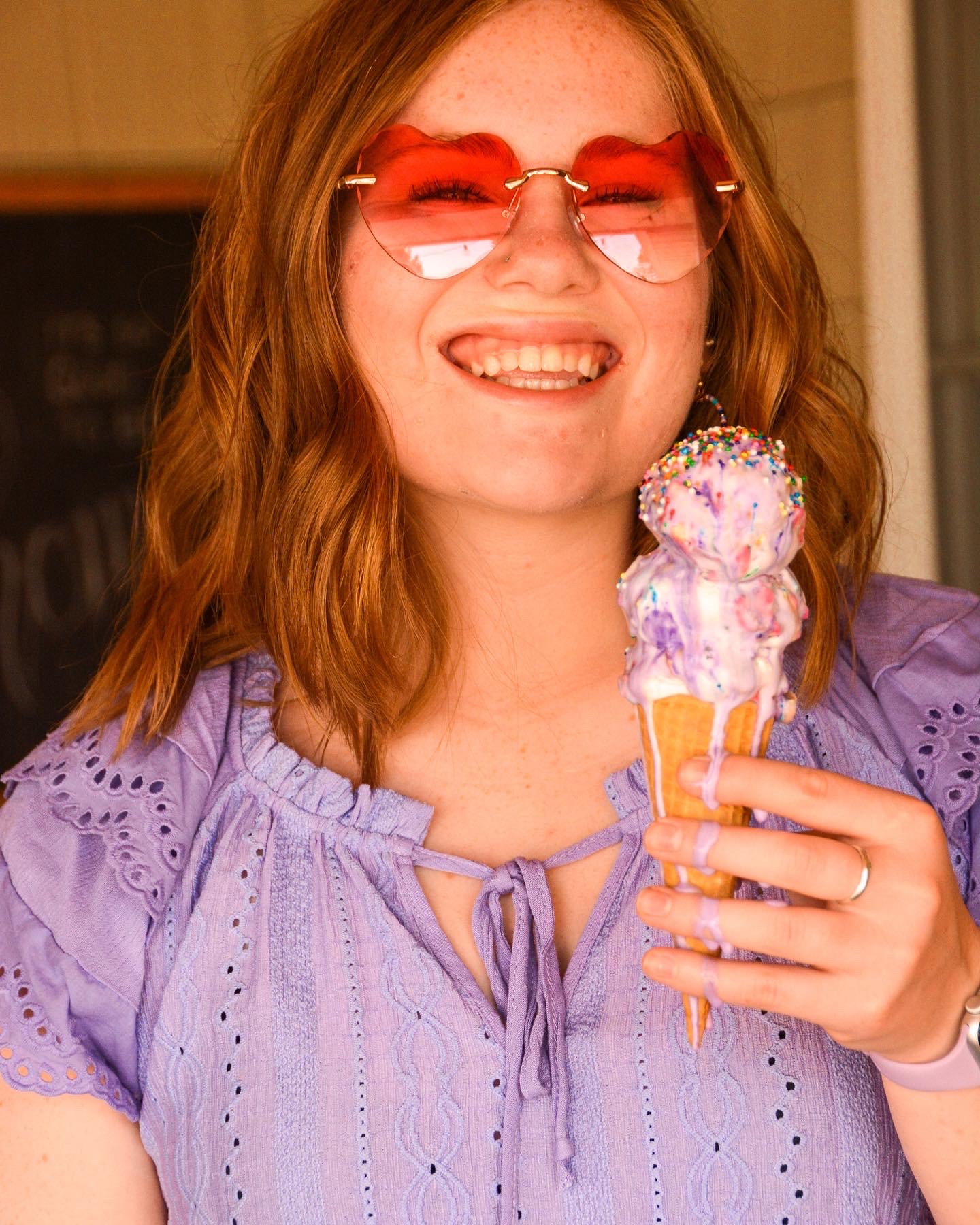 My name is Jenna Spangler, and I'm the owner of Jenna Lou's Homemade Ice Cream! In June 2019, I needed to raise $150 to go on a mission trip. My solution? Make and sell ice cream - because everyone loves homemade ice cream. I sold it through social media and one after another, friends and family placed their orders. The first eleven people ordered 30 pints altogether, and I hit my $150 goal. Then sales kept coming, all the way to 126 ice cream pints. As it turned out, I loved making ice cream, and I had a community to support it. So I decided to keep going with this new hobby!
That fall, as a high school junior, I was involved in the McDonough County CEO program which turned my ice cream hobby into a business. It was my senior year of high school when I attended Scoop School, which teaches people how to open ice cream shops. After that class, I was certain I wanted to go all in with my homemade ice cream business. Shortly after, I invested in a commercial ice cream maker and accepted my offer at the U of I to major in Food Science and Human Nutrition with a concentration in Hospitality Management.
So, what does my business look like as a sophomore in college? When I'm home, I'll make six different flavors of ice cream and advertise them on my Facebook business account. For example, some of those flavors might be Mint Moo Tracks, Chocolate Covered Strawberry, or Fudge Cookie Explosion. I let my customers know a place in our small town where I set up my ice cream cooler and sell to anyone who comes. Sometimes, there's a huge line of people waiting for me when I get there!
As a college student and small business owner, it can be difficult to find time to make it all happen. I work hard throughout the semester to get assignments in so that I can go home on occasional weekends to make and sell ice cream. Even though it can be hard to manage and maximize my time, the classes I'm taking through the College of ACES make it all worth it. Some of my favorite classes have taught me the science behind making a loaf of bread, how to temper chocolate, meal budgeting and food cost management, and marketing strategies in the meat industry. Plus, I've gotten first-hand experience working in a student-run restaurant, grilling burgers outside the Meat Lab, touring the Morrow Plots, and tasting fine flavor chocolate.