ACES grads are everywhere – and they're awesome!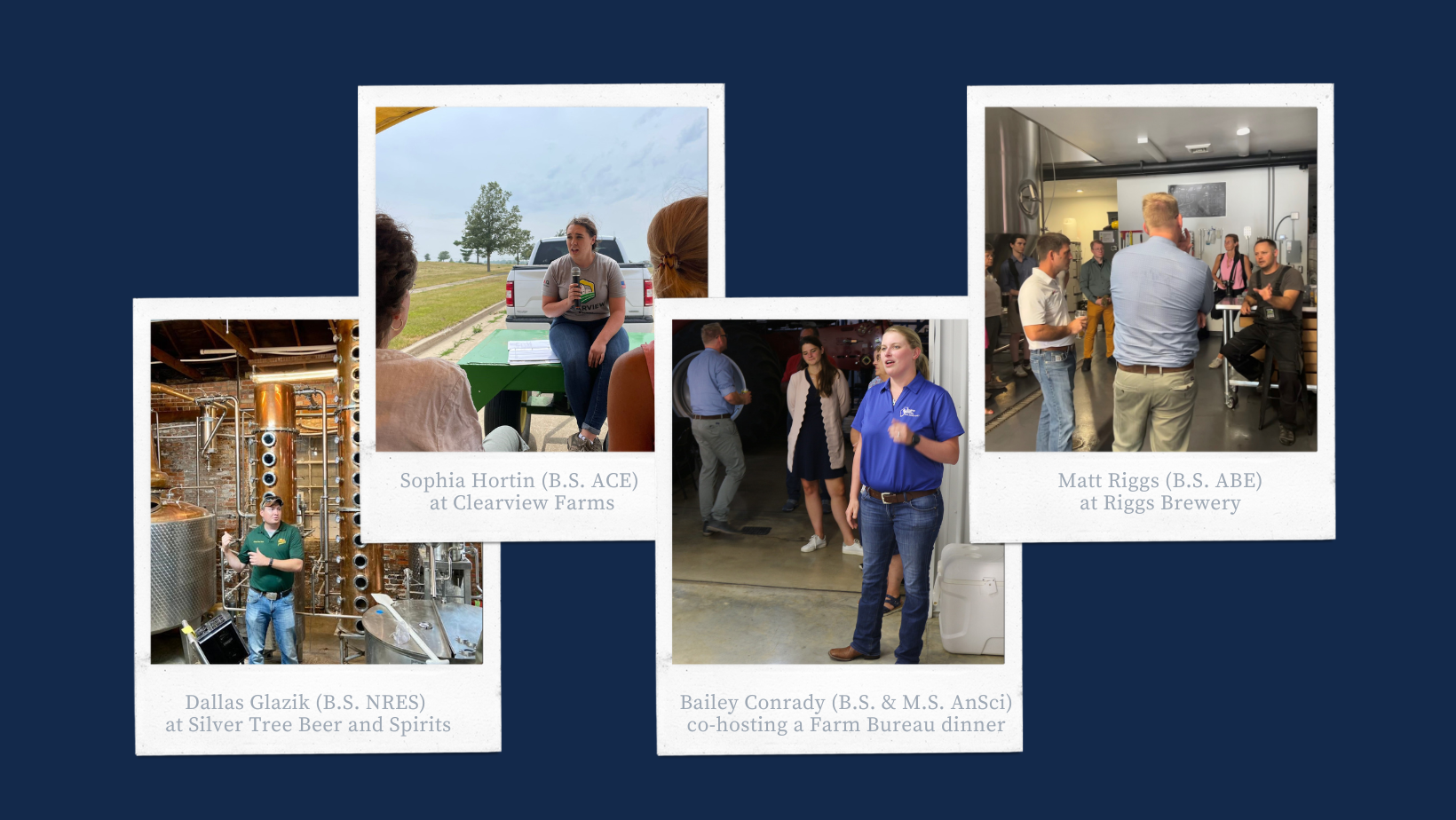 I wrote a couple of weeks ago about hosting a group of U.S. and German farmers this summer.
As part of the three-day program, we took the visitors to tour various local farms and businesses. During our travels we came across several ACES graduates working on all kinds of amazing projects:  
We met Dallas Glazik (B.S. NRES) on his family farm in Paxton where he showed us how he has diversified to an integrated crop-livestock operation selling organic meats, grains, and seeds. This is where many of us petted a pig for the first time – as they were grazing on cover crops. Then we followed him to his distillery – Silver Tree Beer and Spirits - where he uses his own organic grains for spirits sold at the local Harvest Market and around the country. Dallas and his family were so welcoming and fun to talk to.
At Clearview Farms, managed here in town by the Atkins Group, we met Sophia Hortin, a recent ACES grad (B.S ACE) who is doing an amazing job working with regenerative agriculture and community engagement. She was so knowledgeable and a natural at leading an informative group tour.
The next evening we took the group to Riggs Brewery founded by Matt and Caroline Riggs. Even though the power was out from the storm and the brewery was running on a generator, Matt was so engaging to our group as he led us on a tour. Keep in mind half of our group was from Germany so they have some expectations about beer! But Matt, in addition to his ACES degree (B.S. ABE), also has his German brewmaster certification and puts out a product that was praised by all! Prost!
At the closing dinner (thanks again to Mark and Kim Wood for hosting this) we met Bailey Conrady – she is the Manager of the Champaign County Farm Bureau and has two degrees from ACES in Animal Sciences. She was an amazing co-host for this event.
Not only was I impressed about how ACES grads are everywhere; it was notable how engaging, personable, knowledgeable, and enjoyable they all were! And I know this is just a small sampling.
Thank you ACES grads for being everywhere and for being awesome!