Brian Paoli and the Financial Planning Team advance to the National Conference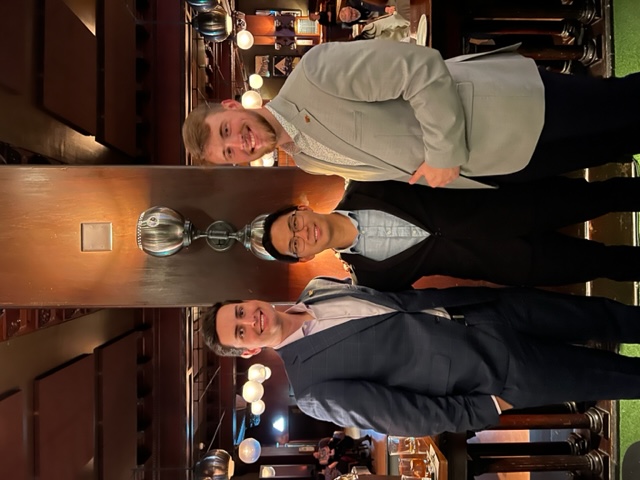 Brian Paoli, a senior majoring in Agricultural and Consumer Economics with a concentration in Financial Planning, has acquired an abundance of valuable skills and promising career opportunities through his involvement in both the Financial Planning Team and the Financial Planning Club (FPC).
This week, Brian along with two other students, Noah Gay and David Sun, are traveling to Phoenix, Arizona to participate in the Financial Planning Association's Annual Conference, alongside seven other schools from across the nation that have qualified. The members of the Financial Planning Team are drawn from the major or Financial Planning Club.
During the spring semester, the Financial Planning Team submitted a financial plan for a sample client, which secured a position in the top eight nationwide. At the FPA national conference, the team will deliver their case to a panel of judges and compete in a jeopardy-style round focusing on Certified Financial Planners.
The Financial Planning Club is comprised of a larger membership than the team and is centered around career exploration within the field. The club hosts representatives and guest speakers from various financial services, wealth management, and other sectors in Financial Planning. There are also several opportunities to attend conferences and network through this club. Brian credits the FPC for significantly influencing his career goals by exposing him to a wide variety of industry sectors.
Through his participation in the Financial Planning Club and Team, Brian has developed important skills such as leadership, organization, and teamwork. He currently holds the position of Vice President for the current school year.
Brian's advice for incoming ACES students is to "show up and get involved," stressing the importance of being active in clubs, attending conferences, and networking. Brian's own networking at an investment conference, that he found out about through FPC, led him to a summer internship after connecting with the CEO of a Morningstar, a prominent firm. Brian recently accepted a full-time job offer with Morningstar after graduation.
Reflecting on his last three years within the College of ACES, Brian acknowledges that "professors want to help and get to know you and there are a huge number of resources available." ACES helps foster relationships and connections in the context of a large university, he says.
Upon his graduation in the spring, Brian aspires to obtain certifications such as Certified Financial Planner (CFP) and Chartered Financial Analyst (CFA). In the long term, he aims to work with Registered Investment Advisories (RIAs) and advisors.
Let's wish Brian and the Financial Planning Team the best of luck as they compete this week!