5 Questions: ACE alum and new faculty member is passionate about agriculture and the environment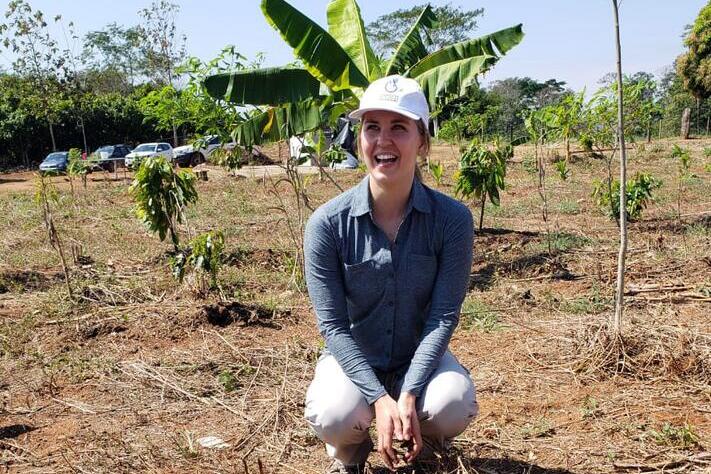 Marin Skidmore
This week's 5 Questions Friday features Marin Skidmore, who received her bachelor and master's degrees from the Department of Agricultural and Consumer Economics. After getting her Ph.D. and serving as a post-doctoral researcher at the University of Wisconsin, she recently returned to join the ACE faculty as an assistant professor.
What motivates your work?
I became an agricultural economist because I wanted to help people, and my mentors clearly showed me that agriculture touches everyone's lives in countless ways.  My work has focused on the intersection of agriculture and the environment, and I'm motivated by a desire to help farmers (and policymakers) find economically sound ways to keep production strong and preserve our natural resources.
What do you like to do when you're not working?
I love to be around and in the water. I'm a lifelong swimmer, including being on the team while I was a student here at Illinois. In the summer, I love to swim open water and kayak. Speaking to my motivation, that's also why I study water quality in the Midwest! I also have two large and energetic dogs, so we spend lots of time outside all year.
Did you have a mentor or someone who had a great influence on you in ACES? If so, describe.
Numerous people in ACES have helped and influenced me over the years. In particular, Dr. Alex Winter-Nelson was a catalyst for me becoming an agricultural economist and now working in ACE. He advised my undergraduate senior thesis and encouraged me to continue on to the MS program. Seeing the way that he cared about his work and his students inspired me to strive for a career that I truly cared about as well.
What do you consider your greatest professional accomplishment so far?
I was a Fulbright Scholar, and through that I spent a year doing research in the Brazilian Amazon. Living with and learning from farmers in the Amazon was one of the most rewarding things I've ever done, and much of my research since has stemmed from conversations I had over a cup of coffee (cafezinho) in the field. I also got to witness the challenges facing sustainable agriculture in the region firsthand, as I was there during the 2019 fire season that caught international attention.  
Why did you choose to come to ACES?
As a student in ACES, I loved getting to study topics I was passionate about and learn about them from the world's leading experts. The atmosphere in my department (ACE) and in the college as a whole was curious, driven, and welcoming. I dreamt of returning as a faculty member, and it's a joy to be here again!