ACES hosts administrators from India's GBPUAT for training and networking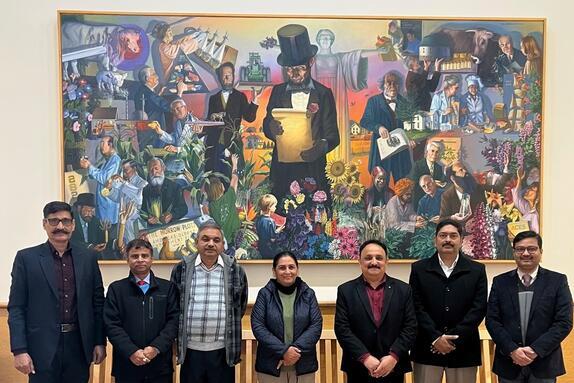 Building on a relationship of over six decades, the College of Agricultural, Consumer and Environmental Sciences (ACES) recently hosted seven new administrators from India's G.B. Pant University of Agriculture and Technology (GBPUAT) for a week-long leadership training program.
The ACES Office of International Programs coordinated an itinerary for the visitors that included presentations from various college units, including human resources, business administration, government relations, academic programs, research, and extension. The group also toured campus landmarks including the Institute for Genomic Biology, the university library, Siebel Center for Design, and the ACES greenhouses.
In turn, the visitors gave an open presentation to interested students, faculty, and staff titled "Glimpses of Pantnagar University's Journey," GBPUAT enrolls 3200 students, mostly from its home state of Uttarakhand, and employs 350 faculty members. The visiting administrators had diverse areas of expertise include plant physiology, fish harvest and processing, soil science, horticulture, veterinary science, and animal sciences.
"This training program was an important opportunity to renew our historical partnership, and I was happy to see such productive interactions between GBPUAT and our ACES faculty and administrators," says Mary Arends-Kuenning, acting associate dean for international programs.
The group returned home to India as ambassadors for Illinois, looking forward to keeping in touch with their new colleagues and friends. Below are just some of the thank-you emails the Office of International Programs received:
"Thank you for all the efforts, support and the hospitality. It was a fruitful experience for the whole team. We look forward for more collaborative efforts and to hosting Illinois faculty/ students if ever they visit India."
"Thank you very much for the wonderful opportunity. We appreciate your hospitality and excellent arrangements for the program. Our stay in the campus was very fruitful and a learning experience."
"Thank you for sharing valuable time and administrative expertise regarding the different insights and perspectives of teaching, research and extension."
The visit was funded through India's National Agricultural Higher Education Program (NAHEP). 
Six decades of history between GB Pant and Illinois
The history between GB Pantnagar and Illinois dates back many decades. Soon after its independence in 1947, India asked the United States government to help establish its own version of land grant colleges and universities. The U.S. Agency for International Development's partnership with the Indian Council of Agricultural Research was officially established in 1952, and in 1964, the University of Illinois signed a partnership contract to assist India's state of Madhya Pradesh in establishing the first agricultural university in India, now known as GBPUAT. (GBPUAT was formerly named Uttar Pradesh Agricultural University, but in 1972 was renamed in memory of the first Chief Minister of Uttar Pradesh.) 
Illinois' faculty were instrumental in designing this university and its education system, including research and extension programs, from the ground up. The dedication and hard work of the Illinois faculty paid off when the new university became a significant force in India's green revolution that increased agricultural production in the developing world.