Newly appointed Illinois CFO Paul Ellinger draws on ACES, Extension background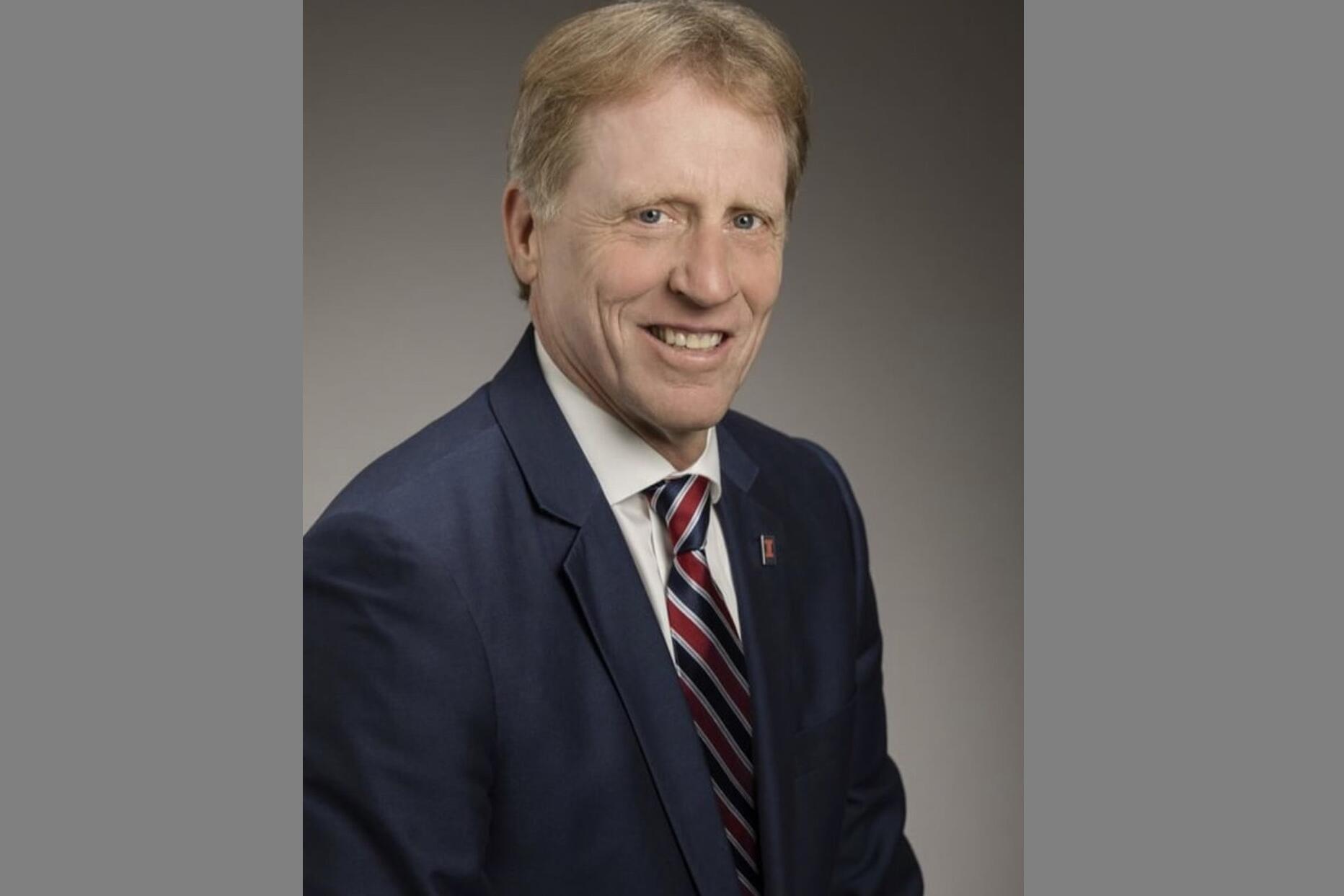 Paul Ellinger
URBANA, Ill. – Paul Ellinger, former ACE faculty and department head, was recently appointed vice president, chief financial officer, and comptroller of the University of Illinois System, after filling the interim role since July 2021. In this position, he oversees budgeting and finance for the vast U of I system network encompassing multiple campuses, a hospital, an airport, research enterprises, and more.
From assisting farmers, businesses, and lenders with better record keeping, to helping modernize the U of I budget system, he has drawn on a passion for providing people and organizations with the financial management foundations they need to succeed.
Ellinger holds bachelor's and master's degrees from the College of ACES and a Ph.D. in finance. He has been on the U of I faculty since 1995, and served as head of the Department of Agricultural and Consumer Economics (ACE) from 2009 to 2016.
He came to the U of I as an ag mechanization major, but ag economics classes with inspiring professors sparked his interest in finance. He went on to get a master's degree in agricultural and consumer economics under renowned ag finance professor Peter Barry.
After graduation, Ellinger was hired by Illinois Extension on a Kellogg Foundation grant.
"There was a big push during the financial crisis to improve farm record keeping, and help lenders obtain better higher-quality information. With the growing use of computers there was a need for developing record-keeping software," he says. Ellinger created accounting and decision tools and trained people on how to improve their records.
Next, he held a position as a research associate in ACE, while pursuing a Ph.D. in the Department of Finance. His only stint outside Illinois was a faculty position at Texas A&M, where he stayed for three years before returning to the U of I.
On a holiday trip back to Illinois to visit family and collaborate with Barry on a paper, he had a serendipitous encounter with Bob Hauser, then ACE department head, in Mumford Hall. Hauser mentioned there was an open faculty position in ACE and perhaps Paul would be interested. He was, and in 1995 he joined the ACE faculty as an ag finance specialist.  
"It was one of the pillars of strength our department was known for; commodity marketing and ag finance were two areas where they've had a long legacy of leaders. So not only was Illinois a good place to come back for family, but it was also a good place to come back to advance my academic career," Ellinger says.
He went on to serve as ACE department head until he was tapped by interim provost Ed Feser for a campus-level position.
"Feser really wanted to think about how we could modernize our budget system on campus. How can we put the right incentives in place? And how can we do more risk management in case the state continues a decrease in funding or reallocation of funding? He wanted to make sure we could pivot, and he wanted someone to assist the provost and chancellor with that."
While working in the provost's and chancellor's offices, Ellinger helped change the budget model and increase transparency for the Urbana campus.
"I think there was an appreciation for additional transparency, especially when everybody was dealing with budget reductions. Nobody likes budget reductions. People may not agree with every decision. But when you provide a strong rationale behind the decision, people will see you went through the appropriate processes to get there."
He considers this process one of his most rewarding career accomplishments.
"Many of our leaders come up through faculty ranks. They may not have much expertise in the financial area. But almost all of them are data-driven people. So we wanted to provide additional data for our decision makers, the chancellors, the vice-chancellors, the deans, department heads," Ellinger says.
"We were getting the tools and the systems is in place improving our overall financial system. And I'm proud that we are doing things in a more transparent way than we did a decade ago. I think there's an appreciation to continuing down that path and continue providing better data and better systems."
Ellinger's background in the College of ACES and Illinois Extension helped him hone the skills he draws on in his current position.
"My research background was in financial management and risk modeling, whether it be with lenders, businesses, regulators, or farms, and I did a lot of extension work under the same principles – providing better quality data for borrowers, helping lenders make better decisions, developing risk models for regulators and lending institutions. So improving data systems was a big part of my extension and teaching background. At the university, it's just done on a different scale," he says.
"Extension has always been proud of its two-way delivery; you're talking but you're listening as well. And I think the same type of thing occurs in this position, where you have to listen to the breadth of the challenges that different universities, colleges, and other units have. They all have different financial needs and different drivers of their budgets. You have to make sure you listen and understand; it's not a one-size-fits-all."
Ellinger credits excellent teamwork with making these accomplishments possible.
"Nothing happens individually in finance. We're a complex university system with a lot of different drivers. You have to have a group of people who are doing things and paying attention to details to get this done," he says.
"I've been blessed with having remarkable people around me every place I've been, from department head to the provost and chancellor's office, to this office. We have some very committed staff throughout the organization; there's excellence across the board."
Ellinger grew up on a farm near Pontiac and went to a small school with a graduating class of 18. He says at the time he could not have predicted where his career would go, and his advice to students starting out on their path is to be open to opportunities as they arise.
"A lot of our kids who are entering college now, their jobs don't exist yet. Things are changing fast from a technology standpoint. Students may not really understand the breadth of careers that are available. So many people change jobs and evolve through jobs, and you can go through multiple jobs in the first 20 years of your career. When I was graduating, I would have never thought I was going to be a professor."
Read more about Paul Ellinger in the 5 Questions Friday feature.