From seed to spirits, ACES entrepreneurs deliver whiskey and ag education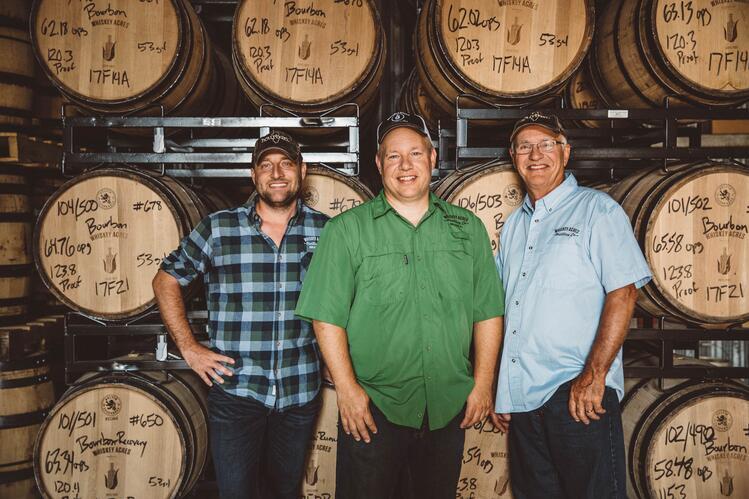 Nick Nagele, Jamie Walter and Jim Walter founded Whiskey Acres Distilling Co. in 2014.
URBANA, Ill. – What do you get when you combine rich soil and pristine water with a deep knowledge and history of grain production? If whiskey wasn't the first thing that came to mind, you'd be forgiven. But for the founders behind Whiskey Acres Distilling Co., including two College of Agricultural, Consumer and Environmental Sciences (ACES) alums, it all adds up to a best-in-class spirit.
Father-son duo Jim and Jamie Walter conceived the idea of Whiskey Acres and started the company in 2014 with Nick Nagele as business partner. The Walters were looking for ways to innovate and diversify their farming operations, and Jamie suggested creating a distillery using grain from their production to create quality spirits.
After graduating in 1970 with a bachelor's degree in agricultural mechanization from the University of Illinois, Jim returned to his family farm, producing corn and soybeans. As his father and brothers retired, he saw a need to diversify and grow the operation.
"I asked a few neighbors to gather regularly to look into agricultural innovation. We would later refer to ourselves as the agrivators. We shared ideas, concepts, and information," Jim says.
Jamie received a B.S. in advertising from the U of I and a JD degree from Drake University Law School. He was a practicing attorney in DeKalb for a few years before returning to the family farm in 2000, joining his father in the quest to innovate.
"We added specialty crops, seed production, retail seed sales, and crop insurance to our core business. Over time, those divisions grew and prospered, but we always had the urge to do something value-added with the grain we were growing on the farm," he says. 
Concerned that urban development would encroach on their land-base, much of which was leased, they were looking for ways to optimize profits from fewer acres.
"I had some background experience in wine-making from an unrelated California business venture and had the idea that the burgeoning craft-distilling space might create opportunities for us to utilize our premium grain to make premium whiskies," Jamie says.
He and Jim put together a business plan, brought on Nagele as a strategic partner, and hired Dave Pickerell, one of the distilling industry's most highly regarded consultants, to help construct their vision.
Nagele, who received a bachelor's degree in agricultural communications in 2004, grew up on a family farm in Sheldon. He credits his background, as well as his experiences at the U of I, with forming his path to success. 
"All these things from the farm to the family have shaped me into the person I am, instilled my work ethic, and stimulated the ideas I bring to Whiskey Acres. The University of Illinois and the College of ACES are responsible for helping me find and identify my skills, embrace my background, and have the confidence to communicate and execute them," he says.
Nagele worked for several years in public relations, teaching, and coordinating ag education programs throughout the Midwest. Those skills and experience helped make Whiskey Acres a platform for agriculture education.
"Our facility and team create an experience for our guests to not only learn about whiskey production, but also about the people and the processes that are integral to producing a high-quality product," he says. "Rather than 'farm to table,' we tell the story from 'seed to spirit.' We are the front line of ag education. Witnessing that moment when someone 'gets it' after a discussion about a farming process or practice is very rewarding."
DeKalb turned out to be an ideal place for whiskey production, Jamie explains.  
"I often refer to DeKalb as the Napa Valley of corn. We really do have some of the world's best soils and climate for growing premium grain. When most people think of Bourbon, they think of Kentucky. The truth is that just prior to prohibition, Illinois was the capital of whiskey production in the U.S. In wine-making, it is the intersection of climate, soils, and varietals that influence flavor — the French word is 'terroir.' We felt that DeKalb had the perfect terroir for producing premium whiskey."
The location near Interstate 88, just an hour from downtown Chicago, attracts a large audience.
"The day we opened, we became the number-one tourist attraction in DeKalb. We have many hundreds of retail, restaurant, and bar accounts all throughout the suburban and downstate Illinois markets and continue to rapidly expand as our brand awareness grows," Jamie says.
One of the things that makes Whiskey Acres unique is that everything is made from their own materials.
"Whiskey Acres is one of the few, bona fide estate distilleries in the world. We grow all of our own feedstock for distilling. Although many consumers may not realize it, that is a real rarity in an industry that sometimes lacks brand transparency. If we don't grow it, we don't make it. Period," Jamie says.  
"By growing all of our own premium grain, including specialty corns and now our own purpose-bred genetics, we can control quality and create flavors that others can't," he adds. "There aren't many distilleries that have racked up the depth and breadth of international awards that we have at such a young age. We may be new to the market, but we're quickly gaining a reputation for ourselves. And there's a reason for that. As we often say, great whiskey isn't made, it's grown."
Sustainable production is an important component of operations at Whiskey Acres.
"We utilize riparian filter strips which help reduce field and stream bank erosion, filter soil-borne contaminants, and maintain water quality," Jim explains. They are also enrolled in the USDA's Conservation Stewardship Program for maintaining their farm to the highest levels and have implemented a number of plans and programs to decrease the negative environmental impacts of some modern farming techniques while enhancing others at the same time.
"We recently added a solar farm that provides enough power for the farm and distillery. Nearly all of the grain we grow for distillation is grown within a mile of where it is distilled and aged. We recycle all of our byproducts, and we have implemented a water conservation program that has reduced consumption by 90%," Jim adds.  
Jim, Jamie, and Nick find much joy in working at Whiskey Acres.
"I think every farmer at his or her core takes great satisfaction in planting a seed, nurturing its growth, and ultimately harvesting its bounty. Starting the business has meant much of the same for me," Jamie says.  
Adds Nick, "Seeing a product actually get executed, be well received with customers, and receive international accolades is true validation of our business model."
Jim also highlights several benefits of his occupation.
"I particularly enjoy the outreach that brings consumers to the farm and the opportunity to share information about agriculture," he says.
"The business provides opportunities to work closely with family and provide work for people in the community. We have excellent employees that create value for us and themselves. During the recent pandemic, they produced hand sanitizer and enjoyed doing it. It was not only very beneficial in helping our community, but we were able keep our employees working. People often ask me why I'm not retired. The truth is, I don't want to retire, I'm having too much fun!"