Fast-tracking success with a non-thesis Master of Animal Sciences degree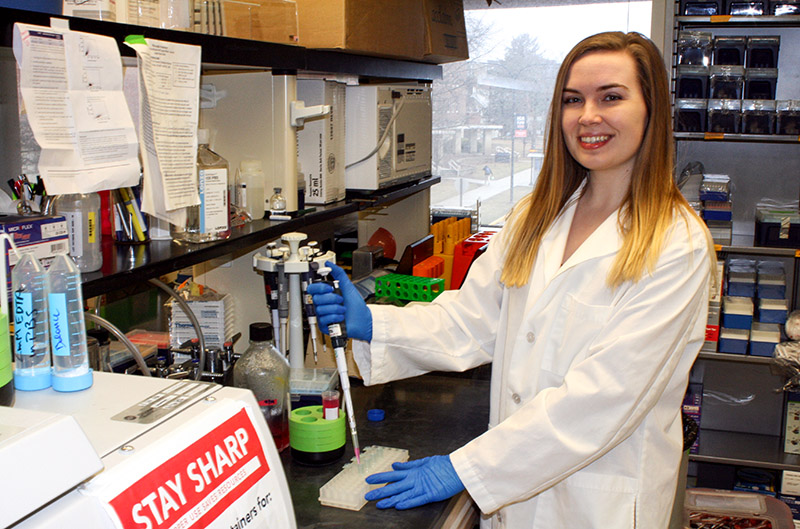 My name is Alexandra Houser and I will be graduating in 2019 as part of the first class of students in the new non-thesis Master of Animal Sciences program at Illinois. I came to the CU area in the fall of 2018 to begin this unique one-year program knowing that the next nine months would be very challenging, but also extremely worthwhile… and boy was I right!
I graduated in the spring of 2018 from Purdue University with a BS in Animal Science with a concentration in Pre-Veterinary Medicine. I had applied to veterinary school while finishing up the last year of my BS, and unfortunately it did not work out. In response to rejection, I decided to find an opportunity that would give me another chance to prove I could excel in school, work in a research lab, and collaborate on projects all at the same time. My search for this type of program led me to the Department of Animal Sciences at Illinois. During the last nine months, I have completed 32 credit hours in only two semesters. Being a full-time student while having a graduate student role in a research lab taught me so many valuable skills that I will use forever!
I worked in Dr. Rodney Johnson's Laboratory of Integrative Immunology and Behavior. I have an interest and experience in animal behavior, so my role in within the lab was necessary to help further the current projects and experiments. While working with this group, I was fortunate enough to be surrounded by extremely intelligent and caring individuals who were always supportive of me fast-tracking this degree.
The non-thesis Masters program requires students to work on a project throughout their time here, and I dedicated my work to recording, interpreting, and analyzing animal behavior of weaning pigs in response to a novel antibiotic alternative. I was also part of research on a NIH/USDA grant where I maintained and collected immunological and metabolic data from swine that are a model for maternal immune activation. As a graduate student, I was fortunate enough to learn how to manage and perform both brain and peripheral tissue collections from these pigs, and I really enjoyed having so many hands-on experiences with the project.
Upon graduation in May, I would like to further my career in animal behavior and research, whether that be in a research lab or at a zoo. The vast number of opportunities I had here gave me the chance to truly define what an animal scientist is – and I am so proud to say I am one of them!
I am so grateful to everyone in Dr. Johnson's lab for being my work family in my short time here - thank you for your advice, support, motivation, and laughter!