ACES 2023-24 Global Academy focuses on building partnerships in France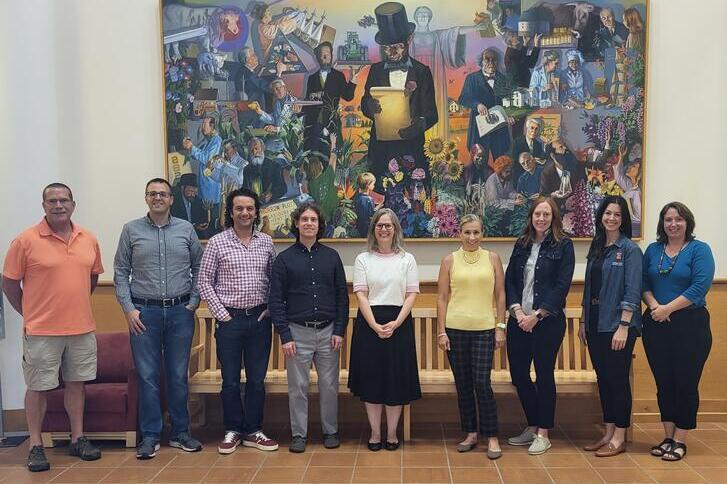 Nine faculty and staff from the College of Agricultural, Environmental and Consumer Sciences (ACES) have been selected for the 2023-2024 ACES Global Academy that will focus on building ties with French collaborators towards sustainable solutions for climate change, agriculture, household wellbeing, and global food system resiliency.
The year-long program will include a series of on-campus seminars, roundtable discussions, and a capstone visit to selected partner institutions in France. 
The Office of International Programs congratulates the members of the 2023-2024 ACES Global Academy:
Shadi Atallah - Agricultural and Consumer Economics

Anna Ball – ACES Admin

Courtney Cuthbertson – Human Development and Family Studies

Sarah Farley - Extension

Trent Ford - Prairie Research Institute

Aaron Hager - Crop Sciences

Angela Kent - Natural Resources and Environmental Sciences

Josie Rudolphi- Agricultural and Biological Engineering

Matt Stasiewicz – Food Science and Human Nutrition
Proposed strategic partner institutions include INRAE- National Research Institute for Agriculture, Food and Environment, University of Montpellier, and the University of Toulouse.
The program will be led by Lauren Karplus, assistant director for ACES International Programs, and the group will also be accompanied by Mary Arends-Kuenning, associate dean for international programs.
"I'm excited to coordinate my first ACES Global Academy with faculty members who are doing fascinating work in their fields. This year's cohort has a strong cross-disciplinary focus on climate and extension, so I think there will be numerous interesting connections developing over the next year," says Karplus.
Ultimately the program serves to create a team-building environment across ACES departments, nurture international collaborations, and promote lifelong engagement in the global arena. The ACES Global Academy was created in 2006, and this year's group is the fifteenth cohort.  
More information about the ACES Global Academy can be found at:
https://aces.illinois.edu/international/resources-services/faculty-global-academy