ACES and Sierra Leone's Njala University continue more than 55 years of collaboration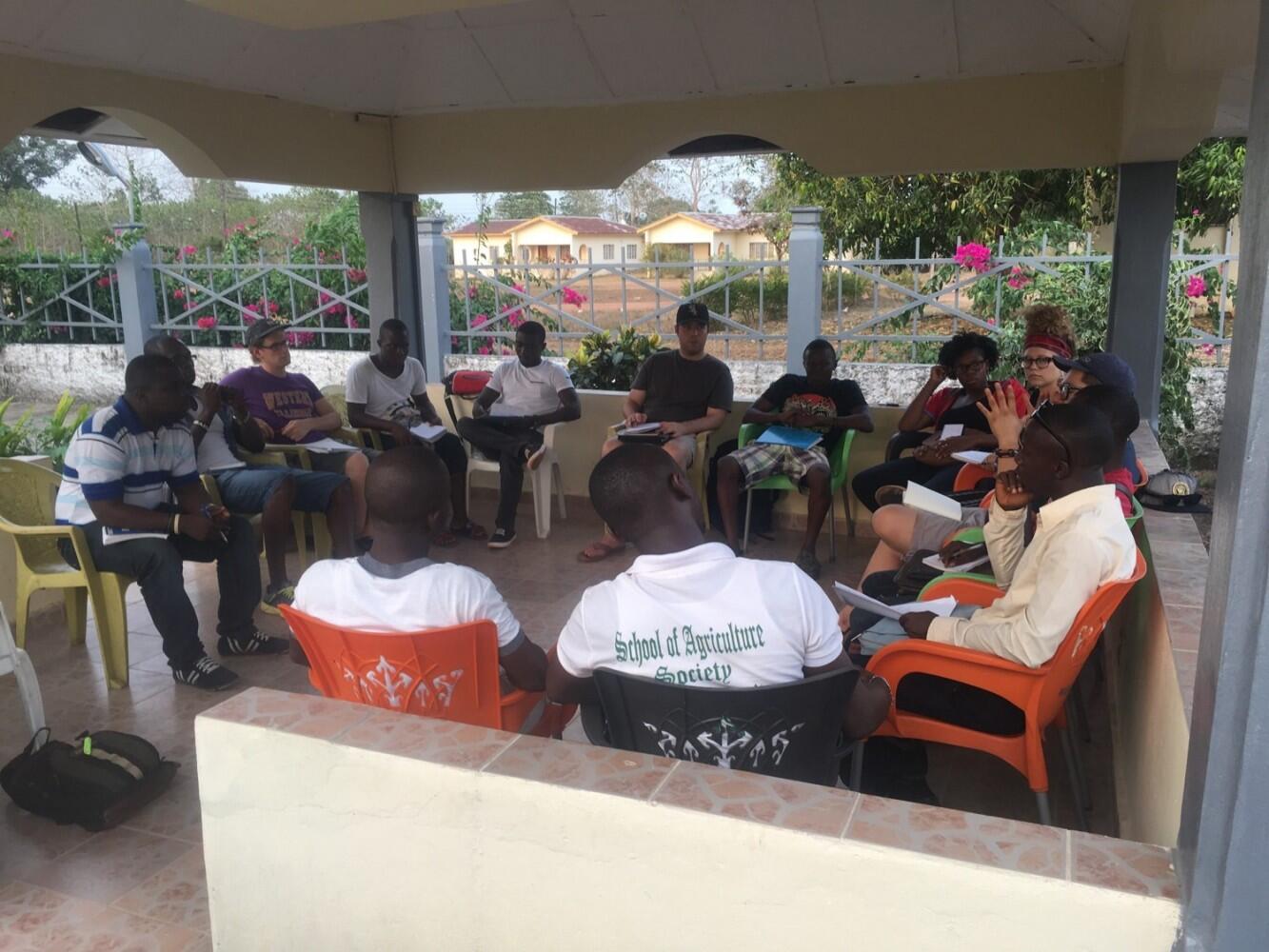 ACES and Sierra Leone's Njala University continue more than 55 years of collaboration
Advancing its long legacy of collaborations and capacity-building projects around the world, the College of Agriculture, Consumer and Environmental Sciences (ACES) remains engaged with one of its first international partners, Sierra Leone's Njala University. Even during the worldwide pandemic, a new project with Njala has further established this partnership as one of the longest standing and most influential for ACES, adding to the lifelong connections and friendships that already exist between these two universities.  
ACES' engagement with Njala University dates back to the mid-1960s when Illinois, funded by the United States Agency for International Development (USAID), served as an implementing partner for the new university, established in the mold of an American land grant university. Illinois faculty assisted with developing programs to build the new university's research program to ultimately improve the country's agriculture. Their work included conducting soil surveys, developing plant varieties and livestock strains for local conditions, conducting livestock nutritional studies, and improving the quality of the country's food supply.
View a photo from University Archives of the Njala Opening Ceremony.  
During the first decade of cooperation:
The University of Illinois awarded degrees to 27 Njala faculty

19 Illinois staff members served as long-term advisors in Sierra Leone in areas of their academic disciplines

Seven administrative personnel assisted as short-term advisors in accounting, campus planning, printing, and college administration.
These exchanges have left a legacy of continued collaboration and friendship between the two universities.
A thriving university through the 1980s, Njala University, as well as the rest of Sierra Leone, had to reestablish many of its programs following a devastating civil war that ravaged the country from 1991 to 2002. Now, with a current student population of just over 25,000, Njala is Sierra Leone's premiere school for agricultural engineering, technology, and applied sciences, making it an ideal partner for ACES in West Africa. ACES began rejuvenating its partnerships with Njala more than a decade ago.
Before COVID-19, ACES students visited Njala annually as part of a study tour led by Paul McNamara for ACE 499 and as part of a semester-long study abroad program. Because English is the official language, studying in Njala provides Illinois students an opportunity to experience West-African culture without language barriers.
During the pandemic, ACES students have been engaging virtually with Njala University agribusiness students as part of the Postharvest Loss Experimental Training Hub, established with support from ADM Cares project funded by the ADM Institute for the Prevention of Postharvest Loss.
"We have ten Illinois students and 14 Njala agribusiness students working in two groups. One group is doing a community survey around livelihoods in a southern region of Sierra Leone to help support an application for a World Heritage Site for a nearby nature reserve. The other group is studying post-harvest interventions implemented by NGOs in the cocoa sector several years ago to learn lessons on what works for sustained adoption. This is a wonderful activity in a number of ways and it is heartening to be a part of it," says Paul McNamara, professor in agricultural and consumer economics and lead instructor for the course. McNamara has traveled often to Njala for various projects during the last decade.
Last year, this project provided training directly through video extension materials and workshops to several hundred smallholder farmers.  
Additional recent collaborations with Njala University have included:
ACE 499 SL, which includes an annual two-week study tour to tackle a different service-oriented consulting project, ongoing since 2010. Past projects have included assessing inland valley rice swamps and assessing village savings and lending associations.

A semester long study abroad program since 2013, which includes an internship.  

Funded by the U.S. Department of State, AgReach, based in ACES, strengthened Njala University's information and communications technologies through the installation of a new e-learning facility. This will facilitate internet use in classes and research collaborations and ultimately help the University respond to the country's health and environmental challenges with workshops and training sessions.

 

Funded by the U.S. Agency for International Development (USAID), AgReach implemented the Integrating Gender and Nutrition within Agricultural Extension Services (INGENAES) project activities in Sierra Leone with partners at Njala University, WorldFish, and other local in-country partners.

An ACES team is helping Sierra Leone enhance its institutions of higher education by supporting outcome-based education and developing a framework for quality control as part of a project funded by the United Kingdom (UK)'s Department for International Development (DFID). The overall objective of this new project, "Assuring Quality Higher Education in Sierra Leone (AQHEd-SL)," is to bring together higher education institutions across Sierra Leone to work together to improve the management and implementation of outcome-based education and to establish a National Qualifications Framework (NQF).

Richard Cooke, professor in agricultural and biological engineering, is currently spending his sabbatical in Njala where he is working on working on irrigation water management research and training.

Professors Cooke and McNamara are mentoring and coaching Njala U faculty to receive their PhDs. This has involved hosting Njala U staff who are working on their PhDs at Njala U to come to Illinois for 6-24 months to study and strengthen their research skills.