ACES international business course immerses students into Croatia's booming tourism economy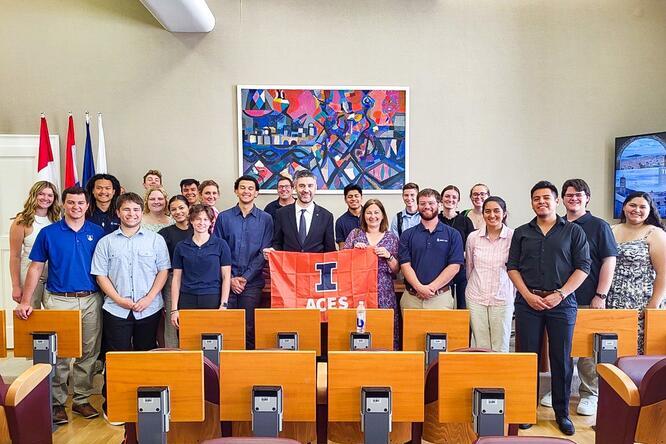 Illinois students visit with the Mayor of Dubrovnik
Known for its beautiful coastlines, mountains, castles, forests, and more, Croatia is a rapidly rising top tourism destination that selected Illinois students analyzed firsthand as part of an experiential learning program focused on recreation and tourism economics of the Mediterranean.
Twenty-three students traveled to Croatia during the last two weeks of May to apply concepts covered in the 8 weeks prior as part of ACES 436, the long-running International Business Immersion Program (IBIP) housed in the College of Agricultural, Consumer and Environmental Sciences (ACES). The program was led by Professors Bryan and Renata Endres and Department of Agricultural and Consumer Economics Academic Advisor/Experiential Learning Coordinator Lauren Karplus.
The program's themes and locations may change annually, but ultimately, IBIP prepares Illinois students to be the next generation of globally literate entrepreneurial leaders.  
In Croatia, the students kicked off their learning with a detailed briefing from the Croatian National Tourism Board in the capital—Zagreb. Throughout the next two weeks they met with a variety of government and business officials and visited agritourism and related sites. A highlight was meeting with the Mayor of Dubrovnik to learn about tourism infrastructure challenges and improvements; this visit was covered by regional newspapers.  
The students also met with park administration at Plitvice Lakes National Park and national and regional tourist boards to learn about Croatia's marketing strategy, national tourist tracking system, dynamic pricing, and goals. Other notable experiences included a meeting with a producer who walked the students through the process of producing high-quality olive oil and touring a fish processing facility to learning about processing, its role in the local economy, and export markets.
Additionally, a big part of the program's experience is contributing to the course blog. The students' daily posts from their diverse perspectives are archived here:  https://publish.illinois.edu/ibipcroatia/
Outside the formal educational components of the tour, the Illinois students had many opportunities to connect with other students from different academic and cultural contexts and sightsee. Highlights included taking a boat tour on the Adriatic Sea with an accordionist serenading them to traditional Croatian songs, a side-trip to Predjama Castle (in a cave!) in Slovenia, a visit to the world-famous Postojna Caves, and a spontaneous soccer match visit in Zagreb to experience European football culture first-hand.
Karplus especially enjoyed watching the students grow in their confidence in a different country and cultural context.
"I was especially thrilled when they found fun things to do outside of scheduled meetings during their few free hours in the evenings. This included independently arranging gatherings with local Croatian students and some even organized a visit to a professional soccer match on their final free day in Zagreb. At the game, they heeded our safety recommendations, arranged their own transport, and showed up at the game wearing official home-team jerseys to really get into the spirit of things!"
The students returned with lifelong memories and lessons learned. Here are just some of their testimonials:
"Through this program I have been able to learn new sustainable ways to practice tourism and learn from a growing economy. I was shown the importance of diversified economies, as showcased by the effects of COVID-19 on Croatia. I had immense enjoyment in being able to fully immerse in the culture and lifestyle of Croatia, lending me new perspectives on life and work. The funding I received is what made this experience possible for me. Not only did this support help me in expanding my horizons academically, but socially in having the opportunity to make friends abroad that I aim to continue in contact with and hope to be able to host or visit again in the future. Stepping outside of my comfort zone and getting uncomfortable is what made me grow thought the span of this trip to want to experience this again continue exploring." -David Calderon, Senior in Agricultural and Consumer Economics
"Reflecting on the trip, choosing just one favorite memory among the countless remarkable experiences is challenging. However, the bond formed within our group and the shared moments of discovery and laughter stand out vividly in my mind. Whether it was exploring breathtaking landscapes, collaborating on challenging projects, or engaging with local communities, these memories will forever be etched in my heart. The trip has fostered lifelong friendships, instilled a sense of global cooperation, and sparked a desire to continue exploring and positively impacting wherever I go." -Knute Larson, recently graduated in Agricultural and Consumer Economics and Organizational and Community Leadership
"The Croatian culture emphasized the work-life balance, which I will remain focused on throughout my career now. It was beautiful to experience their hard work ethic during the busy season, but also being able to see how much they prioritize making the most of the rest of their time." -Madilyn Barnhart, recently graduated in Agricultural and Consumer Economics   
"My favorite memories were being able to develop a connection with local Croatian students who greeted us with wonderful hospitality." – Neil Thammavijitdej, senior in Food Science and Human Nutrition
Karplus says the Croatia program was so successful and academically rigorous that there are plans to run it in future years. View the application portal and details here.  
Although the students fund their experiences through personal funds and scholarships, the program costs are supplemented by: Generous gifts from Dr. Viswanath (Vish) Tirupattur and David Shockey, University of Illinois College of ACES, Department of Agricultural and Consumer Economics, Department of Recreation, Sport, and Tourism, Russia, East European, and Eurasian Center through support from the US Department of Education's Title VI NRC Program, John Deere, and additional generous gifts from individual and corporate donors.