Child Development Laboratory cares for children of essential, critical personnel while continuing to connect with families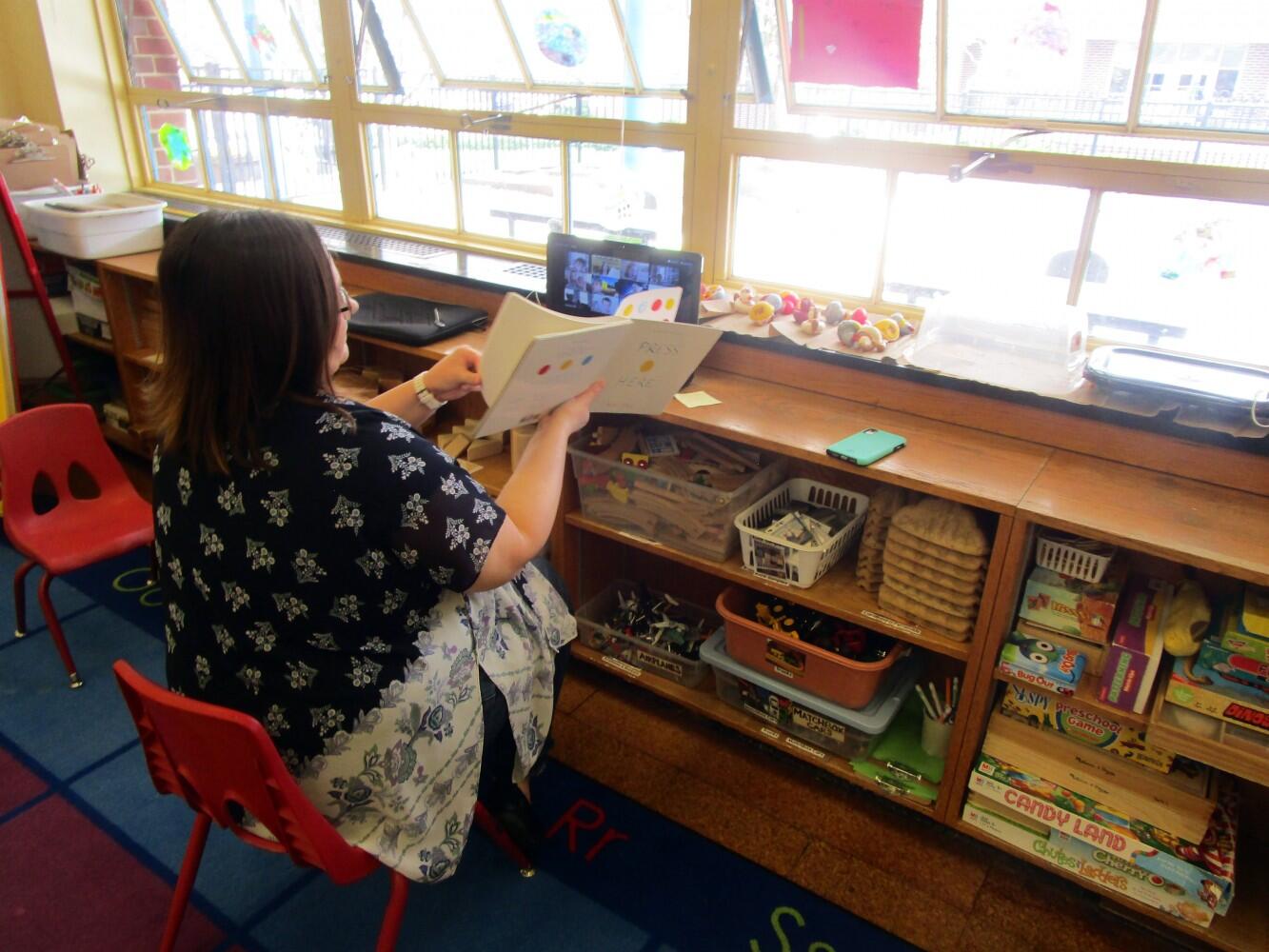 Child Development Laboratory cares for children of essential, critical personnel while continuing to connect with families
URBANA, Ill. – Head teacher Kelli Harris just kicked off her weekly classroom Zoom meeting. As the little faces of each of her 2- and 3-year-olds pop up in the Zoom gallery, Harris knows they are excited to see one another.
"Their reaction to talking to their friends online has been priceless," says Harris, a teacher at the University of Illinois Child Development Laboratory (CDL). "As new faces appear on the screen, you can hear them telling their parents, 'Look, it's [name of child]!' They also show us their stuffed animals, what pajamas they are wearing, what snacks they are having, and their brothers and sisters who are in the room with them.
"Some of the children were a little shy about answering direct questions the first time, but by the third time they were a lot more comfortable, which shows how skillfully young children adapt to new situations," she adds.
For Harris and her fellow CDL teachers, these meetings have been the next best thing to having their students in the classroom during the coronavirus situation.
"Honestly, seeing their little faces does as much to comfort us as it does to them," Harris says.
Since mid-March, the staff at the CDL has stepped up to provide emergency childcare for a limited number of essential and critical personnel during the pandemic, under the state's emergency childcare license. But CDL teachers and staff are also finding ways to regularly and creatively connect with other CDL children and families now at home.
Typically, the CDL operates as an early-care and education program for the community, serving 160 children ranging from infants to age 5, as well as a research and observation laboratory for U of I faculty and students. Brent McBride, director of the CDL, says the center shifted its programming when U of I classes moved online.
"Our initial action plan included the fact that once the university moved to online instruction, the Child Development Laboratory would cease to function as a laboratory school and become a service entity only, in other words, focused solely on childcare," McBride says.
For now, all operations in the CDL building on campus have shut down, and childcare moved next door to the Early Child Development Laboratory building. Under the emergency license, the CDL can provide service to three age groups: infants, toddlers and 2-year-olds, and preschool-age children. Children must be from families of employees working in critical or essential employment categories as outlined by the state, including healthcare providers, first responders, and other community-critical workers.
Of the CDL's regular-attending families, 12-14 children are eligible to be enrolled in the emergency childcare program, and enrollment is now open to families in the community who meet the criteria.
But McBride stresses he and his teaching staff haven't forgotten about the 140-plus families at home who don't fall under those categories.
Teachers are broadcasting regular Zoom meetings from their CDL classrooms, including story time, music time, physical activity, yoga, and even taking Zoom tours of the building.
"They're trying to replicate the CDL experience as much as possible virtually," McBride says.
Head teacher Brittany Townsend sings and reads to the infants from her class during Zoom meetings.
"One of the parents emailed me a video of her son watching a video of me reading a sing-a-long book called, 'Pete the Cat: Twinkle, Twinkle Little Star.' He got more and more excited as the video went on before eventually singing along with me in baby jargon," she says.
Townsend adds teachers are also keeping in contact with the parents. "We are able to answer any questions they might have and help them come up with ideas to help keep their children engaged and learning while at home."
In addition to the Zoom meetings, head teacher Jaime Smith and her assistant put together take-home bags for parents to pick up from the center's circle drive. The bags feature a variety of materials such as homemade play dough, collage and sorting items, journals to write in, sight word cards, loose paper, glue sticks, sidewalk chalk, and more.
"We had 12 families come out and all but one brought their children so we could say hi and chat briefly through the car window from a distance," Smith says. "The children were really excited to see us; parents, too. Many of them have already emailed with thanks and appreciation of having new activities for their children to work on."
McBride makes sure to point out how creative his staff has been in how they are connecting with families.
"They're all pitching in and that is just totally amazing. They see their importance and the critical role that they're doing. And that to me is very reassuring," he says.
Harris says of the teachers' efforts, "Our goal is to offer some comfort and consistency to the children in a scary time, so whatever the children do while we are meeting is fine with us. Going forward, we will continue to send helpful information to the parents and to virtually meet with the children a couple of times a week."
Across the nation, few campus-based early care and education programs remain in operation because of reliance on student workers, but the CDL with its 40-member staff was well-positioned to provide emergency childcare to the community, McBride says.
Through the Child and Adult Care Food Program, the CDL is also providing groceries to eligible low-income CDL families. Families can pick up grocery items, such as bread and milk, in the ECDL drive to help offset meals and snacks.
For now, the number of children the CDL can enroll in emergency childcare is capped at 28. McBride says they are reaching out to the community to find families in need of childcare who meet the criteria. The center has also expanded its hours to 6:30 a.m. to 6:30 p.m. to better accommodate workers' schedules.
Following CDC guidelines on coronavirus and childcare programs, the CDL has safety protocols for anyone entering the building including temperature checks, health and travel-related screening questions, and not allowing parents or guardians into the classrooms.
For more information on the enrollment process for children of essential and critical personnel, call the CDL at 217-333-2550.
The CDL is housed in the Department of Human Development and Family Studies in the College of Agricultural, Consumer and Environmental Sciences at U of I. To learn more about the CDL and support their work, visit www.cdl.illinois.edu.