High school students get taste of campus life with ACES summer programs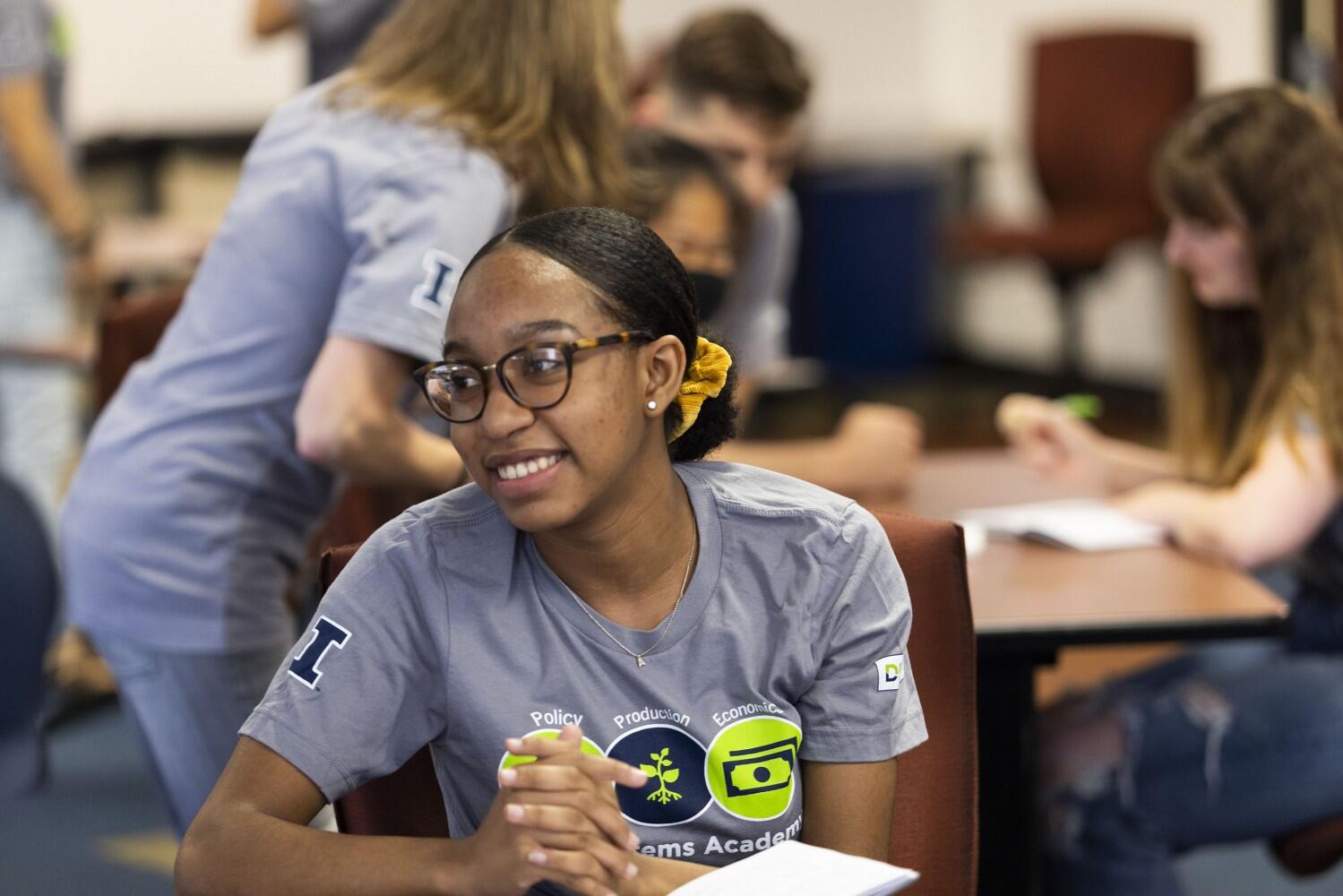 High school students get taste of campus life with ACES summer programs
URBANA, Ill. - Pre-college programs in the College of Agricultural, Consumer and Environmental Sciences (ACES) at the University of Illinois Urbana-Champaign are designed to introduce high school students to ACES and inspire future career paths – without being too overwhelming.
And summer is the perfect time for students to see themselves at ACES!
ACES offers several summer programs to help potential students get an inside look at the college. While these programs feature their own focuses and goals, they're all great opportunities for students to get familiar with all the college offers, says Diana Rodriquez, director of ACES' pre-college summer programs.
"The benefit for the students is that we're exposing them not only to the College of ACES and who we are, but we're also exposing them to the college environment and campus," Rodriguez says.
Discovering STEM
Discovering STEM in ACES Program (DSAP) introduces students to how STEM-related activities connected to food, agriculture, human, and environmental systems relate to their career goals.
As Rodriguez describes it, DSAP is about "discovering every aspect of STEM within all areas of ACES."
After an overview during the first week of the program, students spend their second week exploring a specific area of interest and presenting on that topic. Students learn about opportunities ranging from animal health and human nutrition, to plant biotechnology, to finance, policy, and law.
ACES strongly encourages the participation of traditionally underrepresented ethnic minority groups, under resourced communities, students with disabilities and/or from urban areas to apply for this summer experience which will take place July 10-23 in 2022. The application deadline is April 15.
Food Systems Summer Academy in Chicago
The Metropolitan Food & Environmental Systems program hosts a one-week summer academy that gives high school students the opportunity to learn about a wide range of factors critical for producing healthy, affordable foods, while sustaining our environmental resources.
The academy takes place at the Discovery Partners Institute in Chicago every summer and includes hands-on activities, field trips, and networking events. The 2022 academy will be June 27 to July 1. Topics, activities, and field trips vary each year. Waivers are available to cover the cost of the academy. The application deadline is May 31.
Digital deep dive
For those interested in learning about the relationship between agriculture and computer science, the Illinois Digital Agriculture Summer Course made possible by the CHS Foundation is a good option.
Isabella Condotta, agricultural engineer and assistant professor in the Department of Animal Sciences, and Hamze Dokoohaki, assistant professor in the Department of Crop Sciences, lead the program.
The goal is to introduce students to how computer science applies to agriculture.
"We envision that agriculture in 10 or 15 years will rely heavily on digital technologies, and therefore, as one of the main goals of this program, we try to equip the future leaders of this industry with all the skills they will need," Dokoohaki says.
Students see and practice the skills they'll need to be successful in a world that is becoming more and more digital.
"Computing is something you can apply in any area, and more and more those skills are being required, even if you don't have a major in computer science. This course can provide students with a head start on applying those skills to both crop and animal production," Condotta says.
The course includes expert speakers, programming skills practice, remote sensing activities, and a farm simulator. In the end, students developed their own ag-related software during a 24-hour hackathon.
For more information about each of these ACES summer programs, visit the ACES pre-college programs page.