Innovative course develops, trains leaders in the era of virtual meetings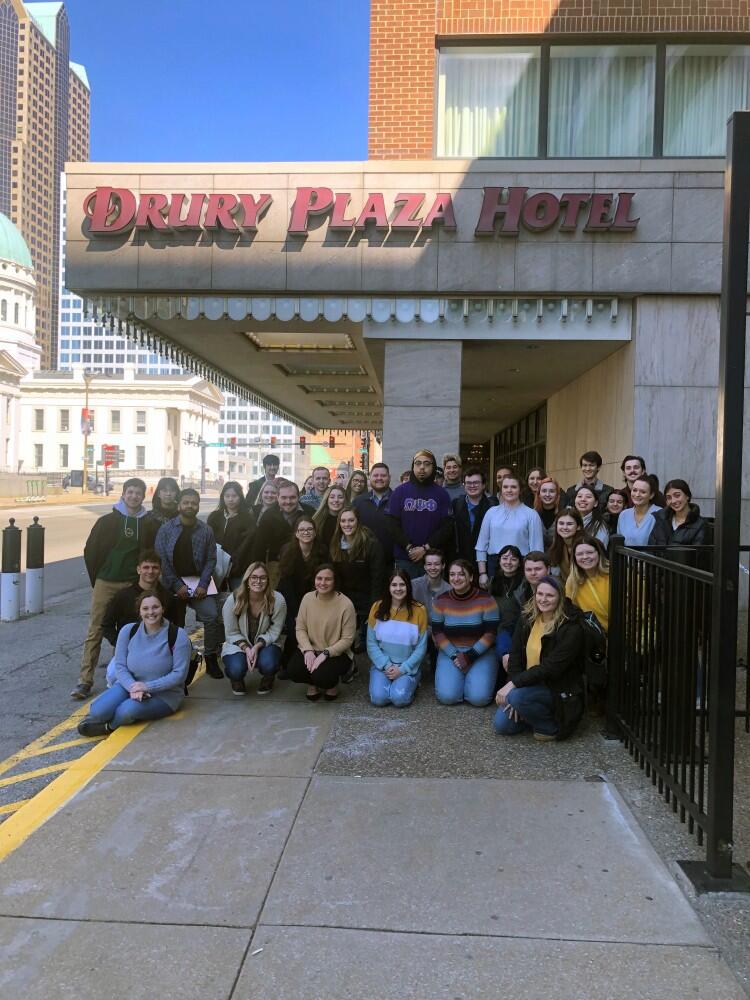 Innovative course develops, trains leaders in the era of virtual meetings
URBANA, Ill. – Think back over the last 24 months. If you've participated in any kind of professional training or development programs, chances are good the pandemic affected the way that program was presented or delivered to you.
As a participant in one of those programs, how did it go?
Students in one University of Illinois course are learning a valuable leadership lesson, especially in the COVID, virtual-work era—how to develop and conduct effective training programs.
In LEAD 321: Training and Development, Amy Leman, assistant professor in the Agricultural Leadership, Education and Communications (ALEC) program teaches students best practices for face-to-face and virtual educational and training programs, and how to present information in a way that educates and influences others.
During the course's first year, Leman and the students used virtual teams for program development.  In its second year, they added an exciting project launch weekend in St. Louis.
As part of the course, students work on real-world scenarios with well-known, participating companies and organizations as clients. Chick-fil-A Hutchinson Kansas and Drury Inns have been a few.
Leman launched the class after receiving an Innovative Teaching Award from the Association of Public and Land-grant Universities in 2020. The inter-institutional award provided funding for Leman to partner with a colleague at University of Missouri teaching a similar course. For both years of the course, Illinois and University of Missouri students worked together in virtual teams with clients, giving them the opportunity to learn outside the borders of the state of Illinois.
"The students don't just learn about training and development. They actually do real projects for real clients," Leman says. "The grant supported this goal to give the students a real-world problem to solve throughout the course, as opposed to just talking about it in theoretical terms."
Throughout 2021, the class met as hybrid—half in person, half online—but met fully in person in 2022.  LEAD 321 is required for the organizational and community leadership concentration in ALEC, as well as for the hospitality management concentration in the Department of Food Science and Human Nutrition, which Leman says has made for a great mix of students.
"Our projects included a food safety training project so that's especially of interest to those in hospitality management. In the class, students meet with their clients to talk about the needs of the organization and the needs for the training, and then they develop the training. At the end, they actually facilitate the training, virtually," Leman explains.
"They not only design it, but they get that public speaking practice of presenting in front of a virtual audience."
In late February, LEAD 321 students participated in a project launch weekend in St. Louis with students from the University of Missouri. The students met with stakeholders from eight organizations who needed programs designed. 
"The students were put in groups and by the end of the weekend had proposals to develop the programs for the organizations," Leman says.
The hope is to continue having the launch weekend as part of the course, Leman says.
Students develop all the training materials for their clients, including a script to follow during a training program.
"It's not just a PowerPoint that you read over Zoom; our goal is for these trainings to be innovative," Leman says.
And that includes building programs around human-centered design principles, she adds.  
"We spend a lot of time talking about empathy and getting to know your clients and their customers and what they actually need, and then to ideate and brainstorm different ideas and options," she says. "And then we have pilot stages so you can try things out and see what works and doesn't work before you come up with your end results for your clients. That's where the whole concept of human-centered design is built in, as well."
Leman says a gift from Growmark to support experiential education helped pay for the launch weekend trip. Project stakeholders also included Drury Inns, Chick-fil-A Hutchinson, Illinois 4-H, Missouri Ag in the Classroom, Illinois Ag in the Classroom, Council for Agricultural Science and Technology (CAST) of Iowa, and the Danforth Foundation.
See video highlights from the launch weekend here.  
Ultimately, the skills students pick up in LEAD 321 help their clients avoid what Leman refers to as the "bad" training session.
"Bad trainings happen when they don't follow the theories of active learning and experiential learning, and adult learning and youth learning—the principles that have shown success in other areas," Leman says. "In terms of preparing our students for success, I think it's important that there's this concept of, 'how do you package your material in a way to share it with others?'
"If your degree is in crop sciences, and you know great, wonderful things about crop sciences, do you know how to share that with others in a way that is dynamic and exciting, and how do you measure if they actually learned something from it?"
If your organization would like to partner with ALEC students to create a training program, contact Leman at bunselme@illinois.edu for more information.
The Agricultural Leadership, Education and Communications program is in the College of Agricultural, Consumer and Environmental Sciences at University of Illinois Urbana-Champaign.