Outdoor adventures forge connections, science career paths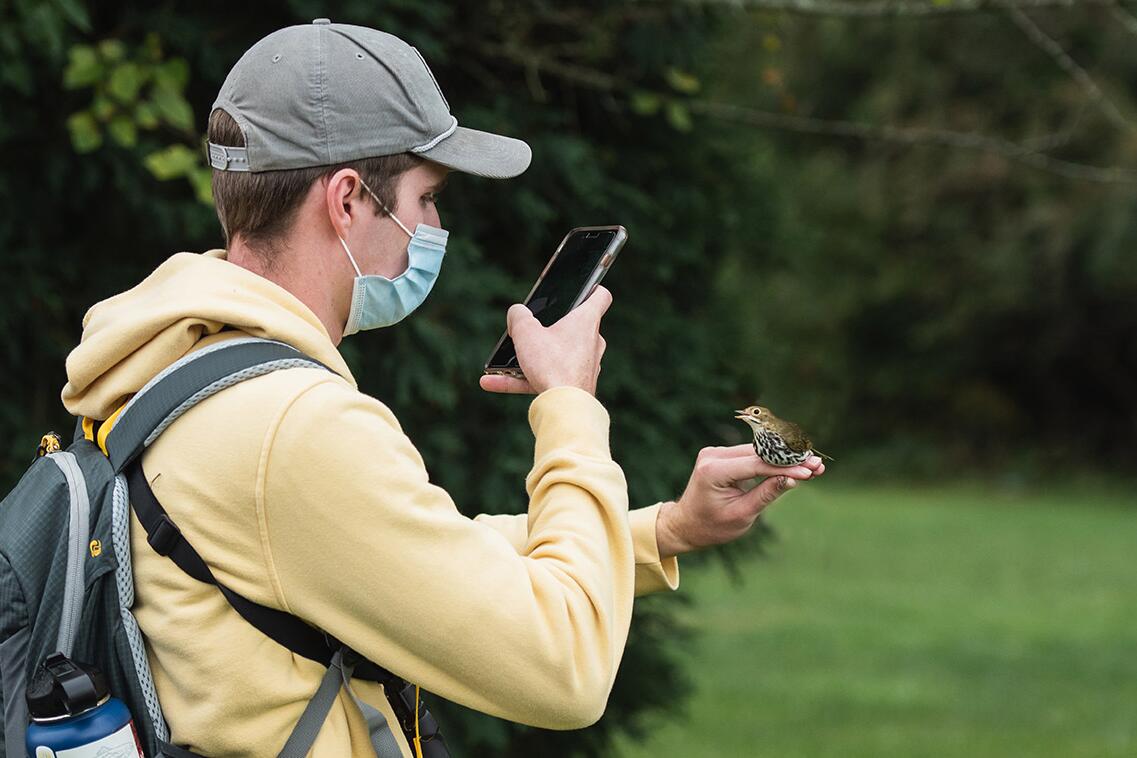 Outdoor adventures forge connections, science career paths
URBANA, Ill. – Ashli Trudeau wrapped her hand around the little bird ever so gently, carefully following instructions to keep the American Goldfinch safe. She could feel the bird's tiny feathery heart racing against her fingers, and her own skipped a beat.
"Its feathers were one of the softest things I have ever felt," she recalls. "I only held the bird for 10 or 15 seconds, but that memory will stay with me forever."
For Trudeau, the experience was a resounding confirmation that she made the right decision to transfer as a sophomore into the Department of Natural Resources and Environmental Sciences (NRES) at the University of Illinois.
"You see birds everywhere, but you never get close enough to touch one. They're so much smaller than I thought," she muses. "Getting to hold one was surreal, but it really made me feel secure in my decision. Especially just after transferring, suddenly I felt very sure I was where I was meant to be."
With all her classes meeting exclusively online due to COVID-19, this year's NRES New Student Field Day was Trudeau's first real chance to experience what she came to NRES for. The enrollment deadline for Fall 2021 is January 5.
"We run the field day to give students an initial exposure to different field techniques and to get to know our faculty. But the bigger picture is really to keep them excited and passionate about being an NRES major amid their freshman gen ed courses," says Bob Schooley, interim head of the NRES department. "That was so much more important this year, especially because the new student cohort has been interacting mostly in the zoom environment since the beginning of the semester."
Masked up and distanced, freshman and transfer students enthusiastically gathered at the University of Illinois Arboretum on an unseasonably warm Saturday morning in late September. Smiling eyes met over coffee as classmates met in person for the first time.
"It was definitely nice to see those familiar faces from class," says sophomore NRES transfer student Hunter Benesh. "By the end of the day, we were more like friends."
After coffee and snacks, Benesh and his fellow students grouped off to cycle through the handful of experiential learning stations set up throughout the arboretum. Down by the pond, they met up with aquatic ecologist and assistant professor Eric Larson.
"We put on waders and actually went into the Arboretum pond to collect invertebrates. Then we sorted them out," Benesh says. "That was something I had never done, or even really learned about before. That was probably one of my favorite activities."
Larson says collecting and sorting freshwater insects and invertebrates teaches students valuable lessons about environmental health, a core value and passion shared by NRES students and faculty.
"One of the best ways we can determine the condition of freshwater ecosystems is by looking at what organisms live in them," he says. "Are they pollution-tolerant or intolerant? And you can learn some of the quick freshwater bioassessment tips really quickly - do you have a lot of midge larvae? That might be an impaired site. Do you have a lot of mayflies or stoneflies? That might be really good habitat. So there's some natural history in the activity that has relevance to freshwater conservation and management."
Larson adds that the exercise, and all the activities offered during the New Student Field Day, expose new students to major subdisciplines in the environmental sciences, as well as course offerings, research opportunities, and internships available through NRES.
"The event sort of foreshadows the type of work you might do, which you might not otherwise discover until later in your academic career. I like to let students know if you're excited about this type of work, NRES has options where you can learn this stuff in much, much more detail down the road."
In addition to the aquatic ecology station, students learned techniques for sampling soil, measuring forest communities, exploring human-environment interactions, humanely trapping and tracking mammals, and, of course, catching and handling songbirds.
Schooley says the experiences are new for almost everyone.
"Even if they had been involved with some kind of field activity in high school, it probably didn't involve actually live trapping mammals or mist-netting birds. You can tell most of the students haven't put chest waders on before; you have to show them how to do that," he says. "Again, it's giving them a little preview of some of the skills they can learn later on in our courses and internships."
The bird station was Trudeau's highlight, but there were so many more.
"As the day went on, whenever I'd get the chance, I'd shoot a text to one of my friends or my mom, like, 'This is so great. I am loving this!'"
By the time the event wrapped after a box lunch, students were reluctant to leave. But as they drifted back to their dorms and apartments, students left with new connections that would enrich future zoom meetings (and, one day, in-person classes) and clearer visions of how they'll change the world through an education in NRES.