Prairie Research Institute seeks funding bump for environment-focused mission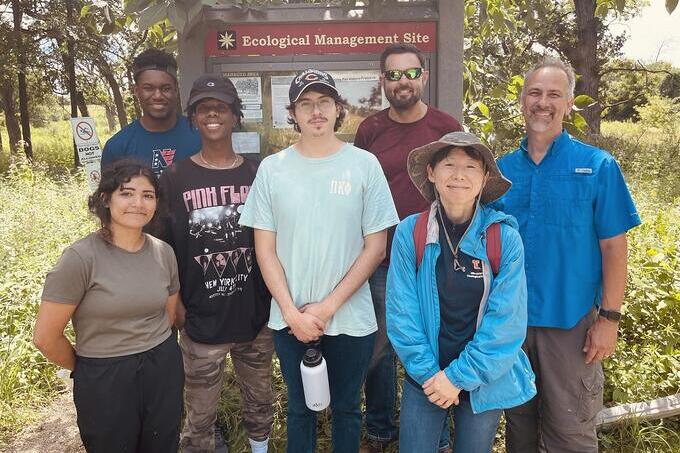 Lily Hearn (far left) and Randy Locke (far right), Prairie Research Institute, with a group of visitors at Bluff Spring Fen Nature Preserve.
Bluff Spring Fen Nature Preserve in Elgin, an hour northwest of Chicago, benefits from a host of entities working together to meld protecting wetlands and other natural habitats with the needs of people living and working nearby.
"Bluff Spring Fen is an important piece of history that's still living now," says Randy Locke, a principal research scientist at Prairie Research Institute (PRI). "There's been long-term commitment and collaboration among landowners, natural resource agencies, mining companies, land developers, preservationists, municipalities and others to maintain the delicate balance between the health of the site and surrounding land uses that could impact the preserve's integrity."
Part of the University of Illinois Urbana-Champaign, PRI is yet another University of Illinois System entity that conducts transformative science that benefits the people, economy and environment of Illinois, the nation and the world.
Research from the College of Agricultural, Consumer and Environmental Sciences solidifies PRI's value in terms of dollars and cents. The research shows the direct economic impact of PRI on the Illinois economy is valued at $667 million for 2018-22, providing more than 5,300 full-time jobs in the state. That means each dollar PRI spends returns $5.06 in economic value to Illinois.
Read more from the University of Illinois System.