From storage to center stage: New bronze statue of world-famous steer welcomes visitors to Stock Pavilion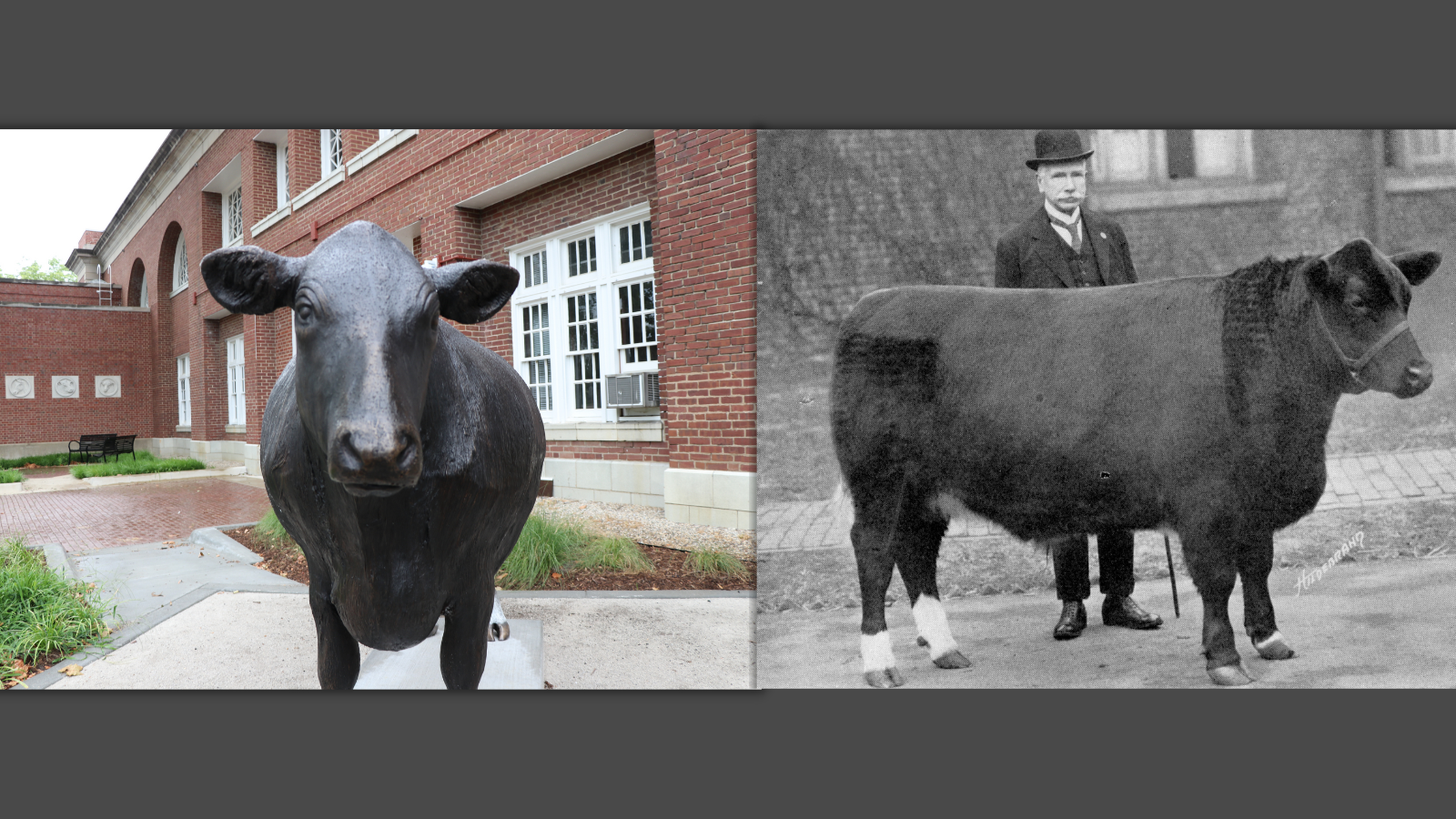 From storage to center stage: New bronze statue of world-famous steer welcomes visitors to Stock Pavilion
URBANA, Ill. – There's a lot of history in the iconic Stock Pavilion on the University of Illinois' South Quad. Now, thanks to one family's love for the space and another family's personal ties to a very famous steer, a piece of history will welcome visitors to the Stock Pavilion forever.
A bronze statue of Broadus White Socks, a two-time, prize-winning steer at the Chicago International Livestock Exposition, including grand champion in 1922, has been crafted and installed at the south entrance of the Stock Pavilion. The art piece—a nod to the award-winning steer with quite a story—is the latest in a series of updates and renovations to the beloved building.
After White Socks' win at the International, the live steer was purchased by Sears and Roebuck and put on display in Chicago, New York, and internationally. After touring, he was taxidermied and given to the U of I in 1925.
White Socks spent time on display in Mumford Hall until the late 1930s, then moved to the campus' Natural History Museum. By the mid-1940s, though, he began to show some wear and was placed in storage in the English Building.
In the mid-1980s, when the animal sciences department in the College of Agricultural, Consumer and Environmental Sciences (ACES) heard about the steer being stored on campus, White Socks was moved to the Stock Pavilion. While mostly kept in storage over the years, he was occasionally brought out and displayed at livestock and other events.
It was at one of these events that Broadus' history got a little more interesting.
My grandfather's steer
When you're a kid, things can seem larger than life.
"When I was about 11, I remember my grandfather taking me up to the University of Illinois. We went on campus and he said, 'hey, I want to show you something,'" Brad Ware remembers. That first time he saw Broadus White Socks, by then preserved, Ware remembers thinking, "That's the biggest darn steer I've ever seen." The steer was special because that was his grandfather's steer.
Broadus, an Aberdeen-Angus, was calved Oct. 1, 1921 into the herd of Arthur Armstrong—Ware's grandfather—at the Armstrong farm in Camargo, Illinois. Armstrong bred, fitted, fed, and showed Broadus back in the day.
Fast forward to 2019, when Ware and his wife Charlyn, an ACES alumna and former ACES Alumni Association board member, were attending ACES' annual Celebrate Food and Agriculture tailgate event in the Stock Pavilion.
"Charlyn was talking to Doug Parrett [animal sciences] and asked, 'have you ever heard of Broadus White Socks?' He asked her how she knew about Broadus, and told us not to move," Brad says.
When Parrett and others at the event came and took the Wares to Broadus, who happened to be on display, Brad remembers, "I was taken aback at their reaction when Charlyn told them that was my grandfather's steer. I almost felt like royalty. I had no idea that Broadus was as famous as he is. I know that in our family it's something that we've been proud of all our lives.
"But when I looked at him [Broadus] I thought, 'man, he was a lot bigger when I was 11,'" he says.
The Ware family provided part of the gift to make the statue of Broadus a reality.
"I'm proud of my grandfather and his accomplishment," Brad says. "I'd be interested to see what his thoughts are today. He would probably say he was just doing what he normally did, showing cattle and doing the best job he could. But it's something I'm proud of and I think this is a great honor to be able to have it bronzed and used in the manner that it's going to be used. I'm just thrilled with it."
Reinvigorating the Stock Pavilion
The new statue at the south entrance is part of nearly a decade of renovations to the Stock Pavilion. Generous gifts from U of I alumni Rich and Sue Baader have reinvigorated the space. Rich and Sue, along with Rich's siblings and mother, fondly remember attending Illini Mom's Day Flower Shows in the Stock Pavilion. As a former Illini track and field athlete, Rich also recalls practicing the hammer-throw inside the Stock Pavilion's arena.
The Baader's gifts have funded updates to two teaching classrooms, the interior walls and seating surrounding the arena, the windows, the arena flooring and sound system, the entrance and brick pavers on the building's south side, as well as a photographic print of a New Deal mural from the Nashville, Illinois, post office. The scene featuring several animals is in the 107 classroom.  And now, they have helped fund the Broadus bronzing project.
"My interests are as much architectural as agricultural," Rich says. "Seeing these older buildings on campus being brought back to life was very charming to me."
It was on a 2014 bike ride around campus, touring some old buildings, when Rich first saw the Stock Pavilion and its need for some improvements, starting with paint.
"I had a little bit of history with the Stock Pavilion because of when I was on the track team at University of Illinois. So, I had a personal connection to the facility, and its uniqueness from my own experience there," Rich says.
New paint led to other improvements and partnership from campus in the renovations.
The University of Illinois' Stock Pavilion was built in 1913. The 30,000 square foot building was built of brick, concrete, and terracotta. The main purpose for the Stock Pavilion when it was first built was for judging and studying stock, which included hands-on animal labs. Today, it is still used by the Department of Animal Sciences, as well as by student organizations like the Hoof and Horn Club, the Illini Dairy Club, and the Companion Animal Club, and for other college events.
The statue was created by the Fine Art Studio of Rotblatt Amrany and installed on May 12, 2022. Funds from the John N. Chester Endowment also made the statue possible. The Broadus White Socks statue will be dedicated in advance of the 2022 Celebrate Food and Agriculture event on Sept. 10.