What is contextual engineering? New book explores technology and culture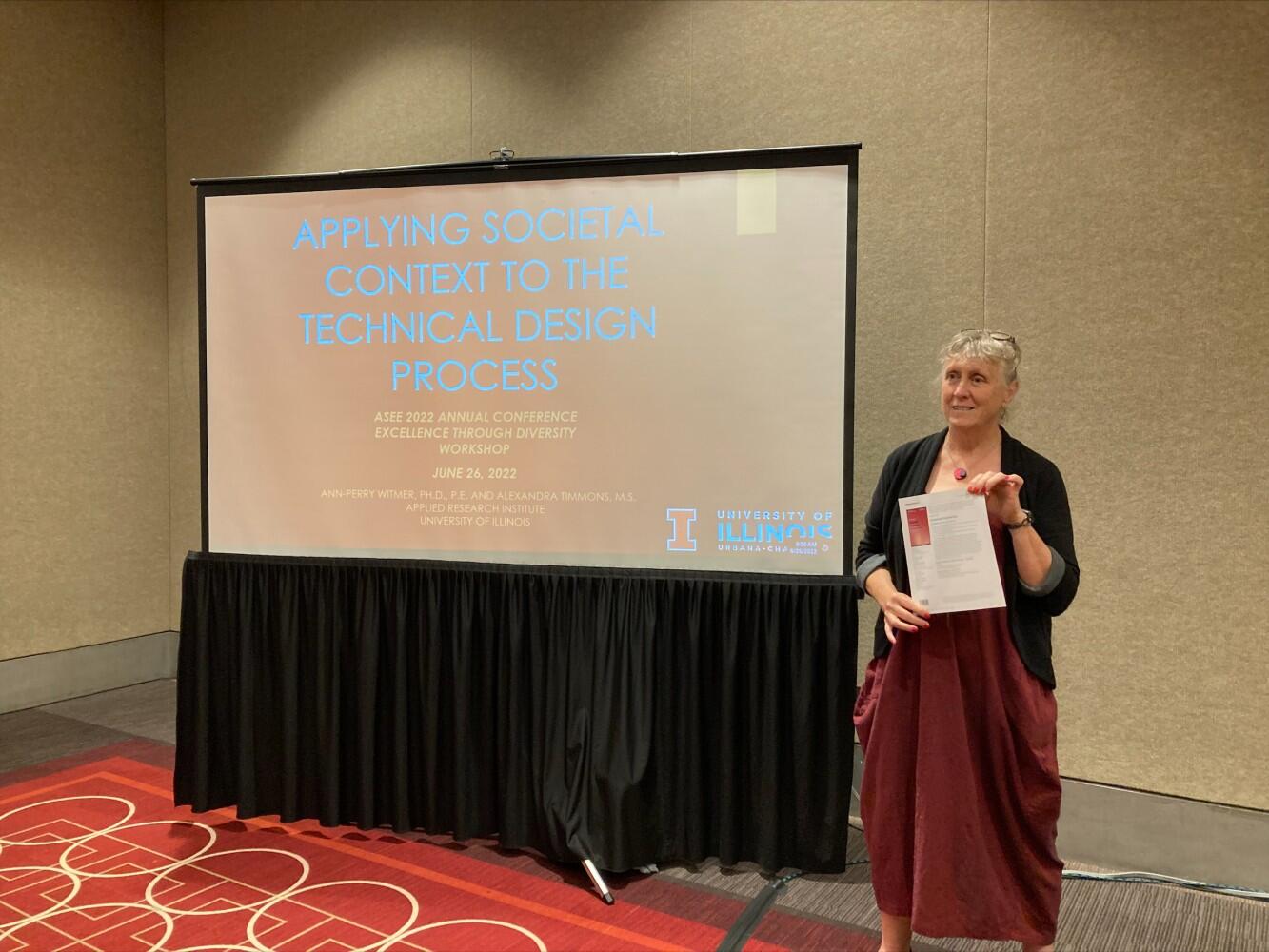 What is contextual engineering? New book explores technology and culture
URBANA, Ill. – Ann-Perry Witmer wrote the book on contextual engineering. Literally.
Witmer, a senior research scientist in the Illinois Applied Research Institute and lecturer in the Department of Agricultural and Biological Engineering (ABE) at the University of Illinois, coined the concept of contextual engineering and has been teaching and practicing it for years. She is now sharing her expertise in a new book, forthcoming later this summer.
"Contextual Engineering: Translating User Voice into Design" is published by Springer Nature and will be available through Amazon and other booksellers.
The 100-page book covers the foundations of contextual engineering, why it is important, and how to implement it.
"It's a textbook with a structure and questions for class discussion. But it's also written for general readers or professional engineers who want to contextualize their work," Witmer says.
Contextual engineering combines technological expertise with deep understanding of cultural and societal conditions. It outlines a process of cultural immersion that involves listening to user communities and developing solutions in cooperation with their practices and needs.
Witmer worked as a consultant in water engineering before obtaining her doctorate and joining the University of Illinois. Her experience with both U.S. and international engineering projects showed her engineers often need to better understand the interplay of culture and technology.
"The reality is we – practicing Western engineers – often let technology drive our work without thinking about who we're doing it for and what impact it is going to have. For generations, there has been a belief that technology is neutral. That approach has been pretty much discredited in the 20th century. There is a very strong societal interaction, and technology can be positive or negative, depending on how it is implemented," Witmer explains.
"In contextual engineering, we recognize the significance of context. We don't let decisions go forward in technical design or application based on what we want to do, or what we think the technology warrants. We move forward based on what the society wants, and we apply it in a way that's more ethically and practically effective for the people it is intended for."
Contextual engineering is inspired by the social sciences and follows a process of analyzing multiple components including people and stakeholders, local conditions, global influences, and the engineering design process.
Witmer points out that contextual understanding doesn't just pertain to international projects, it is also relevant in the U.S. Because of international travel restrictions during the COVID-19 pandemic, much of her research group's recent work has focused on domestic issues. She rattles off a list of examples.
"We're doing some work with the Great Lakes coastline stabilization, with rural farmers adapting to climate change, mental health care for marginalized rural populations, and electric vehicle charging station appropriateness," she states.
"We're also doing work in the Chicago suburbs to contextualize the communities within a township so we can identify the clean energy programs most likely to be adopted. Rather than assuming every community wants the same green initiatives, we're going to identify what resonates and is most likely to be used in each community."
When Witmer first introduced contextual engineering, she found it was challenging to catch the attention of traditional engineers. However, she has seen a shift in attitude over the last few years.
"I'm having to turn down students who apply to our graduate research group because I've got so many coming from all over who want to study contextual engineering. It's the first time they've had an opportunity to think about responsible and sustainable technical work. And they are not just social scientists who want to learn about technology, these are hardcore engineers who want to think about what their engineering work means."
Witmer recently received an ACES Global Classroom grant from the College of Agricultural, Consumer and Environmental Sciences (ACES) to establish a contextual engineering course with a university in Bolivia. As interest picks up from engineering programs in the U.S. and other countries, it will now be easier to include a contextual engineering component with the use of Witmer's new book.
The Department of Agricultural and Biological Engineering is in the College of Agricultural, Consumer and Environmental Sciences and The Grainger College of Engineering. The Applied Research Institute is in the Grainger College of Engineering at the University of Illinois.