2022 College of ACES outstanding alumni honored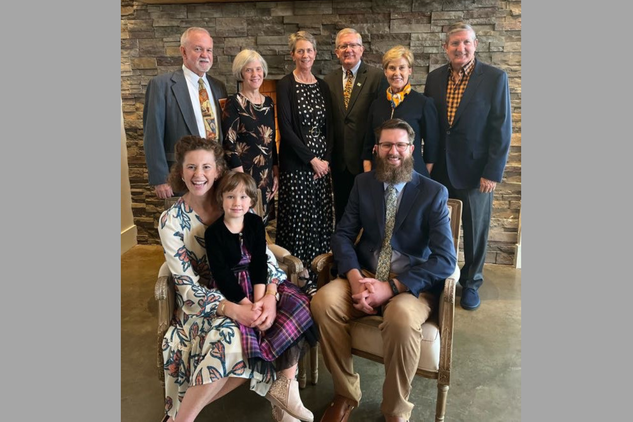 The Francis family, recipients of the 2022 ACES Family Spirit Award, pictured at the 10/24 ACES Alumni Awards Gala.
URBANA, Ill. – Each year the College of Agricultural, Consumer and Environmental Sciences (ACES) at the University of Illinois honors outstanding ACES alumni. Recipients are chosen in the categories of Outstanding Young Alumni, Career Achievement, Award of Merit, and ACES Family Spirit. The 2022 recipients were honored during the annual ACES Alumni Awards Gala Mon., October 24, at Pear Tree Estate in Champaign.
ACES Alumni Award of Merit recipients:
Lee Denzer, of Kewanee - BS '82 animal sciences; MS '85 animal evaluation

Brandon Meline, of Champaign - MS '01 nutritional sciences

Wayne Nelson, of Crawfordsville, Indiana - BS '74 agricultural economics

Wendy Feik Pinkerton, of Champaign - BS '82 agricultural communications
ACES Career Achievement recipients:
Doris Marie Houston, of Normal - MS '98 and PhD '03 human development and family studies

Steven Ricke, of Madison, Wisconsin - BS '79 agriculture; MS '82 animal sciences

Winston Yau-lai Lo, of Hong Kong - BS '65 food science

Susan Zaripheh, of Atlanta, Georgia - MS '03 and PhD '05 nutritional sciences
ACES Outstanding Young Alumni recipients:
Andrew Bowman, of Oneida - BS '08 crop sciences

Charles Thompson, of Monticello - BS '08 and MS '11 crop sciences

Josh St. Peters, of Arrowsmith - BS '03 agricultural communications
ACES Family Spirit recipients:
The Fred & Helen Francis Family - Fred and Helen Francis both graduated from the University of Illinois in the 1940s with degrees in animal sciences and agriculture home economics, respectively. Now, over 80 years later, the family has a combined 16 degrees from varying programs.
Awardees are pinned as members of the College of ACES Round Barn Society, now celebrating its 10th anniversary. The society is dedicated to recognizing alumni who bring honor and distinction to the College of ACES and the University of Illinois. Membership is granted to ACES alumni who have served in elected leadership positions of the alumni boards or have received individual award recognition from the college or the University of Illinois Alumni Association.