5 Questions: ETMAS major combines technology and environment interests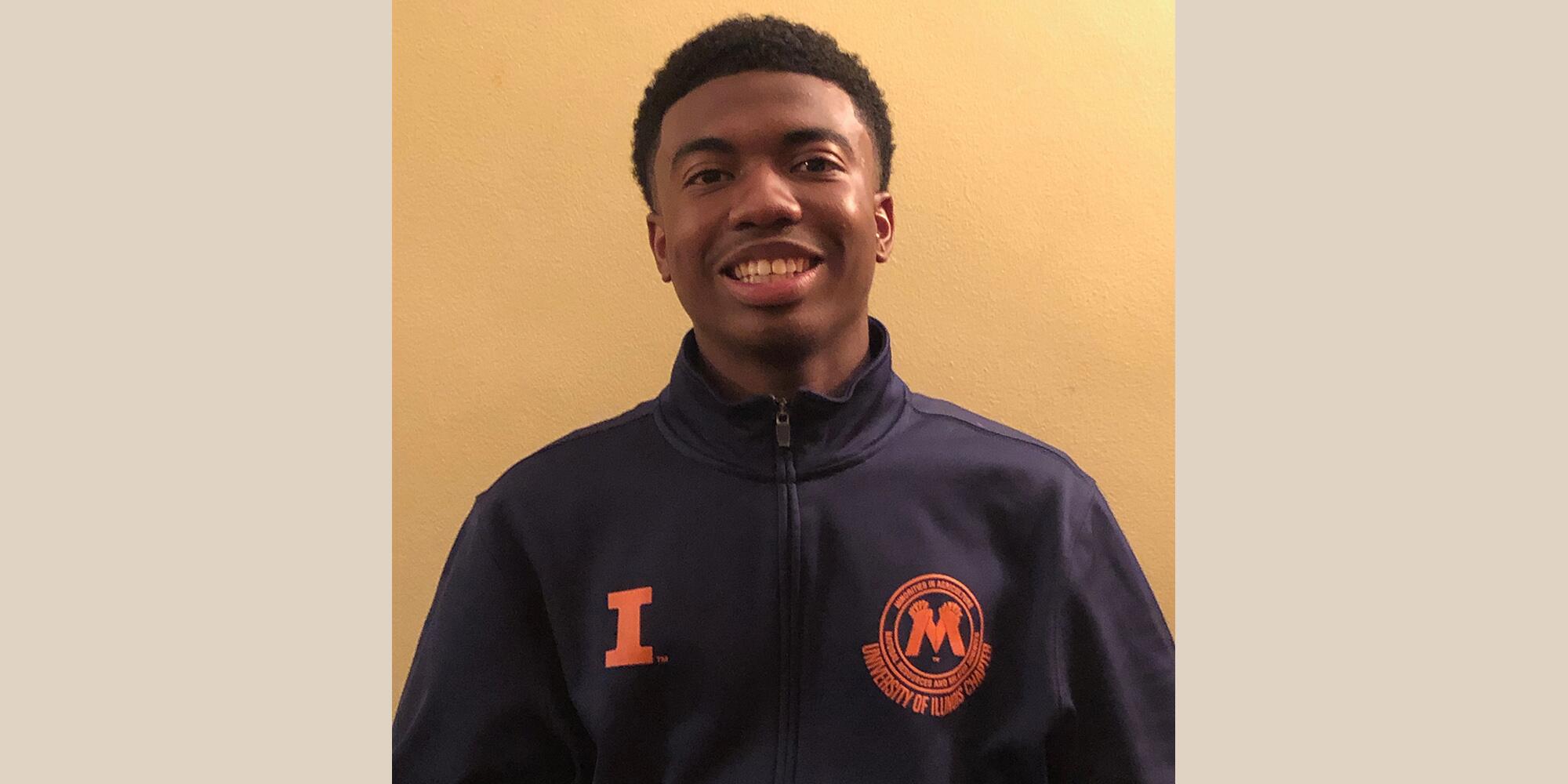 5 Questions: ETMAS major combines technology and environment interests
This week's 5 Questions Friday features Jarvis Williams, a sophomore majoring in Engineering Technology and Management for Agricultural Systems (ETMAS). High school experiences, FFA involvement, and ACES research apprenticeship program spurred an interest in agricultural engineering and the environment for this Chicago native.
Where did you grow up? Do you have an agriculture background? If so, please describe.
I grew up in Chicago on the Southwest side. I did not have any type of agricultural background while growing up in the city. In fact, I did not even think there were many career opportunities in agriculture. However, I attended the Chicago High School for Agricultural Sciences, where I learned about the various opportunities the field of agriculture has to offer to students. I participated in the National FFA Organization where I attended several conferences and became the local treasurer of the school's chapter, also earning my State Degree. From my high school experience, I began to develop a background and interest in agriculture, gearing towards agricultural engineering, technology systems, and the environment.
What year are you, and how did you choose your ACES major?
I am currently a sophomore, and my ACES major is Engineering Technology and Management for Agricultural Systems (ETMAS) with a concentration in Energy and the Environment. My minor is Sustainability, Energy, and Environment. I have been interested in the engineering and technology aspects of agriculture along with environmental conservation since my high school experience. The fact that ACES offers my interests into one degree is amazing! I also became more interested in the ETMAS major during the summer Research Apprenticeship Program (RAP) hosted by the College of ACES. This program allowed me to work on a hands-on agricultural and biological engineering project regarding water quality with other team members. A lot of my decision making also came from my high school counselor, college advisors, and mentors whom I developed relationships with along the way. 
What do you like about the student organization(s) you're in?
Currently, I participate in MANRRS, ASABE and Men of Impact. I like the positive atmosphere and mentorship that student organizations bring to the table. These two factors automatically made me feel included and valued in the student organizations. From here, I was able to establish new connections with peers from a variety of backgrounds. This is not just making new connections in the student organizations, but networking with other students and the community through service learning, volunteer work, and internships. I can say that joining student organizations on campus is very beneficial to one's performance inside and outside of the classroom and to one's overall college experience. 
Why should more students check out ACES?
More students should check out the College of ACES because of the numerous opportunities the college has to offer in terms of scholarships and activities. ACES offers a diverse and interesting perspective in course availability, professors' expertise, and much more! Outside the classroom, the College of ACES offers various research opportunities, career-readiness events, and advisors who are there to help all students along the way. One could build networks with several individuals from a variety of fields, allowing one to know at least someone else in a lecture class! I can attest to the benefits and support from being in the College of ACES, so I definitely recommend more students becoming involved in this college.
What advice about college do you have for high school students?
When attending college, I would recommend students to take opportunities and to manage their time.  If it wasn't for me signing up for research experiences, student organizations, and scholarships, I wouldn't have the connections that I have today. The mentors, advisors, and older peers are there to give one the advice that they need to help one through their college experience. Don't be afraid to try something new because it could be the future path for you, even if it makes you uncomfortable. There have been plenty of times where I've felt uncomfortable, but it was from those experiences that contributed to my personal growth. Lastly, time management is very important with the amount of events, exams, jobs, and other activities. College is the opportunity to learn who you are and to grow as a person.