ACES, Champaign County Humane Society partnership ensures student, community enrichment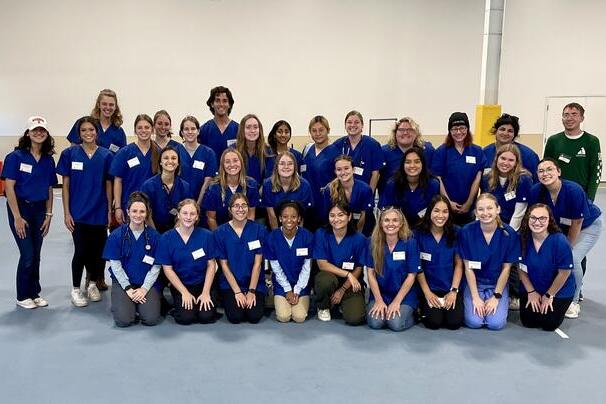 URBANA, Ill. — The College of Agricultural, Consumer and Environmental Sciences (ACES) at the University of Illinois Urbana-Champaign offers rigorous and diverse academic programs, but the experiences ACES provides outside the classroom are just as impactful. The enduring partnership between ACES and the Champaign County Humane Society is just one example, offering year-round opportunities for ACES animal lovers to gain hands-on experience through internships, volunteering, and more. 
Recently, ACES student volunteers and CCHS staff vaccinated 76 dogs and 89 cats during a low-cost vaccine clinic. The goal? Ensuring the health of the animals regardless of their owners' financial resources. 
"The opportunity to coordinate the low-cost vaccine clinic was incredibly impactful both personally and professionally. I have been involved in animal rescue for over nine years, and seeing so many pets and owners receive care reaffirmed that all the work I put in with other volunteers and staff was worth it. Above all, I enjoyed seeing the volunteers work so well together," said Kate Suchodolski, a first-year master's student in the Agricultural Leadership, Education, and Communications program in ACES and the lead organizer of this year's event.
Suchodolski began as an administrative intern at CCHS in May 2023 after graduating with a degree in animal sciences with a concentration in companion animal and equine science concentration and a minor in leadership studies. Over the summer, she worked with CCHS executive director Mary Tiefebrunn to develop programs and track shelter data. Coordinating the low-cost vaccine clinic was an added bonus.
"I have attended low-cost vaccine clinics in the past with foster animals, so I was happy to share my knowledge with the shelter staff and volunteers in preparation for this event. Over time, my role grew to include researching, organizing, recruiting volunteers, and more," Suchodolski said. "I have never organized an event of this size, so learning outside the classroom was a unique experience." 
Suchodolski and Tiefenbrunn were joined by 35 volunteers from animal sciences, along with five veterinary students, who helped run the clinic. It was a unique opportunity for these students to practice technical skills with supervision and to familiarize themselves with other veterinary duties such as vaccination registration, processing payments, customer service, and much more. 
Tiefenbrunn said she enjoys working with eager students who volunteer, intern, or extern at CCHS throughout the year. The externs can join one of many teams: Animal Care, Medical, Adoptions, Administration, or Animal Behavior.
"The students that volunteer to help us at events are usually quite enthusiastic and earnest," Tiefenbrunn said. "It's always rewarding when students who have volunteered decide to apply for jobs with us, and from there, some go on to become veterinarians or have other careers in animal welfare. Our hope is that the students come away with an understanding of the challenges animal shelters face and an appreciation for the people who choose to work in this field."
The U. of I. and CCHS work together year-round through opportunities at the shelter or at annual fundraising events, like the Fur Ball and Mutt Strut.
Suchodolski said the Champaign County Humane Society is a fantastic asset to the community as a whole. 
"While it functions as a shelter to find homes for adoptable animals, it also provides resources to the public and practical opportunities for students to apply their knowledge and expand their career goals."
ACES is a great fit for students who are looking to contribute to local communities. Explore our student opportunities and apply by Jan. 5, 2024, for regular admission.