ACES hosts director of new USAID Feed the Future Food Safety Innovation Lab (FSIL)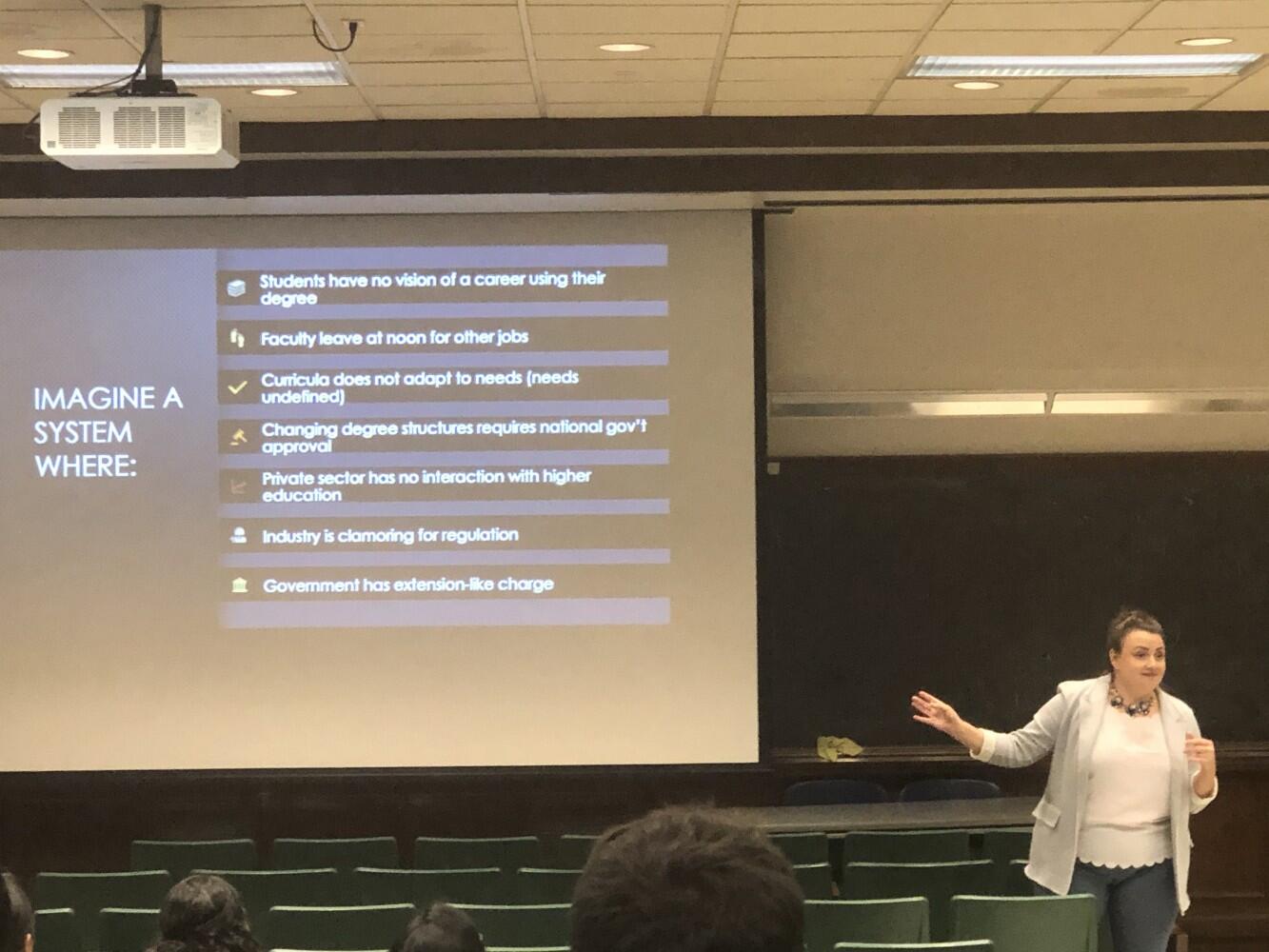 ACES hosts director of new USAID Feed the Future Food Safety Innovation Lab (FSIL)
The newly named director of the first ever Feed the Future Innovation Lab for Food Safety (FSIL), Haley Oliver, engaged her audience by asking a question everyone had to answer in the affirmative: "Have you ever had diarrhea?"
Usually an uncomfortable inconvenience for most of us in the developed world, foodborne illnesses such as Norovirus, salmonellosis, campylobacteriosis, and toxoplasmosis kill 420,000 people annually. Thus, Oliver's work puts food safety at the core of food security.  
"You can have enough food to eat, but if it kills you, you don't have food security," she noted, defining food safety as making a food safe to eat and free of disease-causing agents.
"You are the first audience to hear about the Food Safety Lab" noted Oliver, who was named director of the lab by the United States Agency for International Development (USAID) in August. The lecture was sponsored by the Department of Food Science and Human Nutrition (FSHN), FSHN 597 Graduate Seminar, and the ACES Office of International Programs as part of the ACES International Seminar Series.
Oliver is an associate professor at Purdue University, which houses the new lab, and she has years of relevant experience developing food safety capacity in Afghanistan, Nigeria, and Peru. Her seminar summarized her previous USAID-sponsored work with Purdue colleagues to develop a food technology program at Herat University in Afghanistan aimed to improve food safety, quality, and security.  
"The ultimate goal of projects like this is to build the country's resilience and work ourselves out of jobs," she said. The new academic program is still going strong, she is happy to report. But unfortunately, "disease remains inherent" in Afghanistan and similar environments, she said, due to limited availability of safe water and poor sanitation practices.
Under Oliver's stewardship, the FSIL will focus on improving awareness of the need for food safety measures; supporting local research on food safety issues; building policy and engagement efforts to disseminate information about food safety research; and developing best practices that can be used by households, communities, and commercial stakeholders.
FSIL will primarily work in five countries:
Senegal
Ethiopia
Kenya
Bangladesh
Cambodia
Oliver's specific vision for reducing the burden of foodborne illnesses in these countries includes:
Listening for true needs
Scaling correctly
Empowering women
Adapting existing technology to local conditions
Oliver is currently identifying specific needs for FSIL and will widely publicize calls during May 2020 so that researchers from more universities can get involved.
Follow FSIL on Twitter for updates.
Drawing on the expertise of U.S. universities, Feed the Future Innovation Labs advance novel solutions to food and nutrition challenges to reduce global hunger, poverty, and undernutrition. FSIL's peers include the Lab for Soybean Value Chain Research based at the University of Illinois.