AGCO gift advances capabilities of new Illinois Feed Technology Center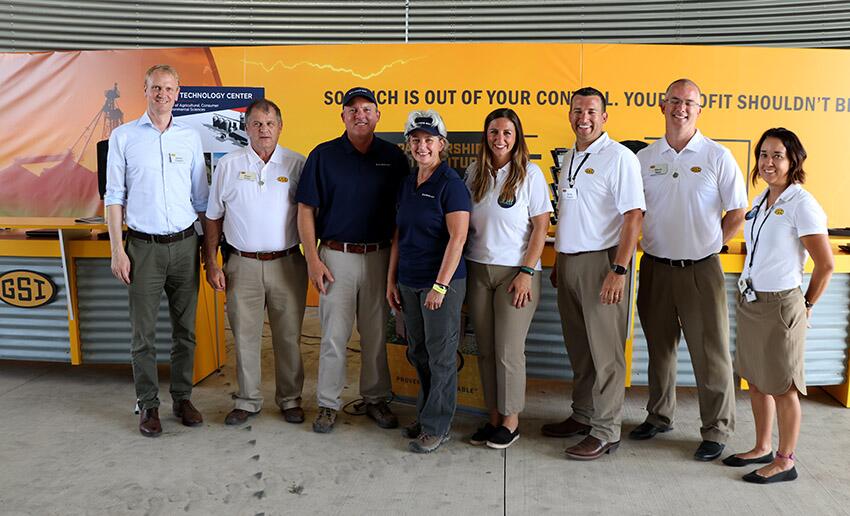 AGCO gift advances capabilities of new Illinois Feed Technology Center
URBANA, Ill. – The new University of Illinois Feed Technology Center, currently under construction south of campus, will have a significant impact on research and educational opportunities in animal nutrition. Now, a gift from agricultural equipment company AGCO of three GSI 42' – 15 ring bins with accessories including power sweeps, floors, fans, sidewall stairs and full peak walkaround, will expand those capabilities even further. The total storage capacity of the package is 200,000 bushels.  
The long-anticipated Feed Technology Center will allow researchers and students from the College of Agricultural, Consumer and Environmental Sciences at Illinois to continue their tradition of innovation in the animal nutrition space, transforming both the livestock feed and companion animal nutrition industries on a global scale.
"The generous gift from AGCO will support continued exploration in feed technology by providing essential grain storage, and exposing students to equipment representative of what they will encounter in their careers," says Rodney Johnson, head of the Department of Animal Sciences at U of I. "Gifts of equipment, like this one from AGCO, help immensely in reducing the final construction cost of the facility."
The connection between AGCO and the College of ACES runs deep, with several alumni and faculty serving as advisors, research partners, and employees. The company provided guidance and expertise on feed mill design and product specifications during early stages of the Feed Technology Center design process. AGCO will be the main supplier of grain storage and handling equipment for the Feed Technology Center.
"We are excited that the next generation of Agriculture leaders will have the opportunity for hands-on learning using the latest GSI equipment," says Steve Reid, AGCO, General Manager, North America Grain and Seed. "As we work toward AGCO's vision of providing high tech solutions for farmers feeding the world, I can think of no better place to partner with forward-thinking innovators than the College of ACES at the University of Illinois."
AGCO's contribution, along with new courses and hands-on experience, will allow future ACES students to gain expertise in the latest feed technologies, positioning them for careers at AGCO or similar companies. The grain handling and storage capabilities of the new Feed Technology Center will open doors for additional academic disciplines to benefit from the facility.
Kim Kidwell, dean of the College of ACES, says, "Donors like AGCO are committing more than equipment. Their gifts allow us to continue setting the standards for excellence in animal nutrition and feed manufacturing. This facility will make possible animal nutrition innovations that we can't even imagine today."