Donation gives students, faculty a step up on grain bin safety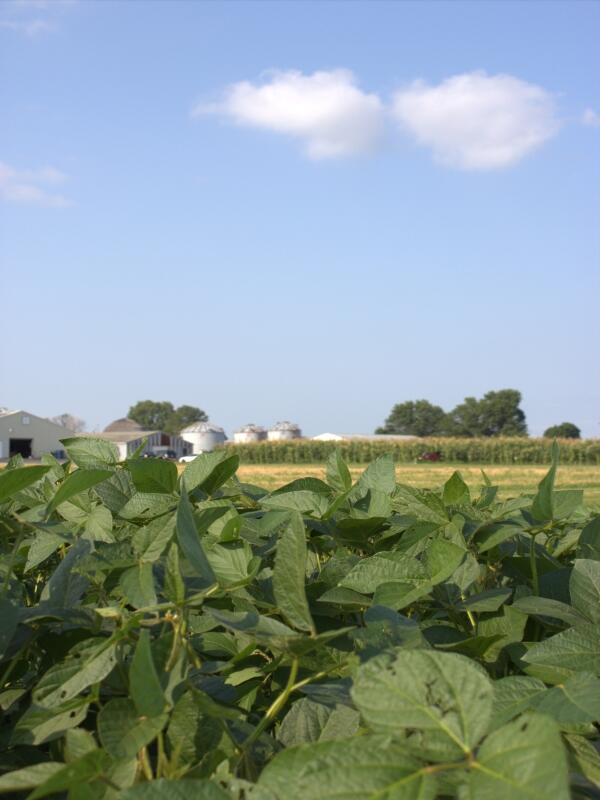 Donation gives students, faculty a step up on grain bin safety
As farmers wrap up harvest, safety on the farm and on roadways must remain top of mind – for farmers and everyone who benefits from their hard work. College of Agricultural, Consumer and Environmental Sciences (ACES) students are learning about safety while they and the University of Illinois benefit from a recent donation that helps everyone who learns and works at the campus' South Farms.
Despite safety precautions, the grain bins and elevators that hold the season's corn, soybeans, and other grains can be deadly.
Local equipment supplier Greene Galvanized Stairs provided equipment, including new stairs, to help ensure the safety of those working with the bins.
Department of Agricultural and Biological Engineering's Salah Issa teaches multiple courses on agriculture health and safety. He stresses the importance of awareness of hazards in the agriculture field.
"A lot of times, as humans, we think we can do anything and don't think of the consequences. A PTO shaft from a tractor can entangle someone caught in it in less than a second. Showing students examples like how quickly a PTO shaft can wrap a 6-foot rope around it helps to  proves to them how dangerous working in agriculture can be," says Issa, who refers to these as "incidents" instead of "accidents" because they are preventable. 
Daniel Gaither, ACES director of Safety, says, "The new stairs have a handrail system all the way  to the peak. Ropes, harnesses, and lanyards won't need to be used. Fall hazards are mitigated with the new stairs because proper guarding is in place.
"The original stairs that came with the bins weren't up to date with OSHA's new Walking-Working Surfaces standard. Fortunately, we received this valuable and generous donation, so we can keep working safely."
In addition to the new stairs, Greene Galvanized Stairs donated safety gates to keep out unauthorized personnel not trained in safety practices.
"I think the most important thing before you approach a machine or a system is to take the time to understand them. A lot of times people jump right into using this machinery without taking the time to look at and understand the hazards and risks associated with the machine," Issa warns, drawing a smaller-scale parallel.
"You don't start working at a chemistry lab without understanding all of the molecules so you understand the hazards that you're dealing with."
Issa and his team recently received $300,000 of funding from USDA-NIFA for a Critical Agriculture Research and Extension (CARE) project. This work explores the effectiveness and safety of high-powered air compressors as tools and methods to break apart out-of-condition grain blockages without requiring people to enter grain bins.
"We anticipate that the successful completion and implementation of this project will help reduce the need to enter the bin and thus reducing the number of grain entrapments, a significant grain bin hazard," Issa says. "The work targets another area of farm safety." Issa, Josie Rudolphi, Mei Tessum and Andrew Miller will lead the study "High-powered Air Compressors as Preventative Tools to Reduce Farmer Injury and Death Related to Grain Bin Entrapments."
For more about College of ACES majors, high school students and their families should visit aces.illinois.edu/future-students.