Engineering projects go virtual in creative classrooms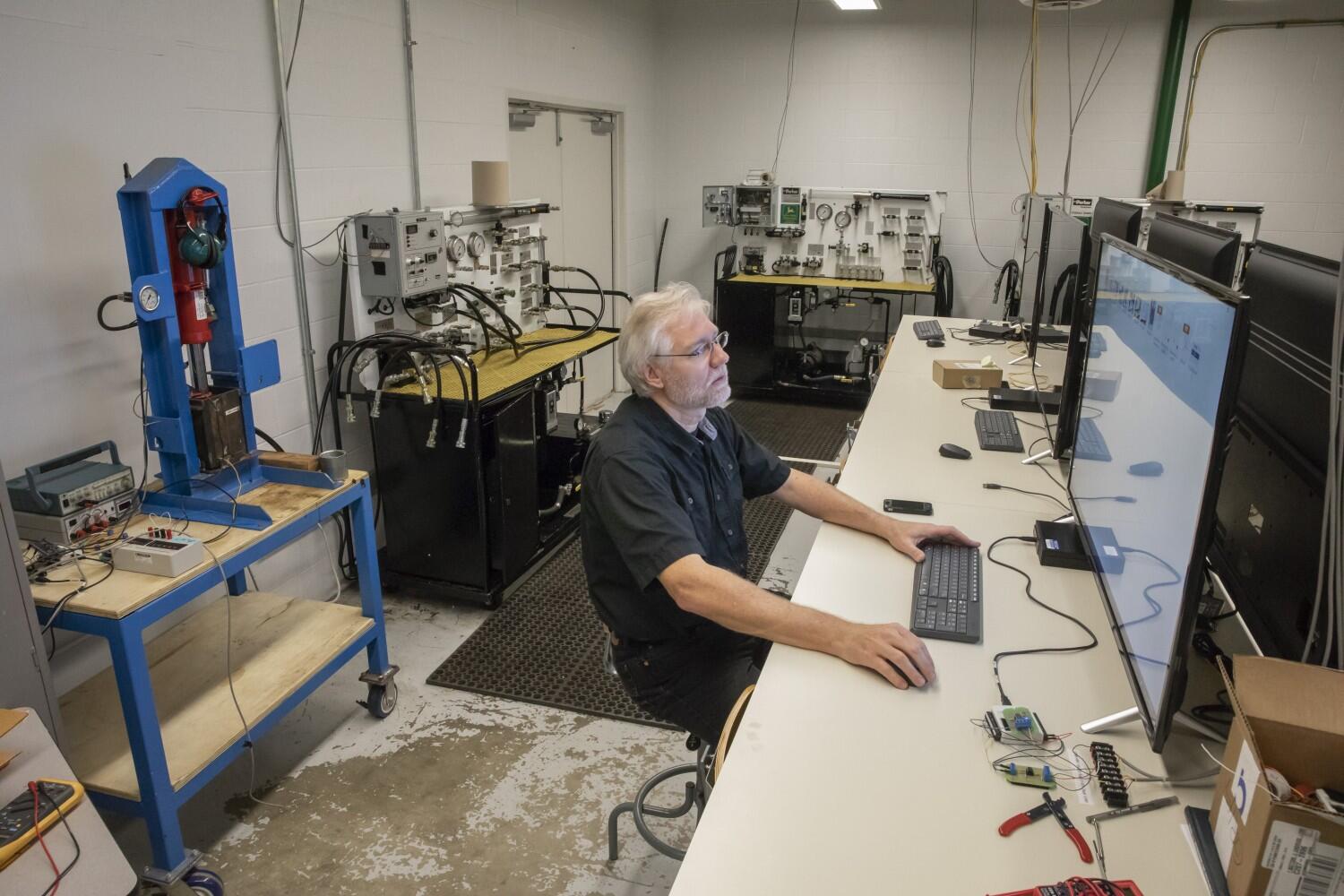 Engineering projects go virtual in creative classrooms
URBANA, Ill. ­– When the University of Illinois shifted all classes to online instruction after spring break to help protect people from the coronavirus, everyone had to adapt to new circumstances. But it was especially challenging for professors whose courses feature a large hands-on component.
Students in the Department of Agricultural and Biological Engineering (ABE) at U of I are required to take ABE 469, Industry-Linked Design Project, during their senior year.
"It's their capstone course, where they bring together all the knowledge from four years of study into an actual project for an actual client. It's a transitional course into the workplace," says Ann-Perry Witmer, lecturer in ABE.
The culmination of the course was supposed to be a trade show on campus. Instead, the class held a virtual event from May 2 to May 4. Posters showcasing the students' projects were on display online, and visitors could vote for their favorite project to receive the People's Choice Award. A panel of judges also evaluated projects and selected a winner for the Richard C. and Helen Coddington Design Team Award.
Spring 2020 is Witmer's first time teaching the course. She drew on her years of experience as an engineering consultant, setting up the class to model a real-life consulting business. That turned out to be good preparation for the shift to online work.
"The class was already experimental in nature, so when students had to adapt to new circumstances they were ready to be flexible," she says.
The 33 students are organized into 12 teams, working with a variety of clients from industry, academia, and non-profit organizations. Many of the teams planned to develop a physical prototype of their product. Now they had to come up with a different solution through conversations with the client. For example, one team is refining the design of a robotic lawn mowing device for John Deere. The students will complete the full engineering design, but Deere will assemble the physical device based on the team's instructions.
Tony Grift, professor of agricultural and biological engineering, also used his creativity to move his course ABE 425, Engineering Measurement Systems, to online delivery. "It's an electronics experimentation course, which involves lots of hands-on activity that's normally done in a campus lab," he says.
Grift has taught the class for years, and he was already considering ways to include an online component. Now he quickly had to make the transition to a full online experience.
His regular classroom teaching involves heavy use of the blackboard, where he writes out formulas and other information. He is still using the blackboard, but it is now set up with lightboard technology.
To jump into online teaching head first, Grift bought the highest resolution web cam available, which is sufficient for students to read a blackboard during a Zoom session. "You have to learn to make sure you write really big and don't try to fill up the blackboard," he says. He also had to learn quickly what narration and closed captioning features are available in the latest versions of PowerPoint and Illinois Media Space. Grift says he was amazed how well these tools work.
Normally the last three weeks of the course focus on lab projects. To emulate that experience, Grift set up lab computers connected to actual equipment, and students access the remote desktop of those computers to manipulate the hardware.
"For example, the students build a virtual oscilloscope, which is an instrument that lets you look at electronic signals. The computer is hooked up to real signal generators that make signals, and they have to program it and actually make it work," he explains. "That gives them the feeling that even though they may not be there physically, they are remotely in that lab, looking at a computer with hardware hooked up for them to play with."
ABE Department Head Ronaldo Maghirang notes that such simulation tools, known as "gamification," may sometimes be more powerful than hands-on experiences.
"These efforts demonstrate the creativity and resilience of ABE faculty, who are adapting to the unprecedented situation and becoming experts in narration techniques, video production, video editing, and other online tools," he says.
Both Grift and Witmer hold lectures at the regularly scheduled class times through Zoom, with the recordings available for later viewing.
They note that keeping students engaged during a lecture can be challenging. Grift breaks up his lectures with in-class exercises. He also asks students to create video logs, or vlogs, and he has set up a Media Space channel where class videos are available for the students.
Witmer makes sure to include fun elements in her lectures to keep students involved. "We asked them to share something that captures their experience after spring break," she says. "Somebody showed his last box of Girl Scout cookies, because he'd eaten all of them; another group showed a box of tissues because they cry so much having to try to get through this. They are very creative."
Witmer grades students based on exercises, assignments, and projects, so she does not deal with online exams. Grift's class requires exams, and he acknowledges it's a challenge to ensure the integrity of online test taking. He uses a system called ProctorU, where students are monitored remotely through their computer's camera while taking the exam.
Students seem to be responding well to online learning, Grift says. He notes there are some advantages to the format. For example, students who sit in the back of a classroom may not be able to see the lectures well; now they can see everything up close.
But others struggle to adapt to the new normal. "Some students find it confusing. They don't know what's expected of them. That's hard, because we are developing the class as we go – this is new territory for everyone," Grift says.
He credits the class teaching assistant, ABE doctoral student Beau Barber, with keeping the students engaged and helping them feel more at ease.
"It's the third year he's the teaching assistant for the class, and he knows the material very well," Grift says. "He has good rapport with students, and he is available to answer questions during and after the lecture."
While it is time-consuming to create materials, set up the tools, and keep everything running smoothly, exploring the technology of online teaching is well worth the effort, Grift says.
"And in the end, it's my job to provide students with a quality experience; they are paying tuition for this, so I better go in there and make it work," he concludes. 
The Department of Agricultural and Biological Engineering is in the College of Agricultural, Environmental and Consumer Sciences (ACES) and The Grainger College of Engineering at University of Illinois. 
For more information, and to support the Department of Agricultural and Biological Engineering, go to https://abe.illinois.edu/